As an Amazon Influencer, we earn from qualifying purchases you might make if you click any of the links on this page.
It's hard to imagine why two shy teetotallers would want to visit the gambling capital of the world. You can't say Vegas without adding the suffix 'baby' to declare its revelry persona. But Vegas good times are possible without drinking and gambling.
We're living in a negligent town comprising of empty buildings, moody citizens and about 10 supermarkets in a 2-mile radius. So we can't make any (positive) memories here, which is why the only way is to live the opposite for a week. What's more opposite than Las Vegas?
Two weeks prior to the flight, we were justifying drinking on a Tuesday night as anthropological research and trying to bear the taste of vodka. But contrary to everyone's misconceptions, Vegas has so much to offer.
Vegas Good Times as a Non-Drinker
Don't get me wrong, we're not shy to a cocktail, but we'd much rather have a pizza than a gin and tonic. Or the couch than a dance floor.
But when you think of Vegas good times, you conjure up images of ballsy strippers, invasive drunks and gamblers trying to turn $20 into $200,000.
There's no denying that those aren't the main focal points of the city. But there's much more to it. When the aftermath of last night's antics start to wear off and you awake $200 down thanks to your unwary betting habits, there are umpteen ways to spend your hours in-between cocktails. One way is with food.
Vegas Good Times With Food
Indulge in your home comforts or try a new dish in a top-tier restaurant with views to die for. Food is one of the minimal things in life which genuinely warms my soul and makes me happy. Sad I know.
Whilst on holiday, the presentation and taste of your meals can really determine your verdict of the area and people. This isn't just coming from someone who favors meal times to any other times in the day.
Recommended restaurants
Here are a few of my recommended restaurants for nomads:
• Planet Dallies
• Planet Hollywood in Caesars Palace
• Wicked Spoon at The Cosmopolitan
• Bellagio buffet
• José Andrés at The Cosmopolitan
• TGI Fridays
Of course, the list isn't exhaustive to my pallet. Though I did get to try so many more amazing places and flavors; including my sudden affair with buffalo sauce. But it's incredible when a place can combine delectable food with an inspiring environment.
Take the Spanish restaurant José Andrés, at The Cosmopolitan for example. Sited secretly towards a secluded part of the hotel, it offers an authentic setting with lights dripping from the ceilings. Plus, there are seating areas for secluded parties or an open site near to the flairtenders. It's the epitome of a ceremonious evening.
Unknown to me, the service at any eatery on the strip is second to none. However, it's not unforeseen to queue for a buffet at any of the best hotels on a Saturday night. But you will be waiting very little for the food to arrive at the table.
You should research the menu beforehand and not just assume that there will be something edible there (I made that mistake). This will heighten your standards for Vegas' good times with food.
Fun Frolics In Luxury Hotels
Each Vegas hotel has a theme to replicate a city around the world and has everything you need from shopping centres, to murals, to a distinctive museum.
Surviving in delirium from the rush of the city's vibe, you can literally spend an entire day in the infamous Caesars Palace, The Bellagio, Cosmopolitan, Venetian and more.
We stayed at The Cosmopolitan – a chic hotel with a modern temperament. We were so absorbed by its views overlooking the turmoil of lights at night but serenity of the desert mountains in the day, that we didn't want to leave the room. Case and point, we'd often sip cocktails on the balcony, feeling privileged to be there so early in our careers.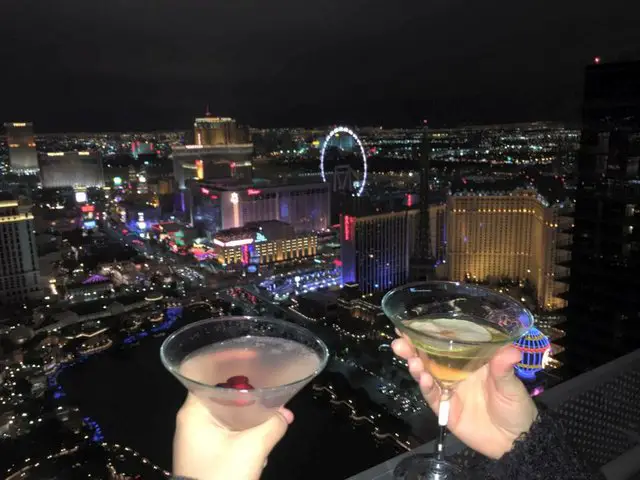 Image credit: Amy Poole
There's no bad hotel on the strip. But if you can fork out extra, I highly recommend the One Bedroom Fountain View. See below for photographic evidence of its features.
Image credit: Amy Poole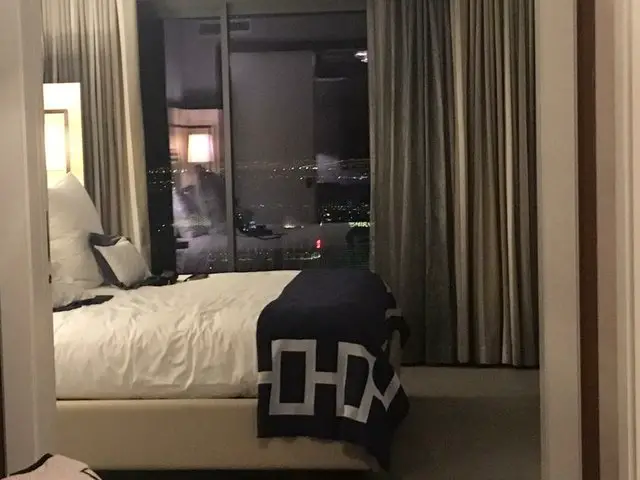 Image credit: Amy Poole
Malls Inside Hotels
You obviously don't suffer jetlag just to isolate yourself in your hotel room. So put on your finery and be prepare yourself to go home penniless with the hotels' shops.
From designer names, to bargain shops, you can buy anything under one roof. I wouldn't say I'm addicted to shopping, but my heart does race a little when there's a sale or I spot something.
Vegas shops are love at first sight. But before even contemplating on Vegas good times, I asked my brother – who's practically a Vegas connoisseur – if the city has plenty of shops and he responded with a sarcastic "you're joking, right?"
Once we got loose in the shopping centres, I totally got his cynical comment.
You can literally spend hours upon hours of traipsing through rails of stylish clothes and shelves of accessories.
So if you are a shopping fanatic, go easy on your luggage on the way to your travels and spare room for new goods for the journey back.
The Hotels Are Glorified Museums
Usually when you're on holiday, you awake not knowing what to do. Scrutinizing the area and all of its offerings to only do the same as yesterday. But if you want to see all of sin city, seven nights and four hours of sleep every night is scarcely enough to do everything; there's just so much you can do.
As soon as you open the hotel doors, you're greeted with a province of marble floors, chic interiors, high ceilings and amazing decor.
Image credit: Amy Poole
Take The Cosmopolitan hotel for example: acres of polished tiles and decorative posts, all themed by the season. As soon as you arrive, you're mesmerised and discharged straight into Vegas good times without a second to blink.
When you're walking about minding your own business in the hotels, there's plenty to look at, at all times. We were there for the New Year. Christmas decorations and lights were in most places. But there are adornments and elegant illuminations all year round.
It makes it such an inspiring place to be.
Image credit: Amy Poole
The Venetian Resort Hotel Casino
Linking back to earlier where I mentioned that every hotel is inspired by a city, The Venetian is the perfect illustration of this. Themed like Italy in a stylish and realistic manner, it literally felt like we were in Europe.
Image credit: Amy Poole
Think of the amount of time and effort it must have taken to sculpt those ceiling beams and design the modish entryways! This is architecture at its finest. However, the corridors are nothing compared to the rest of the hotel. Shops, restaurants, bars, walkways… it's like being on holiday… on holiday.
All the shops look like rows of houses. Real streetlights mimic Italy's style. Not to mention an actual pool of water on the second floor of the hotel to resemble a canal. Amazing!
Plenty of consideration has gone into how you feel when looking around. Ceilings look like the sky (due to a nice painting trick) so you feel as though you're outdoors and it's daytime, even when it's 7pm.
One of my favourite moments was the male singer and guests in the Gondola. From $24, you can casually glide through make-believe Italy and float past bridges and cafes. It's definitely a romantic and tranquil experience that I'll have to do next time (once I banish my fear of water).
Image credit: Amy Poole
New New New York Hotel
When you can't decide on Vegas good times or New York excitement, go for the former because you'll experience a taste of the Big Apple anyway.
Bordered by a (not so) mini Statue of Liberty, American flag and New York New York hotel memorial, it's much easier to come here than take a 3-hour flight.
Image credit: Amy Poole
Even the outside buildings and street signs look like NY. It truly is amazing!
It might be daytime, but when you walk into the hotel, you feel like it's 9pm – another irritance to the jetlag. Unlike The Venetian, here you'll walk right into nighttime with dark ceilings. The cafes and even menus are a parallel universe to NY's apartments.
And don't worry about the trembles and racket. That's just the indoor roller coaster transporting you around the hotel and outside, around the infamous Statue of Liberty!
…Another fear I have to work on.
Customers are munching on hotdogs and sipping on Starbucks like you are actually in NY. Many times it got me questioning where we were again because you're taken into so many universes in a matter of minutes.
This to me is so much more fun than drinking a bottle of wine or gambling, even though you should dabble in a little bit of poker (even if only just for 10 minutes).
These are just two of my favourite hotels as New York will always have a place in my heart and well, you can't not acknowledge a hotel with a canal inside of it.
Definitely if you have spare time, visit each hotel in detail and explore its inner beauty. Appreciate the splendour surprises and tasty food to make the most of the experience.
Admiring The Strip
If you're anti-drinking and gambling, you can walk down the Las Vegas Boulevard and engross yourself in the fascinating buildings, lights and energetic atmosphere… without spending a single cent.
Just stepping foot outside your hotel, you'll be filled with awe: the Paris globe, extravagant edifices and miles of buildings lustrously radiating the light. There's a picture opportunity every five seconds.
Plus, when you're on holiday it's common to feel bloated and un-energetic, so when you can, make the opportunity to walk to your destination, rather than hopping in a cab.
But just because something is in sight, it doesn't mean it's within walking distance. And never be the pedestrian who thinks they can run across a road without the light's permission; the roads are far too wide to risk your life for.
By day, the city is tranquil and the palm trees planted by the side of the roads create the illusion of a beach holiday, and with the added warm weather if you go between March and October.
Image credit: Amy Poole
The Bellagio Fountains are often flooded with crowds, surging forward to get a glance of the fountains firing into the air every 30 minutes. Accompanied by music, it's a romantic and cathartic sight.
The added bonus of enclosed buildings means that even in December you can walk the streets without a thick coat and scarf.
Dissimilar to other cities, it seems that buskers are creating music for the love of it and not for the money (though tippers are highly sought!). But you can take videos and pictures of performers – from DJs to live Karaoke on the streets – without feeling compelled to tip.
Downtown: A Taste Of Real Vegas
Though Sin City is one of my favorite places to be, it is undoubtedly artificial. After all, it is a metropolis built with a visionary to make money and little else. If the lustrous lights have given you a headache and you'd prefer a taste of the 'real life', then head downtown for a day.
Still used to the present day, Vegas residents once used this space to gamble their life's earnings and party until sunrise.
There were many traces of danger when we arrived: droplets of blood on the pavement and a missing person signed dotted around – so don't head down alone or when it's dark. But for around 30 dollars, you can go back in time and appreciate antediluvian buildings and things like an old popcorn maker (which still works).
Image credit: Amy Poole
I personally liked the infamous casinos and hotels which are still in operation and nearly every slot machine is occupied, no matter the time of day.
It has that vintage charm where you can easily imagine women in all of the trappings of extravagant wealth and men in flamboyant outfits.
For bargain hunters, you can pick up mementos for a good price and I even managed to scope out a 48-month calendar for less than five dollars. Much cheaper than on the strip!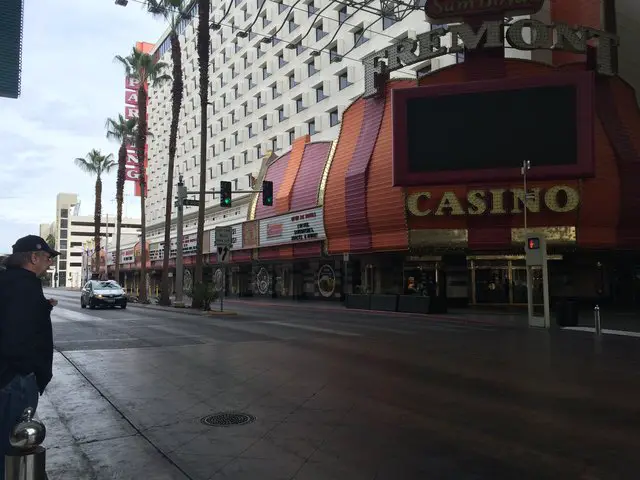 Image credit: Amy Poole
Concerts!
Heading back to the strip life, there's always an array of concerts and performances every night. Even if you don't consider yourself a drinker, you're welcome to watch a live show in any bar or theatre. From world superstars, to a Cirque du Soleil, explore the entertainment.
During the 2015 New Year, Chris Brown, ASAP Rocky, Ruby Rose and many other luminaries performed in clubs. There's always something happening and you can usually pick up a last-minute ticket at a good price. In fact, we were offered an ASAP Rocky ticket for free by the event managers but unfortunately couldn't make it that night.
Organizers perfectly stuck a balance between concert venue and club for Vegas good times. Loud music, strobe lights, open spaces and accessories drooping from the ceilings, it's everything you could want.
If you stick around after the performance, you can usually hunt the celebrity down enjoying their after-party. That doesn't mean to say they'll talk to you, but it's still exhilarating to be in five-feet of a celeb and it makes a worthy story for back home.
The Titanic Exhibit
For culture adventurists, visiting an exhibit on holiday is a pleasant few hours. One of the particular Vegas good times was The Titanic Exhibit located in the Luxor hotel.
In 25,000 square feet, there's actual artifacts of the tragedy – from original boarding tickets from passengers, to socks, to cutlery the guests would have used.
For obvious reasons, you're not allowed to take pictures or videos inside the exhibit. You can't snap the emotional connection you feel anyway. General admission is $32 and boy do you get your money's worth!
When entering, you're taken through a maze of the life's of the victims. Rooms are re-created to resemble the bedrooms of the ship and even furnishings are positioned to look exactly as it would have been. This exhibition currently has the largest piece of the Titanic.
In one room, there's an artificial block of ice that's below freezing point to capture the actual temperatures of the water. As you move throughout the tour, the ceiling is painted like the night sky and air conditioned to make you feel as though you were actually on the promenade decking.
It's an unforgettable and emotive experience which I'll cherish forever and recommend to everyone.
Everyone Should Visit for Vegas Good Times for All Ages!
So there you have an intimate background into Vegas good times. Once you open your eyes and absorb yourself in the ambiance and everything in front of you, there's so much to do other than drinking and gambling – and not always enough time to do it in.
I'll definitely be returning and can't wait to revisit all the wonderful places with great people.
Once you go, you never want to leave and when you're home, you can't stop talking about it.
For those of you who want to go at a quieter time of year, October is fairly empty and the weather's still warm enough to roam around without being too cold. Sun-worshipers will appreciate mid-year as the rooftop pools are open and there's generally more outdoor action.
Book in advance to save, and even better if you can purchase concert tickets beforehand, as many popular shows sell out fast. Plus, it's easier to monitor your finances that way.
All the best and make lots of memories while having some Vegas good times!
Please follow and like us: