Swimming with dolphins has always been a popular tourist attraction, with visitors looking to interact with them in both the wild and in vast aquariums. To get a sense of how popular swimming with dolphins is, you only have to look at the number of places around the world that offer the activity.
Luana Ferreria in her article for TheTravel listed 20 top dolphin destinations that ranged from the Bahamas to Egypt. For those looking for an experience closer to home, Lottoland's post on completing bucket lists details how Orlando, Florida is a popular tourist destination for its outdoorsy fun and surely swimming with "one of the ocean's most intelligent mammals".
If you're thinking of trying it yourself, here are some of the best places in Orlando to swim with dolphins:
Check More Posts About Sea Activities:
Epcot Center at the Walt Disney World Resort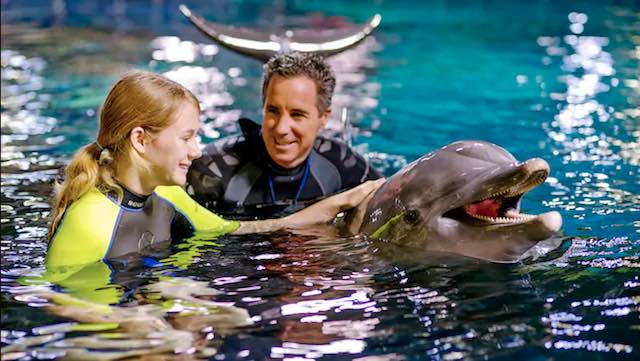 Disney Orlando has been already been featured on Pre Travels, but there are more resorts where you can have this amazing experience. One of these is the Epcot Center. TravelandLeisure.com highly recommends that you experience the Seas with Nemo & Friends attraction, especially if you're bringing the entire family with you. Start with the slow-moving ride that travels through SeaBase, home to turtles, sharks, stingrays, and many more.
Up to eight guests can also participate in the Dolphins in Depth program, which includes a backstage tour featuring a three-hour presentation about bottlenose dolphins. There's also a private in-water experience that lets you pet and take photos with the dolphins. The whole experience costs $199 per person and all participants must be at least 13-years-old.
Marineland Dolphin Adventure
For $179-$239, depending on the day and season, you can swim with dolphins at one of Florida's very first marine mammal parks. According to TheCultureTrip.com, Marineland offers two options: shallow water swimming called Discover Dolphins and deep water swimming called the Immersion Program. Both options include an educational behind-the-scenes tour that highlights everything you need to know about dolphins.
SeaWorld at Discovery Cove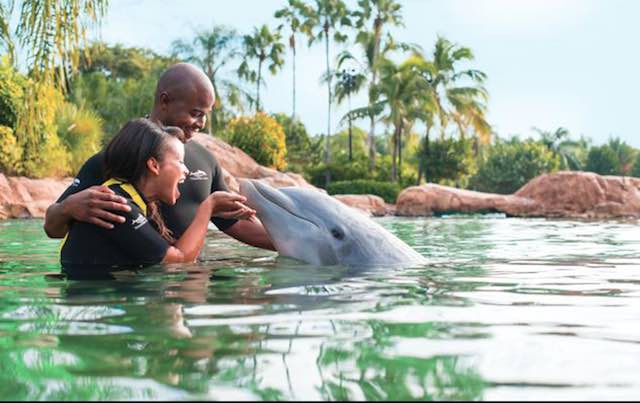 Discovery Cove is an all-inclusive, family-friendly resort that offers:
• Dolphin encounters
• Swimming with sharks
• Snorkeling with rays
• Bird-feeding Advanced reservations are required, so make sure you reserve a slot before heading to SeaWorld.
The base price for Florida residents is $220, while non-residents are offered the experience for $230-$350, depending on the day and season. The price includes food for the day, access to Discovery Cove's beaches and swimming areas, a 14-day admission to SeaWorld, and the wetsuit and snorkeling equipment necessary. If you're looking to spend at least 30 minutes with a dolphin Visit Florida notes that SeaWorld is your best choice. Their dolphin interaction includes petting, playing, and a dorsal fin tow-ride through the deep end of the lagoon.
Theater of the Sea
What makes this park so special is the intimate experience that they offer. Whichever seat you choose in the arena you get great views of the mammals in action. There are plenty of dolphin experiences available onsite as well. If you're a non-swimmer, you can simply get up close and personal with a dolphin.
You can also interact with the dolphins while standing in three to four feet of water and requesting cradles and kisses. But the best experience at the park is when you get to swim with the dolphins. For $199, you can touch and interact with a dolphin while swimming and snorkelling around the lagoon during the Swim with Dolphin program. 
Brace yourself for the crowd, but it's all worth it. Flights to Florida cost around $300, while hotel rooms cost at least $700 for a week's stay. The entire experience will most likely cost you around $1,500 minimum.
Now You Know the Dolphins of Orlando Florida!
If you're thinking of ticking this off your bucket list soon, the best time to go is during the summer. Spend time getting to know these amazing creatures!
Please follow and like us: