It's easy to think of the Florida Keys as a single vacation destination. But this famous archipelago near the southern coast of the Sunshine state of Florida actually spans more than 100 miles in length and dozens of small islands rich in tropical flora and fauna.
Travelers who enjoy outdoor activities, especially snorkeling, diving, camping, and fishing, will find much to relish at these Florida Keys state and national parks.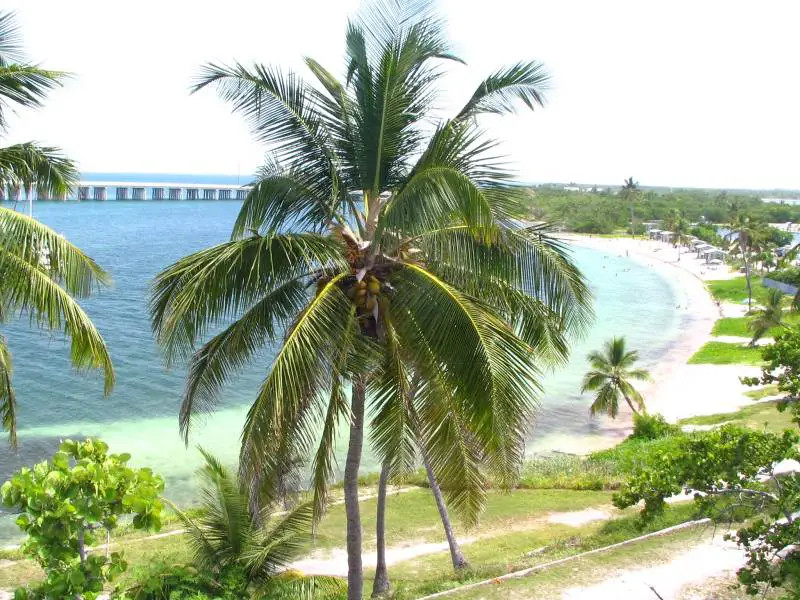 Check More Posts About Sea Activities:
Biscayne National Park
Located at the northern end of the Florida Keys, nearly all of this unique national park is under water. It was established in the late 1960s in an effort to protect the last unspoiled areas of the Keys. Tours leave regularly from the visitors center.
An array of shipwrecks stretching back more than 100 years provides snorkelers and divers with exciting opportunities to view marine life.
For those who'd prefer to stay on this side of the water, rent canoes or kayaks to leisurely tour the diverse ecosystems along the shorelines of the park. Jones Lagoon and Hurricane Creek are especially popular. Bring binoculars if you plan on visiting the Biscayne Birding Trail to view wading and shorebirds of all kinds.
Visitors to Biscayne National Park can camp at two locations, the rustic Boca Chita and the slightly more comfortable Elliott Key. Campsites are available first come, first served, and campers are expected to carry in and out everything they need. Campers on Elliott Key enjoy trails, a swimming area, restrooms and showers, and drinking water taps. Lastly all camping fees are cash only.
John Pennekamp Coral Reef State Park
This park off Key Largo located at mile marker 102.5 was the first of its kind in the U.S. Nearly all 70 nautical square miles of it, is underwater, and it's home to the famous "Christ of the Deep" underwater statue. Kayak and canoe rentals are available.
Take a glass-bottomed boat ride or snorkel and dive on coral reefs. The Environmental Education and Visitor Center includes exhibits, an aquarium, and a theater. Campsites are available, as are swimming areas (Cannon Beach might be the best one) and picnic areas.
Long Key State Park
This park, located at mile marker 67.5 on Long Key, is perhaps best known for sports fishing, and bonefish in particular. The Golden Orb and the Layton Trails are relatively short hikes; don't miss the observation tower for a bird's eye view of the park.
Visitors enjoy swimming, biking, and ranger-guided walks, some of which are themed (e.g., history, birding, culture). The shallow waters of the park lend themselves to paddle sports; canoe rentals are available. The park's campsites are currently closed due to hurricane damage but efforts are underway to re-open them soon.
Bahia Honda State Park
Further south at mile marker 37 on the Overseas Highway is Bahia Honda State Park. It was once known as a stop on Henry Flagler's train to Key West; while the train tracks were damaged by a significant hurricane in 1935, the spot remains a popular stop on the highway. Bahia Honda State Park is unique in that swimmers can enjoy the waters of both the Atlantic Ocean and Florida Bay.
The park has a great variety of activities available to visitors, along with campsites and concession services. Visitors who bring their bikes can ride the 3.5-mile trail around the island. The park's very well known for tarpon fishing; fishing charters often bring their guests here.
Snorkelers to the Looe Key National Marine Sanctuary get to see elkhorn and star corals up close; snorkel tours go out several times per day. While drop-ins are welcome, reservations are suggested, and visitors can rent any snorkel equipment they need.
Park accommodations include campsites and cabins reservable through Reserve America.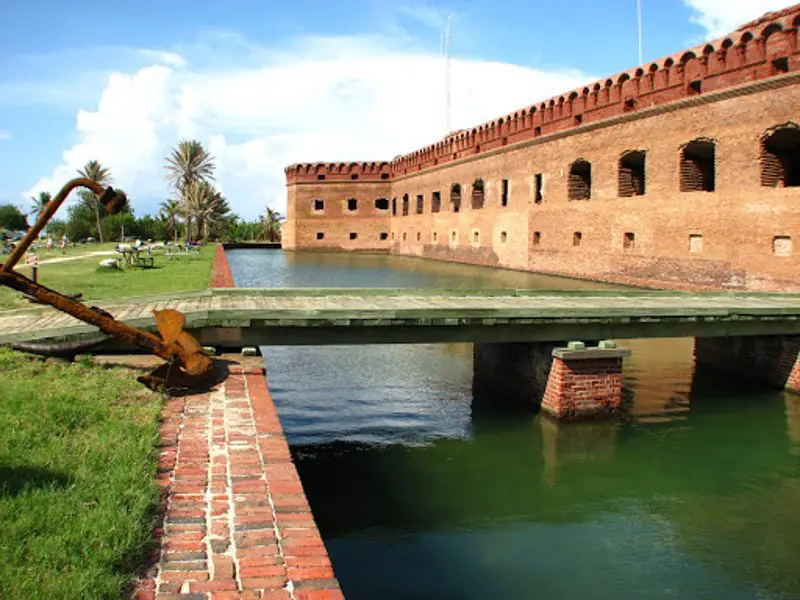 Dry Tortugas National Park
At the southern end of the Florida Keys, about 70 miles west of Key West, Dry Tortugas is one of the country's newer national parks, established in 1992. The site is the home of Fort Jefferson, built in the 1880s. The park is accessible only by commercial ferry or other boats.
Much of this park is underwater, too. Snorkelers and divers can swim among plentiful seagrasses and in between old naval pilings. Popular spots for coral and shipwrecks include Little Africa (because of its shape), Windjammer Wreck, Texas Rock, Pulaski Shoals, Long Reef Key, and the moat wall. Adventurous and skilled divers and snorkelers can swim the moat wall at night.
Boating and camping require permits. Garden Key campsites are first comefirst served. Campers must carry in and carry out all supplies, including water. Swimming is permitted at Garden Key and on Loggerhead Key, too. Rent a kayak to tour the shoreline of the keys or go for an open water adventure (safely!). Make time while on Garden Key to take a guided tour of the fort, or sign up for a living history, stargazing or nature walk.
The Outdoorsy Adventures of the Florida Keys
The Florida Keys, from Biscayne Bay to Key West, offer visitors who enjoy outdoor activities unparalleled access to marine and shoreline environments. State and national parks are affordable and easily navigable choices. Travelers can make the most of their time and money with unforgettable experiences.
Have you been to Florida Keys? Share your experiences in the comments below
Please follow and like us: