Do you want to find the hottest places to go and be seen in the world right now? If you have a special occasion or want to try something different when you travel, then why not put on your detective hat, pull out that magnifying glass and seek out these hidden bars. Plan a cool night out on your next city break or find a cool secret bar local to you. Check out these best secret bars in the world soon, they won't be very secret for much longer.
The Back Room – New York
New York is arguably the ultimate town to find the best secret bars in the world. The Back Room is one of only two speakeasies in New York City that actually operated during Prohibition and is still in existence today. An original 1920's speakeasy bar, also known as "The Back of Ratner's." Sit in the same place as 1920's gangsters once did and drink a cocktail from a teacup just the way they used to. Find the secret room behind the bookcase for a very intimate space to enjoy your drinks. Find this bar at 102 Norfolk St, New York. As with all things in New York, nothing stays secret for long and you will probably be surrounded by other tourists just like you. But a visit will be worth it.
Green Door – Berlin
If you want to feel like you are having a drink in someone's living room then try the Green Door in Berlin. A cool 1920s speakeasy, with hushed tones and a smoky atmosphere. (Yes, smoking is allowed inside). Ring the doorbell and wait patiently to be allowed inside the small cocktail lounge. Prices like other secret bars are pretty high, but to enjoy an expertly crafted cocktail in a unique atmosphere, then its a great place for a drink in Berlin. To help you find this secret bar the address is Winterfeldtstraße 50, 10781 Berlin.
Foxglove – Hong Kong
First, you have to search for the particular umbrella handle that opens a 1920s speakeasy-style secret doorway. This doorway leads to a room resembling a 1950s first class aircraft cabin. Once in this room, you need to touch a specific painting to find your way to the VIP area. All this detective work pays off when you enter this elegant and charming old world bar. Try experimental cocktails and delicious oysters whilst listening to great live music. Celebrate just getting in! To get here head to the Printing House, 2/F, 6 Duddell St, Central, Hong Kong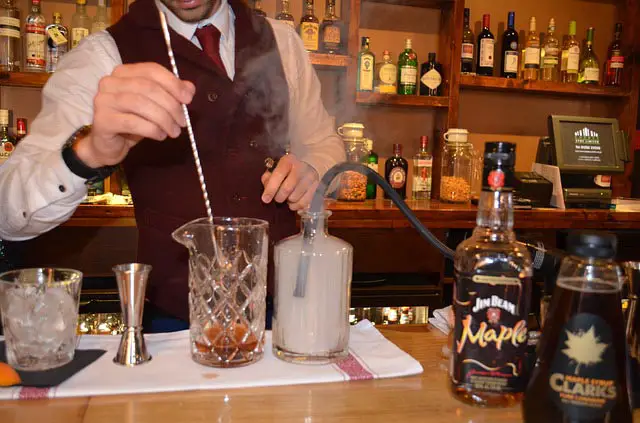 The Baxter Inn – Sydney
There's a basement door down a nondescript alleyway in Sydney's Business District and behind it, you'll find the city's best secret bar. Visitors rate the experienced bartenders and delicious pretzels highly in this cool place. The Baxter Inn is especially known for its whiskey, boasting an impressive shelved wall filled with around 900 different whiskies. Ask the bartender to make you the current special or to knock you up something great just for you. Head down to 152/156 Clarence St, Sydney to check out this secret bar.
The Franklin Mortgage & Investment Co. — Philadelphia
If you want to try an original speakeasy then you won't get must closer than this front for the biggest alcohol ring in the country during prohibition. This bar prides itself on providing classic drinks using ingredients including rye, Scotch, and brandy. Just like they used to drink in the past, well maybe a bit tastier! An unmarked entrance on 112 S 18th St, leads to this chic and charming underground spot with a casual tiki bar upstairs.
Panda and Sons – Edinburgh
Enter what appears to be an old barbershop, and search for the correct book on the bookshelf to gain entry. Specialising in Gin, this cocktail bar in Edinburgh has a quirky, vintage feel. There's complimentary popcorn as well as a long list of excellent cocktails to keep you happy during your visit. Drinks are prepared and served in old fashioned speakeasy style with a modern twist. Find this bar at 79 Queen Street, only slightly off the beaten track.
PDT – New York
So, this one might not be that secret but it's still a great place to try. A classic New York speakeasy with a unique way of getting in, if you can. In the East Village, you will find a nondescript hot dog joint called Crif Dogs. Inside there's a phone booth which connects you directly to a host on the other side. If you are lucky the door will slide open and you'll find yourself in a room full of mirrors and antique objects. Sip away on high-end cocktails, they will set you back a pretty penny but it's worth it for the exceptional atmosphere. This bar is hidden at 113 St Marks Pl, New York.
Ladies and Gents – London
An old public toilet might not be the first place you think of when you plan to go for a drink. However, Ladies and Gents in London is a repurposed Victorian loo transformed into a cool speakeasy bar. This bar offers seasonal cocktails and a changing roster of speciality Boilermakers too. Enter through the door under the toilet sign and enjoy the humble but bustling setting. A good shout at the end of the day after exploring Londons museums. Ladies and Gentleman is found at 2 Highgate Rd and the nearest tube station is Kentish Road.
Discover the Best Secret Bars in the World!
Ok, so some of these bars might not be the most secret places to visit anymore. But you'll have fun thinking about sneaking around to enjoy alcohol pretending to be back in the era of prohibition. Even if you cant stretch your imagination that far, the thought and craftsmanship that goes into the bars decor, cocktails and overall experience will ensure you have an excellent time.
Are there any great bars that I have missed? I'd love to hear from you if you know of any of the best secret bars in the world I should try! Comment below with any new suggestions, please.
Please follow and like us: