Three years ago, I decided to travel to Cambodia for the first time. With only 2 weeks set aside, I had no idea what to expect from this tiny country. Over the next two weeks, I fell in love completely. So in love that in 2016 I decided to travel to Cambodia to work with a local NGO.
But despite the popularity of Thailand and Vietnam, Cambodia remains relatively undiscovered. Most people stop by Angkor Wat, but it is an intrepid explorer who ventures out to the remote provinces of this magical country.
Cambodia is one of the friendliest, most welcoming countries in the region, stocked with hidden gems at every turn. If you want to immerse yourself in a new culture, discover hidden ruins, or just chill on tropical beaches, Cambodia has it all.
After one year of living in the Kingdom of Wonder, here are my top 5 reasons to travel to Cambodia.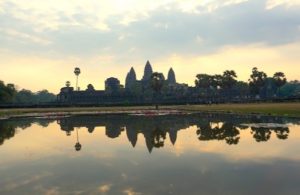 1. Unbelievable Ancient Wonders
Most world travelers want to visit Angkor Wat. Constructed 1000 years ago, it represents a Kingdom that once stretched for miles. But there is a downside to all this fame. Visit any time of year and you'll be sharing the massive structure with hundreds of other tourists.
Yet, Angkor Wat isn't the only massive temple structure in Cambodia.
There are other secret temples tucked away in hidden mountainsides around the country. Those willing to make the trek off the tourist path are rewarded with isolated temples rising majestically from the surrounding landscape.
Preah Vihear temple, a day's drive away from Siem Reap, stands on the edge of a cliff. From the top, you'll find breathtaking views of the surrounding countryside.
In fact, just about every province in Cambodia has it's own Angkor Era temples, relics of the grand kingdom that once ruled these lands. If you're going to travel to Cambodia and you have extra time, there are plenty of long lost temples just waiting for you to discover them.

2. Unforgettable Tropical Beaches
Love the idea of tropic beaches, but don't want to share them with crowds? Normally, you'd have to spend hundreds of dollars to get to a private beach. But if you're on a budget and still want your own private tropical paradise, it's time to travel to Cambodia.
Just a short ferry ride away from the port town of Sihanoukville sits Koh Rong, one of the most beautiful islands in the bay of Thailand, where you can get a cabana all to yourself for under $20 a night. Still feels too crowded? Try neighboring Koh Rong Somloem: less crowded but equal in beauty.
Don't have the time for a ferry? Otres Beach, just a 15-minute drive from Shihanoukville, transports you to another world. Beachside cabanas and shacks open onto turquoise waters. Sip on a cocktail and watch the sunset from your private beach house for only $15 a night.
Or get really off the tourist path and head over to Koh Kong, Cambodia's lost city of smugglers and bandits. Today, it's a quiet town on the bay of Thailand with access to Koh Kong Island. The largest uninhabited island in the Bay of Thailand, you can take a day trip and have a sun-soaked beach to yourself for under $50.
3. A Unique Food Scene
Cambodia has a unique style of food with flavors and textures you won't find anywhere else. Forget what you think you know about Southeast Asian food and get ready to explore.
Let's begin with breakfast. Most Cambodian's enjoy a bowl of rice porridge, called Bor Bor, with pork or fish. Not feeling porridge? Try a bowl of Kuy Tiev, noodle soup in a light broth with beef or pork.
When lunchtime rolls around, there are plenty of dishes to try. For something more familiar, Cambodian's love a bowl of rice and pork. The pork is seasoned with sugar and chili, dried, and fried. It tastes incredible when balanced with some sweet vegetable pickles.
For dinner, dishes like Lok Lak, beef marinated in a slightly sweet sauce, or Amok, a unique fish curry found only in Cambodia, are popular with locals and tourists. Dig a little deeper and you'll find a world of flavors not found anywhere else in the globe.
Prahok, a type of fermented fish paste, is the main ingredient in Cambodian food. Prahok gives these dishes a slightly sour, slightly tangy taste.
Try the Nom Wren Chok, a fermented rice noodle covered in a fish curry. Or treat yourself to a Ban Chao, a rice pancake stuffed with pork and bean sprouts. Every dish comes filled with lettuce, herbs, and other crunchy additions.
When the urge to snack hits you, try Cambodian traditional grilled eggs, filled with black pepper from Kampot, or snack on spicy grilled Prahok. If you're feeling extremely peckish, there are plenty of roadside stalls selling grilled crickets!
If you travel to Cambodia, you should come with an open mind and an adventurous palate. You won't be disappointed!
4. Untamed Wilderness
Cambodia is home to one of the last remaining untamed jungles in Southeast Asia. The Cardamom Mountains, located across the Thai-Cambodia border, were once home to the last remnants of the Khmer Rouge.
Today the Khmer Rouge are long gone, but the huge swaths of undeveloped rainforest remain. Making the trek out to the remote city of Koh Kong will give you the chance to explore these jungles with the help of a local guide.

From the tiny village of Chi Phat, treks are available from one to five days. These jungles are home to some of the last living Siamese Crocodiles, Elephants, and Southeast Asian tigers in the wild. What are you waiting for?
Treks out of Chi Phat range from 1 to 5 days and cost anywhere from $50 to $200 for a group of four.
5. Travel to Cambodia for a Vibrant Art Scene
From traditional dance to modern art galleries, Cambodia's art scene is surprisingly vibrant. Supported by many NGOs and social enterprises, Cambodia's artists are pushing the boundaries of what it means to be a young person in Southeast Asia.
Battambang, Cambodia's second largest city, located in between Phnom Penh and Siem Reap, is known as the artistic center of Cambodia. Although most people who travel to Cambodia skip over this town, it has a lot to offer to the intrepid traveler. The city center is filled with art galleries featuring works from local artists. The town also boasts the largest art school in Cambodia, Phare Ponleu Selpak, who have a famous circus program with weekly performances by their students.
You can learn more about Battambang's art scene here.
Up in Siem Reap, catch Phare, The Cambodian Circus, a performance by the professional graduates from the art school in Battambang. If you aren't sure what to expect, imagine if Cirque du Soleil performed stories from Cambodian folk tales. Your heart will be in your throat the entire time you watch them perform gravity defying feats of strength and agility.
And down in Phnom Penh, the urban heart of Cambodia, the organization Cambodian Living Arts puts on traditional dance shows every night. Spend your days exploring the streets of Phnom Penh and you just might meet some of the underground artists who are slowly changing the street culture of this vibrant city.
All the More Reason to Travel to Cambodia!
Now that you've taken a look at all these amazing things Cambodia has to offer, you can start to plan your next holiday! Have you been to Cambodia? Did you see something that you think should be included on this list? Leave us a comment and let us know!
Please follow and like us: