Summer break is here, and people just love a beach vacation. However, you can't go to the beach unprepared. If you are not sure what you need this summer, you should continue reading. By the end of this article, you will know what to carry to your favorite beach destination and how to flaunt your social media pictures in style. If you think that a beach vacation is all about the sun and towels, then you couldn't be more wrong. A day at the beach calls for a lot of preparation. One has to keep in mind multiple things to enjoy at the beach so that the vacation is peaceful and you are protected. Here are some of the essential things to bring to the beach.
A Family Beach Bag
Once you start packing, you are going to be surprised at the number of things you have to carry to the beach. To add to that, if you have kids traveling with you then you will need to take a lot more stuff with you. All you need to do is carry a family-sized beach bag where you can dump everything you want. When it comes to a family-style beach bag, ensure you have sufficient space. This can be used to accommodate wet clothes and towels when returning.
Beach Cart
A beach cart is a must, especially when you are traveling with your family. Rio carts for the beach are known to be of excellent quality and are available in multiple sizes, colors, and designs. Having a beach cart is a great way to carry all your beach accessories from your car to the beach. Especially when you have kids and need to carry extra supplies, games, and food with you.
Sunscreen
Everyone loves the beach but no one loves the skin burn that comes along with it. This is why you should carry sunscreen with you. You should ensure that everyone is coated with sunscreen and you apply it again every few hours so you don't get a beach tan. Sunscreen is available as per personal preferences so you need to research properly before purchasing one. Even though you prefer sprays over creams, ensure you know exactly what you are buying. It would be best if you used a different sunscreen for your face and body.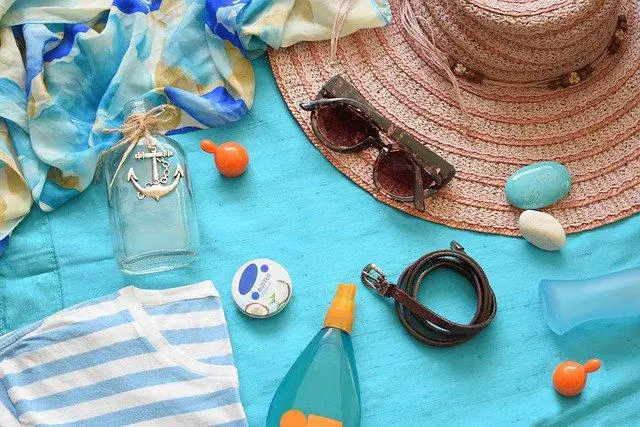 Body Towel
It goes without saying that if you are heading to the beach; you are going to get wet. Once you are done playing in the water, you will need something to dry off. Since people don't like sharing towels, it is advisable to carry the same number of towels as the number of people traveling to the beach. You should also throw in a couple of extra ones in case one gets soiled.
Beach Mat
Even though the beach is fun, people don't enjoy getting coated with sand. Unfortunately, you can't use your towel as a mat because your body will get soiled when drying up. Instead, carry a beach mat to sit and lay on the beach. Also, ensure you buy mats that are waterproof and are easily foldable.
Swimming Goggles Or Flippers
If you or your kids enjoy swimming, you cannot miss out on goggles because this helps protect your eyes from the seawater. You can also use standard goggles but it is advisable to buy specialized swim goggles for better protection.
It is also best if you carried some beach toys such as volleyball, soccer ball, or even a Frisbee. Make it a fun day and have a beach vacation of a lifetime.
Please follow and like us: