Wayanad, nicknamed the land of paddy fields, expresses a warm welcome to all of you. It's a green canvas which will undoubtedly enthrall you with its maddening beauty.
Apart from the attractive paddy fields, its tea and spice plantations have plenty of attractions in store to make you decide to choose Wayanad as your next travel spot.
However, it does not mean that Wayanad is miserly for those who seek adventures. There are a lot of avenues for them in Wayanad tourism. You can enjoy activities, like camping, trekking, rock climbing, etc and make your journey unforgettable.
Here is a list of 10 such places where safe trekking with a lot of fun is available.
Chembra Peak
If you are thinking about trekking in Western Ghats the first name that comes to mind is the Chembra Peak. It is the highest peak in Wayanad. The peak stands at 2100 meters (6890 ft) from the sea level.
Chembra Peak is situated close to the Meppadi town. The starting point of trekking to the peak is Meppadi town itself. Before starting, contact the VSS that works under the South Wayanad Forest Department Agency for permission and guide.
People usually climb up to the heart-shaped lake with overgrown grasses all around. Chembra Peak is a top attraction amid the beautiful tea plantations and deep forest. Chembra Peak's panoramic views will surely delight you.
Edakkal Caves
Those visiting Wayanad always keep Edakkal Caves on their list because of its historical significance. Edakkal Caves is situated in the Ambukuthi Mala at a height of 1000m.
Edakkal Caves means a stone in between. The rocks are from around 6,000 BCE and depict figures of humans and animals. The carvings on the rocks are really wonderful. It is believed that they showcase the Indus Civilization.
The caves are formed by a natural split in a rock. The lower chamber is 18 feet long and 12 feet wide. On the other hand, the upper one is 96 feet in length and 22 feet in width. Tourists who trek the caves to learn about how people lived in the past.
Entrance Fee
Adult: Rs. 20/-

Children: Rs. 5/- (Age 5 – 15 years) 

Children under 5 Free 

Movie camera Rs 150/- 

Camera Rs 30/-
Banasura Hills
Banasura Hills Trek is another famous trekking track of Wayanad. The trail is difficult because the rolling grasslands did not give you a chance to have a break. Thus, it is not appropriate for beginners. You can go there in the dry season.
The trail gets better when you can see the Kara Manathodu tributary. The Shola Forest also covers a notable part of the trek. Don't forget to visit the adjacent Banasura Sagar Dam. It is known as the largest earth dam of India.
Kalladi forest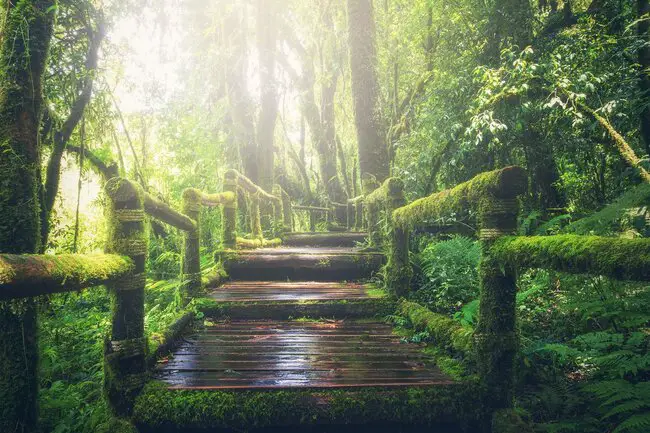 If you plan to spend a day trekking in a rainforest in Wayanad. Kalladi forest is the best option. It is not steep at all. Instead, it feels like a long walk through the tea and spice plantations. However, it takes about 6 hours to complete.
The Kalladi forest Trekking is highly recommended for wildlife enthusiasts. You can explore the jungle and have an adventure in the wild.
The Pakshipathalam
Next comes a trek for bird watchers. Pakshipathalam means an abode of birds. While trekking here, you will find different kinds of rare birds. Interestingly, bats are common here. The height of this trek is around 1740m. It is on the Brahmagiri hill.
The trek is also known as Munikal caves. The eight kilometer walk through the jungle is challenging. Permission from the DFO of North Wayanad is required in this regard. Embrace the biodiversity in your trekking to make the climb more memorable.
Brahmagiri hill
A trek to Brahmagiri hill will uplift your spirit. It is interesting to note that Brahmagiri hill is part of both Karnataka and Wayanad.
If you want to see things yourself above 5276 feet, Brahmagiri hill beckons you. It is a popular destination not only for trekking but also for bird watching, photography and camping.
You have to pay an entry fee of Rs.275/-. The trek is moderate. It goes through thick forests and rivers.
The best time to go there for trekking is from October to May. You have to start trekking from Iruppu temple.
Thirunelli
Thirunelli is a remarkable trail of 8 km which will lead you to Brahmagiri Hill. The trail is moderately difficult. Here you can take a break. After the Kalindi river, the trail is quite steep with rocky slopes that could make you tired. You have to pay Rs.80/- rupees at the base. If you are taking a camera, the fee will be Rs.50/-.
Thusharagiri Waterfalls
Have you ever thought of trekking a waterfall?
Thusharagiri waterfalls provide you with this rare and exciting opportunity. There are three falls that you can reach by trekking. People usually start trekking from Thusharagiri and go to Vythiri.
Sentinel Rock Waterfalls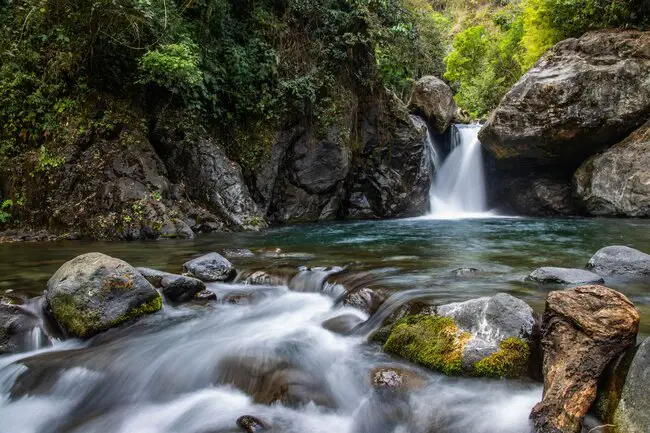 Sentinel Rock Waterfalls is also known as Soochipara Falls. It is a three-tier waterfall located in Vellarimala, Wayanad.
This fall is also a good choice for those who want to do rock climbing. It has a height of 200 meters. It might sound a little scary, but it's very interesting. One can enjoy swimming and bathing too in the pool.
Kuruva Island
Forests can also be included while trekking in Wayanad. Kuruva Island spreads over an area of 950 acres. Here you will see rare orchids and herbs. You will also see a lot of birds. It can be a good recreation activity to walk in the forest. Entry is restricted in the rainy season. You can visit the island and enjoy your visit with a real holiday mood.
Please follow and like us: