Seychelles is a gorgeous island country where you will find yourself surrounded by beautiful mountains on one side and breathtaking beaches on the other. This amazing place is often known as a honeymoon paradise but it is so much more than that. Trust me, you can easily visit it on your own too without spending too much money.
Want to know how? Well, this guide will help you plan an amazing budget-friendly trip to Seychelles. Here, you will find important information that one must know before heading to this place alone.
Check More Beachy Posts:
Visa and Currency Details
Visa and Customs
Let's start with the Visa and Customs procedure for this country.
One of the best thing about visiting Seychelles is that it is a visa-free country. Yes, that's right! No hassle of getting a visa from your country or hoping for a VOA here. You can simply get a 30-day visitor's permit to visit this country if you fit the criteria.
All you need is:
A valid travel document (like an official passport)
Return or onward journey tickets
Proof of accommodation
Sufficient funds to travel
If you have these things ready, then it would take you 10 minutes to pass the emigration process and enter this amazing country.
If you want to increase your stay permit then you can get it extended to 3 months at a time, up to a year at the most. However, do remember that the extension for the first time is free but not for the subsequent time so be careful.
Illegal exporting of Coco De Mer could result in a huge fine or detainment so, please avoid doing that. You can buy Coco De Mer if you want to take it back with you.
Currency Accepted in Seychelles
The official currency used in Seychelles is Seychellois Rupees but many hotels, resorts, and vendors accept Euros too. If you are purchasing food from a takeaway or the local grocery shops then you will need to carry the local currency. For public transports too, you need to pay 7 Seychellois Rupees every time so, carry the change with you at all times.
You can use Euros for purchasing the ferry ticket, eating in a restaurant or hotel, paying for an adventure sports activity, and so on. You won't find many money changing shops here or ATM banks which dispense Euros so carry it from home. If you have an International Credit Card, then you can use it to make the purchases where you need Euros.
ATMs
You will find here several ATM branches which expend the local currency, Seychellois Rupees and accept the VISA and Mastercard Debit/Credit Cards. You will find Barclays and Seychelles Commercial Bank ATMs in abundance on all the islands, both of which will accept the VISA cards. So, you can withdraw the cash from here whenever you want.
How to Reach Seychelles
Since Seychelles is a group of islands, there is only one way to reach this place, i.e., by taking a flight to either Mahe or Praslin island.
Inter-Island Traveling
Ferries
You will find that moving from Mahe to Praslin to La Digue is best done by ferries as it is quite economical and convenient. You have several ferries in a day leaving for these islands and one can purchase the tickets both online and from the ticket counter.
Mahe to Praslin will take you 1.5 hours to reach by ferry and will cost you 45-50 Euros for one side. Praslin to La Digue will take 15 minutes to reach and will cost somewhere about 14 Euros for one side.
To reach La Digue from Mahe, you will need to change the ferry from Praslin as there is no direct ferry from Mahe to La Digue.
Helicopters
You also have a few helicopter companies for transfer between islands but these are really expensive. However, it would take you just 15 – 30 minutes to reach an island of your choice.
Group Packages
For other islands in Seychelles like Bird Island, Curieuse Island, Cocos Island, etc., you will need to opt for a group tour from one of the three major islands. This is because ferry services are limited to just the major islands and to reach other private islands, you need to use a private yacht or a boat.
You will come across several group tours for these islands which will cost somewhere about 50-60 Euros for the entire day.
Travel Options on the Islands
Public Transport
Mahe and Praslin have a good bus network so traveling on both these islands is quite convenient and cheap. You can download the bus schedules and routes from the SPTC website for your convenience. Each trip by bus will cost you 7 Seychellois Rupees, regardless of your stop and will take barely any time to reach.
There are several bus stops situated at 1-2 km of distance from each other and can be recognized by the BUS STOP sign which is printed on the road.
Always press the buzzer/button when you need to get down at a stop in Seychelles as the buses don't stop at every bus stop.
Cabs and Taxis
You will also find several taxis and cabs running in Mahe, Praslin, and La Digue which you can hire for exploring the islands. However, this will be costlier than the buses but you will end up saving a lot of time on the way.
Cycles
In La Digue, you don't have buses to explore the island because it is just 5 km in length. This is why cycling is quite popular here and you can easily rent a cycle for 100-150 Seychellois Rupees from the numerous rental shops found here.
Things You Can Do in Seychelles
Explore the Streets of Victoria
Victoria is the capital of Seychelles which is found on the main island, Mahe. It is a small yet beautiful city where you can walk and explore the various shops and food joints. Here, you can check out the popular central market, the clocktower, jetty area, botanical gardens, and a whole lot more.
Watch Some Gorgeous Sunsets
If you are a sunset lover then you would absolutely love to witness the sunsets here. The sky often turns into a shade of purple, red, orange, etc. and the evening turns completely magical when the sun finally sets into the ocean.
Relax on the Numerous Beaches
Seychelles is the home to one of the most dazzling beaches in the world so, make the most of them. Just get your swimwear and a towel and enjoy a sunny day at one of these beaches.
Indulge in Some Water Activities
Seychelles is best known for its underwater life and is home to the most beautiful corals and fishes. This is why it would be an utter shame if you came all the way to this country without participating in any water sports to make the most of it.
You will find numerous Scuba Diving Centers on the islands to make the most of your trip.
Hike to the Highest Island Points
If you want to take a look at the entire coastline of the islands then you have to hike on the various trails to get a better view. This is a great way to spend some time in nature while enjoying a mesmerizing view of the entire island.
Cycle on the Streets of La Digue
La Digue is one of the most gorgeous islands in Seychelles and is the best place to explore on a cycle. So, make sure that you hire a cycle for at least a day here and make an entire circuit of the island to enjoy it fully.
Feed the Giant Turtles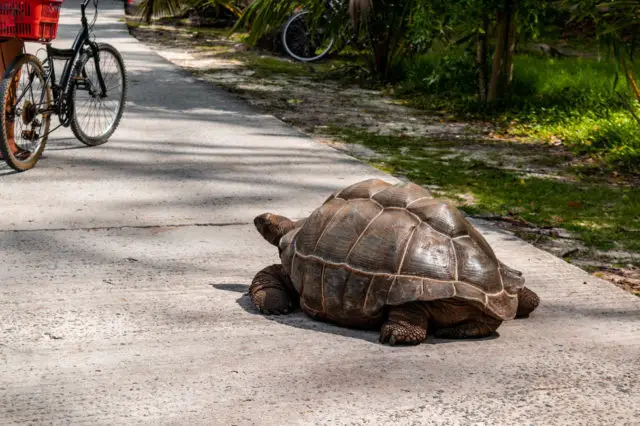 Yes, here you will find giant turtles roaming around on the roads or safely tucked away in the farms. You can touch these turtles and feed them too and it is undoubtedly one of the most exciting feelings ever.
Go for Island Hopping
Seychelles consists of 115 islands, out of which only 30-40 are habited and accessible to the public. So, make the most of these islands and do visit a few islands to experience the beauty of Seychelles. If you are interested in flora and fauna, then visiting the Curieuse Island and Bird Island would be the perfect choice for you.
Witness the Flora and Fauna Here
Here you will find the most interesting and unique trees and animals which are definitely worth a look. From the Seychelles Flycatcher to the Coco De Mer, everything has a fascinating story associated to it which you can learn about.
Top Places to Visit in Seychelles
Although Seychelles is filled with enchanting places to visit, here are a few places that I found worth mentioning on my trip here.
L'Union Estate, La Digue
Here, you will find Anse Source D'Argent, the most photographed beach in Seychelles which is known as such due to good reason. The unique rock and boulder structure surrounding the beach gives this place a picturesque look and makes it one of the top places to visit in La Digue.
Apart from this famous beach, you also have a turtle farm here and an amazing art gallery. You can feed the turtles here and also watch the baby turtles in the nursery. The entrance fee for this place is 125 Seychellois Rupees which is valid for the entire day.
Sunset Beach, Mahe
If you are looking for the perfect sunset spot on Mahe, then Sunset beach is the place for you. This is a beach hotel but anyone can access the beach here to witness a gorgeous sunset. Also, it is not as crowded as the other touristy places in Mahe which is why it is a great place to relax.
Anse Georgette, Praslin
One of the best beaches on Praslin, Anse Georgette is a private beach for which you need to pass the Constance Lemuria Hotel. You will also need to reserve a time to visit the beach prior to your arrival. But, trust me, the whole hassle is completely worth it because this beach is truly mindblowing.
Morne Blanc Viewpoint, Mahe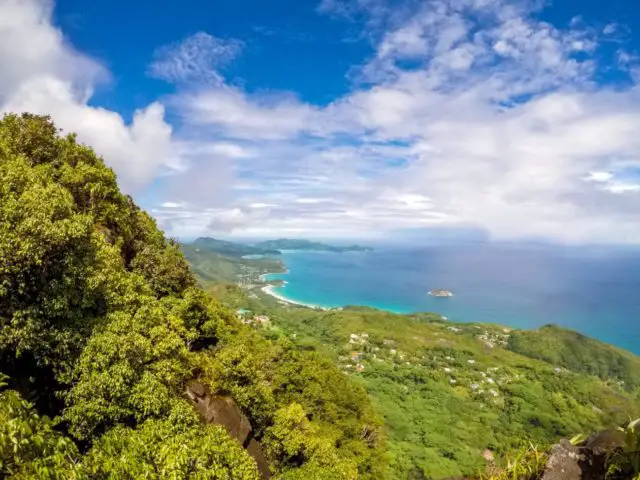 If you love hiking and aerial views then you have to go to the Morne Blanc Viewpoint, the highest viewpoint on Mahe. From here, you can see Mahe's entire coastline which is truly magnificent to see. The hiking trail for this place is quite simple and straightforward and will take you an hour to complete.
Fond Ferdinand, Praslin
You must have heard about the famous Vallee De Mai Nature Reserve, where you can find the famous Coco De Mer and other endemic plants and animals. However, a place which is cheaper and better than the UNESCO site Vallee De Mai is Fond Ferdinand.
The entrance fee to this place is just 125 Seychellois Rupees. Here, you get to hike and see Praslin from a higher platform. But that's not all, you get a detailed tour alongwith explanations about Coco De Mer, Vanilla plants, and so on.
Anse Fourmis, La Digue
If you want some quiet time on a beach then Anse Fourmis in La Digue is the perfect spot for you. This beach is the endpoint of this island, after which one has to hike to reach Anse Cocos beach. Here, you will also find a bent palm tree which you can climb and take amazing photographs with.
Curieuse Island
A day trip to the Curieuse Island is a must for people who want to experience and watch the giant turtles in their natural habitat. This island is filled with giant turtles which you can touch and play with at your own leisure.
La Misere Viewpoint, Mahe
Finally, you have to visit the La Misere Viewpoint if you want to look at the beautiful Eden Island or the entire Mahe island from a high point. At night, one can see the entire island lighted up and this viewpoint makes a great vantage point.
Food Options in Seychelles
A lot of blogs often say that food is expensive in Seychelles but that is not the truth. You have several budget-friendly food options which will help in accomplishing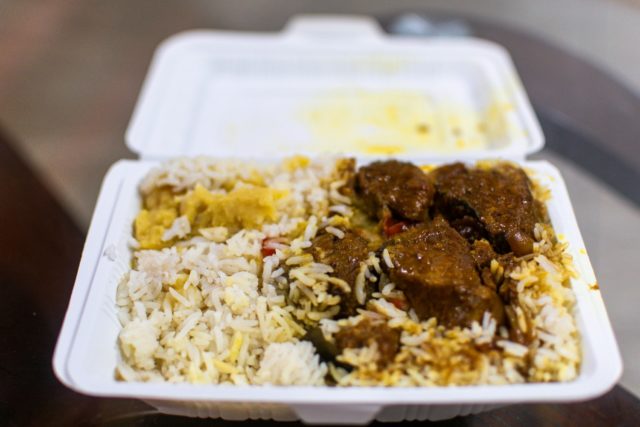 Restaurants
There are several restaurants available on Mahe and Praslin which serve delicious Creole and other cuisines for 500-1000 Seychellois Rupees per meal. However, if you are on a budget then eating at these restaurants might not be the smartest options.
Self-Cooking
If you are looking for good food but at a decent price then cooking is certainly the best option. You can get the ingredients from the market or carry it with you and cook for yourself.
Takeaways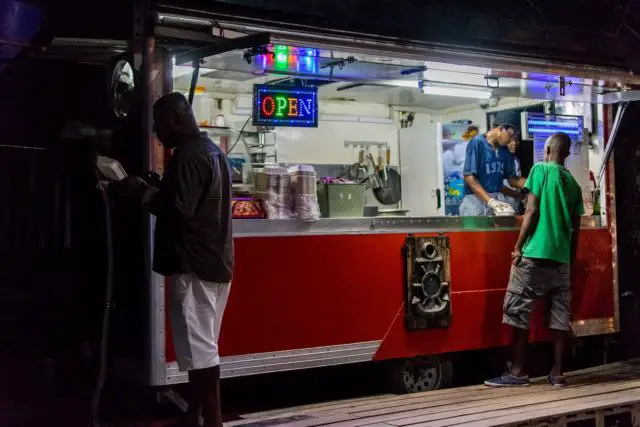 For people on a budget, takeaways are the best options as they cost just 50-80 Seychellois Rupees per meal. You will find several takeaway shops and vans on all the three major islands where you can try the local Creole cuisine as well. Trust me, Creole food is delicious and filling and is a great chance to experience the local culture.
Snack Shops
Apart from the numerous takeaways, you will also come across several snack shops here where you can purchase the baked goods. You will find here rolls, sandwiches, croissants, etc. which will cost just 10-20 Seychellois Rupees per piece.
Accommodation Options Available in Seychelles
One of the most expensive aspects of traveling in Seychelles is the accommodation. But, if you can reduce your stay cost then you can easily manage your entire trip on a smaller budget.
Hotels and Resorts
You will find many hotels or resorts available on different islands of Seychelles but, these places will be expensive. There are many islands which only hold resorts and can cost you about 100 Euro a night as well. So, the best thing would be to avoid such places. Instead, look for hotels and resorts on the populated islands like Mahe, Praslin, La Digue, etc.
On these islands, you are likely to find hotels which will cost you 50-60 Euros per night including your breakfast. Also, if you are lucky then you might stumble upon a great discount offer which might cost you 40-45 Euros per night.
Hostels
If you are looking for a cheaper accommodation than hotels/resorts, then hostels are the best way to go about it. You will find several hostels on Mahe island which will cost you 35-40 Euros for a night. You don't have many hostel options on Praslin or La Digue so, you might have to check out self-catering apartments here.
Self-Catering Apartments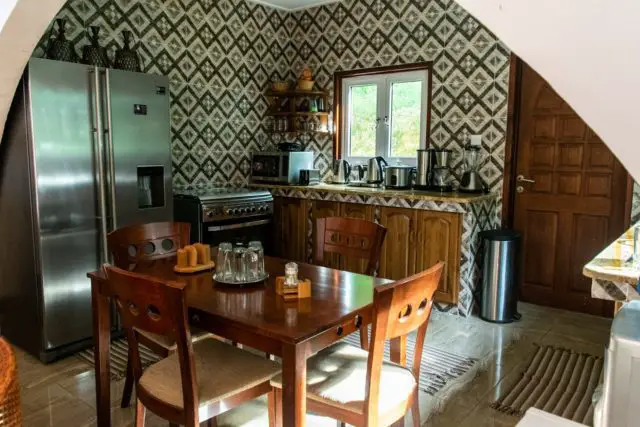 One of the most popular accommodation options in Seychelles is the self-catering apartments. In these apartments, you can cook your own food and enjoy a simple, home-like feel. You will find numerous self-catering apartments in Seychelles which will cost you about 25-30 Euros for a night. This will often include free drinking water and WiFi too so you will be more comfortable in these places.
Also, you can save a lot on food too as you can cook your own meals in these places.
Couchsurfing
Apart from self-catering apartments, Couchsurfing is the best way to reduce your accommodation cost in Seychelles. While Praslin and La Digue don't offer many hosts, you are likely to find a few on the Mahe island. This is a great way to save yourself the accommodation cost for a few nights at least. This can easily make a difference of 200-250 Euros difference in your budget and can greatly reduce your trip cost.
Seychelles on a Budget!
Follow these tips and tricks and you'll be able to visit Seychelles no matter the budget! From hostels, to fine dining, there is always a way to make the impossible possible on your holiday in Seychelles. This guide is a great way to stay under budget and save some cash!
General FAQs
How Long is the Visa Process for Seychelles?
Getting a Visa for Seychelles isn't a long process because you don't need one! This is a Visa free country.
Is it Easy to Get to Seychelles?
You can fly into one of the larger islands and then travel around the islands on a variety of transportation. Ferries, helicopters, etc.
Is it Easy to Get Around Seychelles?
There are a lot of private, as well as public modes of transportation here. From taxis to buses and trains, it is pretty easy to navigate.
Are There a Lot of Things to Do in Seychelles?
Relaxing on the beach, water sports, hiking, local hot spots, as well as museums and indoor activities are all great!
Please follow and like us: