As an Amazon Influencer, we earn from qualifying purchases you might make if you click any of the links on this page.
Traveling to Mexico is always a good idea, mainly if you're looking for a beach holiday with family, friends, your partner or even alone. Mexico owns breathtaking shores with warm and turquoise waters, white sand, and golden sunsets that will make you stay in forever.
No matter what time of the year it is, Mexican beaches are always a perfect option to have fun and relax under the tropical climate that characterizes many of them.
Some of these beaches are located on Mexico's Pacific and Caribbean coast; the most recognized are in popular destinations like Cancun, Playa del Carmen, Acapulco, Puerto Vallarta, and Cabo San Lucas.
Among so many options around the country, there are still many wonderful, almost unknown beaches, hidden gems that deserve more recognition due to their unparalleled nature. That's why here you have two great secluded beaches to visit next time: Playa Paraiso and Playa Los Muertos.
Playa Paraíso, Tulum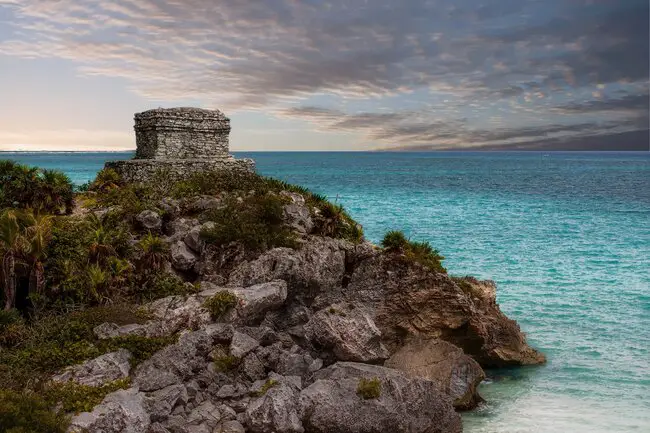 In the bowels of the beautiful paradise of Tulum lies an authentic tropical treasure, Playa Paraiso. This beautiful beach has a quiet atmosphere ideal for strolling and relaxing; also, its waters have unparalleled turquoise hues and white sand to lie down and take in the sun.
On this beach, you will be able to have all the facilities to do first-class tourism. Nearby you will find luxury and comfort hotels, restaurants, and bars for all budgets, as well as spectacular attractions such as the Tulum Archaeological Zone, cenotes, and the Xel-Ha Water Park.
How to get to Playa Paraiso?
There are many ways to get to Playa Paraiso; you can use either a taxi or a bicycle. But since Tulum doesn't have an airport, the most viable way to get there is to land at Cancun Airport and take private transportation from Cancun to Tulum. The approximate travel time is an hour and a half, depending on where you leave.
What can you do in Playa Paraiso?
In this beautiful paradise, you can find all kinds of activities to make you have unforgettable moments full of fun and entertainment.
When arriving at this destination, you'll see several tourist information booths where you'll find various experiences to live in Playa Paraiso, such as diving in the world's second-largest barrier reef and seeing a lot of types of unique marine animals.
Swimming in nearby cenotes is something you can't miss! Some of them are Grand Cenote, Cenote Carwash, Cenote Calavera, Cenote Zazil-Ha and Cenote Cristal.
Playa Paraiso also has a great selection of traditional bars and restaurants that combine the flavors of Mayan cuisine. Some of the most famous dishes you should try are Tikin Xic, also known as the Mayan-style fish barbecue, Pan de Cazon, and the typical Caribbean lobster of the area. In addition, you can visit Mi Amor Restaurant, Kitchen Table, El Paraíso Restaurant and Beach Club, and more to try these meals.
Don't miss the opportunity and plan your next trip to Playa Paraiso!
Playa Los Muertos, Puerto Vallarta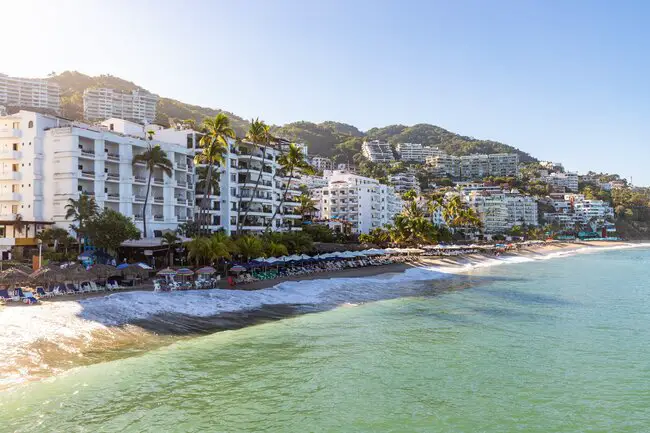 In one of the most fascinating coastal areas of Puerto Vallarta, you will find Los Muertos Beach. With a sunny and temperate climate in some months of the year, this beach is mainly frequented by tourists looking for rest and relaxation.
On this splendid beach, you can enjoy pleasant walks along the pier with a fresh breeze while admiring dreamlike panoramic views with which you can take beautiful pictures to treasure forever.
How to get to Playa Los Muertos?
One of the best tips for touring Playa Los Muertos is to purchase a Puerto Vallarta car rental, facilitating your mobility and saving you time on your trip.
You can also get there by taxi, but the rates would be costly due to the many attractions that this destination offers; in this situation, a car rental Puerto Vallarta is the best option for you to travel with freedom at an affordable price.
What can you do in Playa Los Muertos?
Playa Los Muertos beach is the main point in Old Vallarta or Zona Romantica. Here you can find a lot of activities, restaurants, and bars; also, if you want a little bit of adrenaline, you can practice parasailing!
Also, don't forget to visit some main attractions such as Las Pilitas and Muelle Playa Los Muertos.
So what are you waiting for? Finally, Playa Los Muertos is ready to give you one of the best experiences ever!
Please follow and like us: