As an Amazon Influencer, we earn from qualifying purchases you might make if you click any of the links on this page.
Congratulations! You've had a good night at the tables and now have a bit of money burning a hole in your pocket. You want to go shopping in Las Vegas, but are unsure about where to start. This article will help you decide where to part with your winnings.
You don't have to travel far to spend money in a wonderful store. In fact, chances are the hotel in which you are staying has a series of shops that will be more than happy to help you come up with the perfect item for yourself or to give away:
Some other hotels that have shops are Harrah's, Luxor, Mirage, Palazzo, Planet Hollywood, and Treasure Island.
You may find that you want to get out of your hotel and explore some of the shopping malls. Again, you will be spoiled for choice.
Crystals at City Center is enormous and contains nearly every luxury brand you can think of. In fact, some of these brands now have their flagship stores in this location. Additionally, some of the best art galleries and restaurants in Las Vegas are now located here.
Fashion Show Las Vegas is one of the largest malls anywhere. Boasting seven anchor stores, it sprawls over 2 million square feet. Hovering about it all is The Cloud, a canopy that shades the outdoor plaza during the day and acts as a projection screen at night.
Town Square Las Vegas is a great place to shop with your family. Pedestrian only streets, a movie theater and a children's park ensure that your kids will have as much fun as you do on your excursion.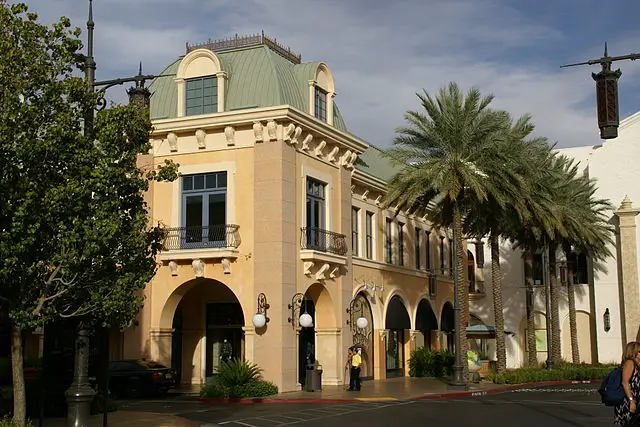 If your winnings don't extend to luxury goods, or if you want them to go a bit further, get off the Strip and head downtown. Here, you will find the Las Vegas Premium Outlets. Filled with great brands, each of the stores offers significant savings over the other shops in town. Truly the place for the bargain hunter. There are two outlet malls. The first is not far from Fremont Street; the second is well out of town, past the airport.
Even if you don't go to the outlets, at least once during your visit to Las Vegas, get off the Strip and head over to Fremont Street. This is old Las Vegas and the shops there reflect that feeling. There are not as high end, but in terms of kitsch, you won't find anything better than you will here.
Shop in Las Vegas 'Till You Drop!
These are just some of the places available to shop in Las Vegas. For more choices, or to find a hotel that is close to one of these shopping meccas, click here. Stop by and let share your experiences with other shoppers. The best shopping information is always from those who have lived it.
Please follow and like us: