Despite it being one of the oldest communities in South Florida, Coral Gables manages to remain one of the most sought after destinations in Miami. Dubbed City Beautiful, the area has a variety of tourist attractions worth seeing.
A touch of Mediterranean
When you visit Coral Gables, it will be like walking into another era. Many of the buildings feature 1920s Mediterranean influences, with symmetrical facades, stuccoed walls, and red-tiled roofs. These design elements can also be seen in the city's numerous plazas, fountains, and entrances.
One of the most iconic Mediterranean-style structures in the area is the Biltmore Hotel. The building, which was inspired by the Cathedral of Seville in Spain, has not changed since its construction in 1926. It's a prime example of the Prohibition era's glamour and luxury. If you're interested in checking the place out, the hotel's lavish courtyard hosts one of the finest brunches every Sunday. You'll enjoy hanging out among an abundance of palms and plants and hearing the tranquil sound of the courtyard's central fountain.
Where it all started
Coral Gables is the product of developer George Merrick's vision of building a beautiful and expansive city. He imagined city that offers everything from museums to dining destinations to lush spaces. Merrick's legacy is honored in all of Coral Gables. If you want to know more about him, you can visit the Merrick House. Once owned by the Merrick Family, the city now maintains 1910 coral rock house. It contains furnishings and artworks of the family.
The Coral Gables Museum also gives visitors a glimpse of the City Beautiful's past. It is also on the National Register of Historic Places list, has a 3,000 square-foot gallery as well as a 5,000 square-foot plaza which holds lively street fairs from time to time. You can sign up for guided tours every Sunday or participate in some of the museum's workshops.
Venice at its heart
Another landmark worthy of a visit is the Venetian Pool, which is the only public swimming pool listed on the National Register of Historic Places. Formerly a limestone rock quarry, the pool is large enough to hold 820,000 gallons of fresh water. Mimicking the charm of Old Venice, the pool also features a grand waterfall, coral caves that stretch back into the hillside, and shaded porticos. If you're skipping the beaches this summer, the Venetian Pool is a worthy alternative.
A Mile of shopping
No travel trip will be complete with a shopping experience at Miracle Mile. It is the city's downtown central district, housing many upscale boutiques, salons, and spas. The place also happens to be known as a "Bridal Row", because it has everything you need for wedding parties. If you don't plan on splurging, you may even opt to visit the many bookstores, theaters, and art galleries in the area. The whole place is a brick-paved section of the road that stretches out to half a mile.
Miracle Mile is also home to many notable restaurants offering a variety of cuisines. You can enjoy some pasta and wine at Cibo, or try a Caribbean fusion dish at the Ortanique on the Mile. If you're in the mood for Cuban food, check out PreTravels' recommendations for Cuban restaurants.
The coral of Miami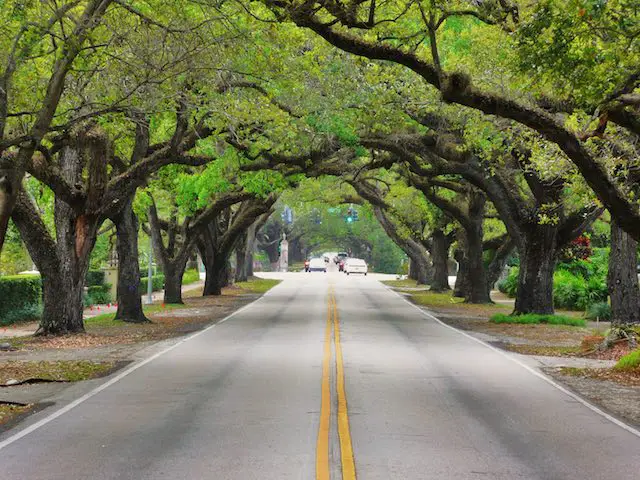 Coral Gables is often cited as the best neighborhood in Miami, because aside from its beautiful community design, it is known for being very safe. In fact, it has a fully accredited police department as well as a Class 1 fire department. Respectively, these are the highest national recognitions for the agencies.
Miami's Brilliant Coral Gables!
With its unique landscape and excellent security, Coral Gables allows you to not think about anything else but enjoying your trip and making lots of unforgettable memories. Of course, don't forget to document those precious moments and follow PreTravels' tips on how to take the best travel photographs.
Please follow and like us: