There are plenty of carry-on packing lists on the internet. Usually recommending favorite snacks, neck pillows and entertainment but lord knows I've been victim to too many lost checked bags which can be such a hassle on vacation that I started to learn how to pack light and bring a carry-on instead.
In this article we'll cover how you can get away with packing everything you need whether you are taking one of the best 3 day cruises or going on a longer 5-7 day excursion. Here are some tips and tricks to packing light and fitting everything in your carry on.
Pack According to the Itinerary
First it's important to note the weather and nature of your itinerary. It goes without saying that a trip to Scotland in the winter will require different attire than to Mexico in the summer. Either way you should always pack in packing cubes to help keep your small bag organized and compress your clothes to maximize space.
Essential Clothing and Footwear
You should always pack a travel size tube of Castile Soap. It's convenient for washing up but also doing a quick sink load of laundry if you stain one of your shirts or need a refresh. The trick to packing a light carry on is to pack items to serve multiple purposes and bring layers. Consider wearing your bulkier items on the plane so they don't take up valuable space in your suitcase.
Below Is An Example List Of What You Should Bring For a Beach Vacation.
T-shirts, button downs, or printed shirts
2 or 3 pairs of shorts Jeans or fitted trousers
A pair of sundresses for women (they can double up as a swim cover up)
Swimsuit
In the footwear department, I suggest packing
A pair of comfortable wedges for women
A pair of classy shoes for men
Joggers or sneakers
Flip-flops that can double as your beach shoe or a casual night out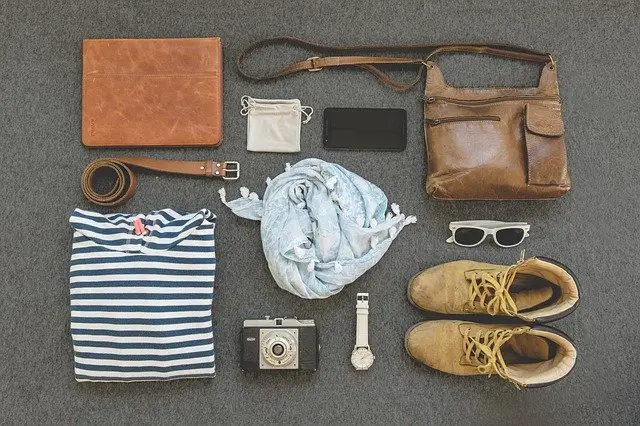 Sunglasses
A wallet
A watch or bracelet
Waist belts
A cap or hats
Below is an example list of what you should bring for a mountain vacation.
Skincare Depending on the weather of the place you are visiting, you must choose from moisturizers for all skin types and pick what suits you best. Besides a bottle of castile soap which you can use for a body wash, a good sunscreen is a must, as your skin might be open to humidity and direct sunlight. Pack your preferred makeup items too for when you need to doll up. Your favorite lip color to double as a cheek tint, foundation, an eyeliner and mascara, and you're all set!
Gadgets
A good camera is needed to capture amazing memories, smiles, and beautiful places, so keep one with you. Phone and camera charges are important, and in case of no plug-ins keep a power bank. You also might need headphones while enjoying yourself.
First-Aid
You must keep headache, flu and cough medication, painkillers, and bandages.
We all deserve a vacation that's full of fun and without any troubles as we temporarily switch off our normal, hectic routines. For a hassle-free trip it's crucial to pack lightly but with all the important items that we need to stay safe and happy!
Please follow and like us: