Thinking about taking a trip to Dubai? There is so much to see and do in this intoxicating city you will be blown away. Check out Dubai's top tourist attractions for your next holiday!
Why Dubai?
Dubai is one of the world's most exciting places to spend your next vacation. Not only can you find fun activities and once in a lifetime experiences, but you can also get away from your everyday hustle and bustle.
Whether you want to travel alone to this modern hub, or bring the whole family along on the adventure, Dubai has something for everyone. Here are Dubai's top tourist attractions for your next holiday!
Burj Khalifa
The Burj Khalifa is the tallest skyscraper in the world! This incredible feat of architecture stands 2,722 feet tall (829.66 meters). That's just over half a mile!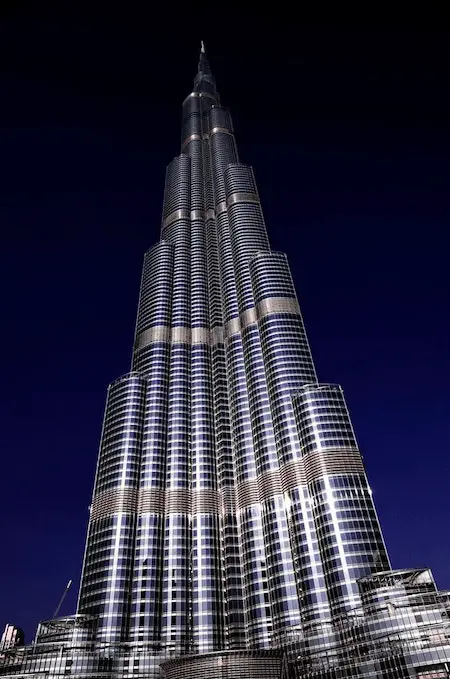 The big attraction at the Burj Khalifa is the observation deck. All things considered, being on the 124th floor At the Top outdoor observation deck is breath-taking. Not to mention you can go even HIGHER to the SKY level on the 148th floor of the building! That's 1,821 feet (555.04 meters) above the ground.
Once you've seen the top of the world, you can take the LOOOONG elevator ride down to the ground and enjoy the beautiful Dubai Fountain!
Ski Dubai
One of the coolest places in Dubai, pun very much intended, is Ski Dubai! All things considered, this remarkable facility will be something you remember for your entire life. Not only can you go skiing indoors, but also snowboarding, snow park rides, meeting penguins and so much more!
Ski Dubai offers visitors fun, rides, and of course ski courses in the middle of the desert. You can take the kids on a bobsled run, as well as snowboard on a black diamond run. You'll get such an amazing workout you'll have to find an amazing massage in Dubai after your day on the slopes! Be certain to put aside at least a full day of fun on your itinerary for this inspiring and cold experience.
Green Planet Indoor Rainforest
An indoor bio-dome that houses over 3,000 plants and animals from the tropical rainforest is seriously one of the most incredible things you NEED to see. Not only is it affordable, but it is also one of the most educational places on the list the Dubai's top tourist attractions!
You can learn about so much here! The entire facility is broken down into the sections of an enormous tree:
The Forest Floor and the Flooded Rainforest – Here you will learn about water dwelling animals, insects, as well as small rodents and even birds and various other animals that inhabit the rainforest floor.
The Midstory – All in all, if you love monkeys and snakes and parrots, then this is the part of the Green Planet adventure for you!
The Canopy – The canopy will teach you about the high flyers of the rainforest. Not to mention you get the chance to see sloths up close and personal! From bats to birds, you can find them here at the Canopy.
The Green Planet experience is not only fun for the whole family, but it also highlights the delicate nature of the rainforest and its ecosystem. Find a unique educational experience at this spectacular facility!
Desert Safari
You may be thinking to yourself, "A safari? In the DESERT?" And you wouldn't be alone in that line of thought. Because your trip to Dubai wouldn't be complete without a once in a lifetime camel ride, or sandboarding adventure. That's why they created desert safaris!
You can four-wheel your way around sand dunes, camp under the unencumbered stars, as well as eat mouth-watering food! Be certain to pack light clothes, because you'll certainly need them in all of the sand and sun!
There are even desert safari's available near Abu Dhabi as well. If you want to travel to two fascinating cities in the United Arab Emirates!
Motiongate Dubai
Motiongate Dubai is a Hollywood-inspired theme park that has attractions from all of your favorite movies! You and the whole family can immerse yourself with fun rides based on your favorite DreamWorks characters, or The Smurfs, or even The Hunger Games!
Tickets can be purchased in packages, as well as individually. However, it's best to get your tickets around fun park events to save a bit more on the overall price!
Al Bastakiya: Truly One of Dubai's Top Tourist Attractions
If you're a history buff, as well as someone who loves to explore the rich history of your travel destination, then Old Dubai, or Al Bastakiya is just the place for you.
Dating back to the 1890's this beautiful historic Al Fahidi Neighbourhood is bustling with life to this day! Find yourself getting lost in time at the Arabian Tea House Café, or see the incredible art at XVA Gallery.
No matter how you spend your time here, it will be filled with the remarkable past of this incredibly modern city!
Aquaventure Waterpark
Dubai's top tourist attractions wouldn't be complete without a sure fire way to beat the desert heat! The Aquaventure Waterpark is a huge waterpark that has everything from a lazy river, to a zip-line, as well as private beaches and children's areas. Not only can you swim with sharks or feed stingrays, but you can also enjoy the rides!
Overall, the park boasts over thirty attractions within the waterpark. That doesn't even include the Lost Chambers Aquarium that houses 65,000 marine animals!
The Aquaventure park is a part of the Atlantis Resort in Dubai, so if you stay there you can even get a discounted ticket price. Just be certain to pack your swimsuit so you can take in all the trills of this waterpark!
Dubai's Top Tourist Attractions to Make Your Middle Eastern Holiday Complete!
Whether you want to snowboard at Ski Dubai, take in the history at Al Bastakiya, or even see your favorite animals and movie characters, Dubai has it. Who knows, once you are done with Dubai, maybe you'll consider more Middle Eastern cities! Like Muscat, or Beirut, or even Istanbul. There is so much to explore!
All in all, Dubai's top tourist attractions will make for an unforgettable vacation in the Middle East. Make your way to a few, or even all of these amazing places to have the holiday you'll never forget!
Please follow and like us: