One of the most fabulous ways to see Upper Egypt is to take a relaxing holiday on an Egyptian Nile Cruise from Aswan to Luxor. It's a dream to travel aboard a luxury floating hotel and be able to step straight off the boat into ancient temples. It takes you back millennia in some ways, as life on the Nile hasn't changed a great deal since Pharaonic times.  You can almost see the priests and acolytes climbing the steps to worship their Egyptian gods as you climb those same steps.
But it's not all about the ancient monuments and mummies. Experiencing 21st Century Egypt on an Egyptian Nile cruise sure has its advantages without all the hustle and bustle of a hundred million people. You will see local Egyptians going about their daily lives on the banks of the Nile as you just drift by. The world comes to you from the comfort of your air-conditioned room.
The cruise ships really are floating hotels with restaurants, bars, and shops. For a balmy breeze, you can just climb to the top deck to sunbathe or take a dip in the swimming pool to cool off before chillaxing with a fresh juice from the nearby bar.
Start your Egyptian Nile cruise in Aswan
In ancient times Aswan was in Nubian territory which stretched south into Sudan. Modern Egyptians from Upper Egypt are proud of their Nubian heritage dressing in colourful clothes and painting their buildings to match. Bright colours – rasta green, yellow and red, are favourites.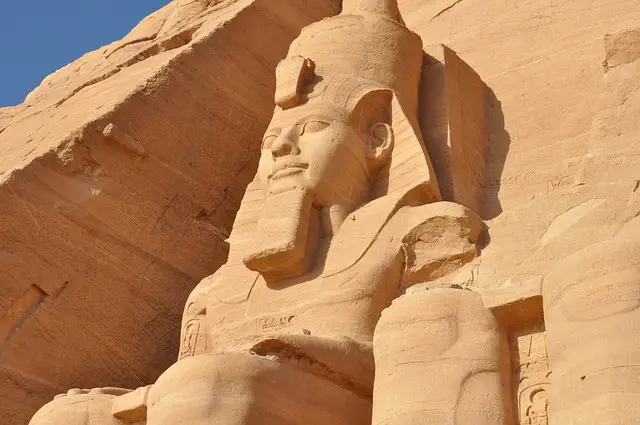 Before you embark in Aswan, it's always worth it to take a trip south to Abu Simbel and Hathor's Temple. Originally these two fabulous monuments were carved into rock some meters below their current position. Had they remained there, they would have been drowned by the rising waters of the Aswan dam. In the 1960s UNESCO pulled off an awesome feat to save both by cutting them out of the rock face and rebuilding them above Lake Nasser. Also worth a visit is beautiful Philae Temple on an island in the Nile, another saved from rising waters.
Aswan is also the place to sail around the Nile onboard a traditional felucca. The captain will be charming and the scenery idyllic as you explore the many tiny islands. Stop off for a drink and a chat with hospitable West Bank locals. The women there are experts at drawing traditional henna tattoos. If you don't scrub too hard the tattoo may last through your holiday and maybe even make it home. Also, you might even get to spy an Egyptian Nile crocodile – in a holding tank.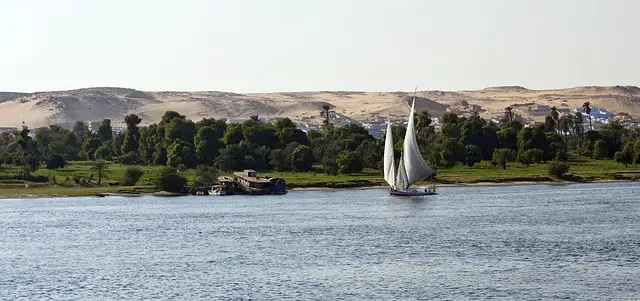 Sweet dreams on your Egyptian NiIe cruise
Gentle rocking will lull you into a deep sleep and in the morning, you get to open the curtains to see it wasn't a dream. The same magical landscape is still a  gliding past! If you head up to the top deck early enough, you can watch Ra, the sun, begin his journey across the sky in his shining chariot. You may begin to understand why the ancient Egyptians worshipped Ra every day.
The Egyptian Nile, River of Life
The Egyptian Nile remains the lifeblood of Egypt as it did thousands of years ago.  Where the water stops, the desert begins – immediately.  You could literally stand with one foot on green plants, the other on desert sand, the whole way from Upper Egypt to the Mediterranean Sea.
Irrigation channels stretch some kilometres from the river towards the sands of the Sahara. Tall date palms line the banks of the Egyptian Nile, reaching right to the water's edge. The rich black soil, full of the nutrient-rich silt from annual floods, grows abundant crops like sugar cane, corn, tomatoes, water melons, peppers, dates, bananas, and olives.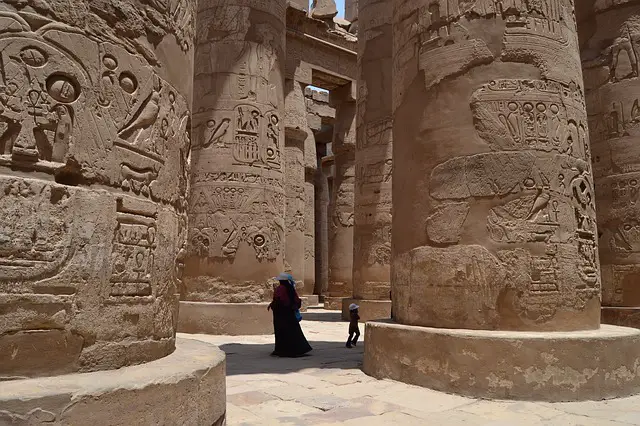 Since ancient times, boats like the tiny feluccas and larger dahabiyas have been sailing the length of the Nile. Stylish dahabiyas are larger and luxurious, with their tall masts and elegant decks for lounging and relaxing. The Nile's current carries the boats downriver and consequently the predominant northerly breezes help them sail back upstream.
Awesome Ancient Temples
Sobek the crocodile god waits to greet you at Kom Ombo, the first temple en route on your Egyptian Nile cruise. Currently, there are so few tourists in Egypt there are no crowds queuing at the gates so you will get star treatment as you step off the boat onto the steps leading up to the temple.  Yet, everything is still peaceful and friendly so just make the most of being able to take photos without thousands of tourists.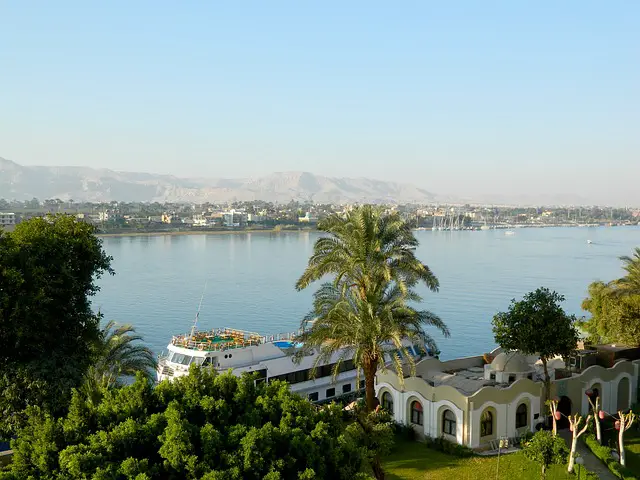 The next stop is Edfu Temple. Edfu is not on the banks of the river so hail a ride in a horse-drawn caleche. It's fun to sit high above the friendly chaos of Egyptian streets as you trot along to the temple. On returning the captain always counts everyone back on board before the boat can continue north to Luxor.
With any luck, there will be a galabiya hafla on the boat one evening. Hafla means party and galabiyas are the traditional long dresses worn by women and men. You can buy them in Aswan or even in one of the shops on board. Watch the local entertainment and show off your belly dancing skills. Galabiyas are super comfortable to wear so afterwards wear it lounging around home or as a beach cover-up.
And More Ancient Monuments
By the time you get to Luxor you may want stay cruising on the Egyptian Nile forever. One day in Luxor is never enough to see all the temples and ancient sites so start with the most renowned. On the East Bank, there is Karnak Temple which covers a huge area with lots to explore, as well as Luxor Temple which is open at night and looks spectacular under lights.
If you take a ferry to the West Bank you will get the chance to mix with some friendly locals. Once there you can visit Hatshepsut's Mortuary Temple and the famous Valley of the Kings. Check out the amazing artwork decorating the walls and ceilings as you climb down steep steps into various tombs. Howard Cater rediscovered Tutankhamun's unopened tomb in the valley in 1922. It had not been disturbed for nearly 3,500 years. All Tutankhamun's treasures remained in his tomb, placed carefully to help him in the afterlife. Many of these pricelss artifacts are now exhibited in the Egyptian Museum in Cairo.
Plan to stay a little longer
Maybe you have time after your Egyptian Nile cruise has ended, so spend a few more nights in Luxor. There are plenty of luxury hotels including the royally appointed Winter Palace directly on the East Bank.
The souqs which are great places to shop for mementoes and locally made goods. Always be prepared to bargain as the shop keeper will invariably ask a very high price. If you are interested in buying an item, decide the maximum you wish to pay. Start by offering half your maximum price as he will most likely double it. As you bargain and drink tea, you will eventually meet in the middle. Finally, everyone will be happy, in sha Allah – God willing.
Get Ready for Your Egyptian Nile Cruise!
It is said, that "once you have drunk water from the Egyptian Nile, you will always have to come back". I wouldn't recommend you drink water straight from the Nile, but I suspect Egypt will beckon you back. There is always so much more Egypt to explore. If you are looking for more inspiration about where to travel check out some other intrepid travellers here.
Please follow and like us: