Like any major city, you will find hundreds of places to eat in Bangkok that will run the gamut from top of the line to much more simple.  If you are on a budget, the trick is to find good food at reasonable prices. Here are some of the best cheap eats in Bangkok.
This restaurant is a curry house located near the Phra Athit ferry terminal.  Roti is a flatbread that is filled with the freshest seafood, meat, chicken and vegetables you can imagine.  All of this is sweetened with thick, condensed milk.  The dishes are prepared near the entrance to the restaurant, so you can watch while your meal is prepared.
The restaurant is built over two levels.  The downstairs can get very crowded and, therefore, a bit hot and stuffy.  Upstairs is air conditioned and a bit more comfortable.  The prices are astonishingly low for food this good and the service is quick and efficient.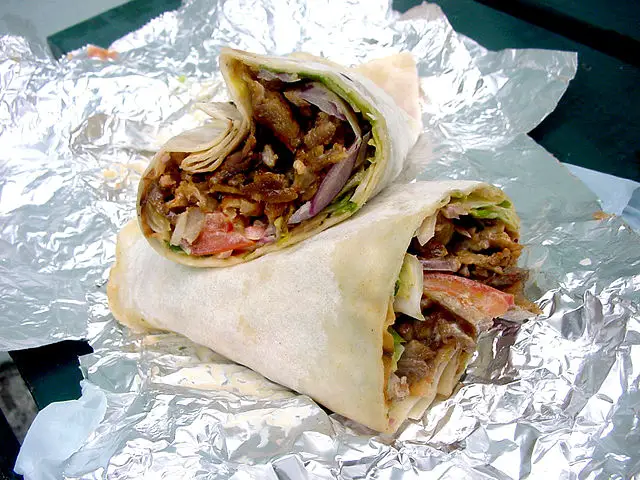 Polo Fried Chicken
Located in Pratunam off of Wireless Road, this restaurant serves the best fried chicken in Bangkok, maybe anywhere.  Large pieces of chicken are brined and seasoned with black pepper before being fried until they are crisp.  Unusual for fried chicken, the meat is moist and flavorful and the grease is at a minimum.  The best part is that the chicken is topped with crunchy fried garlic that adds even more to the flavor.
Have some chicken with sticky rice and a plate of som tam and you are set for the afternoon.  Get here early.  The restaurant fills up quickly at lunchtime as the office workers in the area fill it up quickly.  If you are looking for a real break from the crowds, this restaurant will deliver to your hotel (within a certain area) for a nominal fee.
Suda Restaurant
This restaurant is located across the street from the Westin and very close to the Sheraton Grande Sukhumvit.  As a result, it is filled with tourists and locals alike who come for the traditional Thai food.  The service can be a bit spotty, but the food is good and the prices are extremely reasonable.
This restaurant has yet to embrace the idea of air conditioning, so it can get very hot while you are eating.  You will find, however, the fish cakes and the green curry make up for a small amount of sweat.
Took Lae Dee
Located inside the Foodland Supermarket, this is one of the best known restaurants in Bangkok.  It is a long bar counter, but instead of a bartender serving you drinks, you have a chef serving you food.  The variety is astonishing; you can order everything from a traditional Thai food to a cheap Western breakfast that includes two eggs, meat, toast, juice, and coffee and spend next to nothing.
Open 24-hours, you may have to wait for a few minutes to sit down, and the service can be hit or miss.  Don't let that stop you from stopping by here at least once for a delicious and cheap meal.
Located at Monopoly Park Mall Rama 3 Road, if you are looking for something completely different, this is the place to try.  The restaurant is an all you can eat Japanese style grill and the prices are remarkably affordable.  What makes this restaurant so much fun is that the food is served to you by samurai robots who, after they serve you, will entertain you with a dance.  It is a gimmick, but it is fun and the kids in your party will love it.
One of the best ways to eat in Bangkok is to avoid the restaurants all together and eat at the street stalls.  There are hundreds of them lining the streets and you will find all the food you could want and pay next to nothing for it.  You will find stalls selling meat, chicken, seafood, noodles, you name it.  The best fruits and salads are on the street and you can stroll along and pick and choose exactly what it is you want to eat.
The street is also the place to go if you are feeling adventurous and want to try something not readily available at home.  Check out the insect stalls, where deep fried insects of all types are for sale.  The locals eat these as you would eat chips.  If you don't think about what you are eating and just go along for the experience, they can prove to be delicious.
Finding Rest After Cheap Eats in Bangkok!
After all that food, you will most likely need a place to rest.  There are hundreds of hotels to choose from in Bangkok, some located near the restaurants described here.  Be sure to comment below about the best places in Bangkok you have found.
Images Credit: commons.wikipedia.org
Please follow and like us: