When eating in Barcelona you will find it differs from other cities you may have visited. Locals think nothing about eating dinner at 10 pm and this is the time you'll find restaurants at their busiest. The city is full of restaurants and cafes offering a wide range of cuisines in various settings to suit all tastes.
Make your trip to Barcelona even more memorable by trying local foods in great restaurants. The vibe is fun and laid back, so relax and have a good time eating in Barcelona. Here are a few tips on what and where to eat in the city.
Check More Posts About Barcelona:
What to try when eating in Barcelona?
Like Paella? Well in Barcelona for the locals, paella is nothing compared to its noodle version, the fideuà. Of course full of seafood, whatever is fresh at the market you will find in this dish.
One of the most famous dishes of the region is simple but delicious. Escalivada is a smoky vegetable dish made of aubergine and bell peppers and sometimes with onions, tomatoes, and garlic. Usually eaten as a tapa, or served with fish or meat.
Esqueixada is a dish to try on warm summer days. This salad is made up of bacalao, or salt cod, with peppers, tomatoes, onions and olives. You have to try it for the delicious romesco sauce which tops it off.
For dessert, you must try Crema Catalana, which is a custard dessert similar to creme brulée. What makes it different is the cinnamon and citrus flavours compared to the French vanilla and lighter too. A good tasty choice to finish your meal.
An alternative dessert to try, especially if you don't have a sweet tooth is Mel il Mato, which is honey and Mato cheese. A healthier option at the end of your meal. or Dishes in Catalan Barcelona differs to the food you might try in other parts of Spain or Spanish islands such as Majorca.  
Where to go when eating in Barcelona?
With so many restaurants in this foodie city, how do you choose where to take your evening meal? Well here are a few places to try depending on what type of food you are after. For food accompanied by drinks then tapas is the way to go. However, if you want a meal in a formal setting then a more upmarket restaurant might be your thing. Here are some examples of restaurants to try depending on your mood.
Best to try Tapas
Bambrol restaurant in Barcelona is for excellent for tasty, fresh Tapas and attentive friendly staff. The restaurant's philosophy is to honour traditional Catalan dishes using modern techniques. Try a range of both hot and cold Tapas, including daily specials. Tasty favourites include scallops with pork jowls and asparagus or the marinated salmon with avocado. Are you a vegan? No problem, Bambrol caters for vegan guests too.
Reservations can be made online and the restaurant address is Carrer Santalo 21, 08021 Barcelona, Spain. A meal for two can cost as little as 60 Euros with wine. What a bargain. 
Best for Lunch Time
El Casal offers an amazing three-course set menu for lunch at only 11 Euros. Choose from wide range of Catalan charcuteries, tortillas and cheeses served in tapas or in sandwiches. You have a choice between two starters, main courses and desserts and also a drink with your meal, all included in the set menu.
Find the restaurant just 2 minutes from Santa Maria del Mar. Located in plaza Victor Balaguer square between carrer Nau and Santa Maria del Mar church.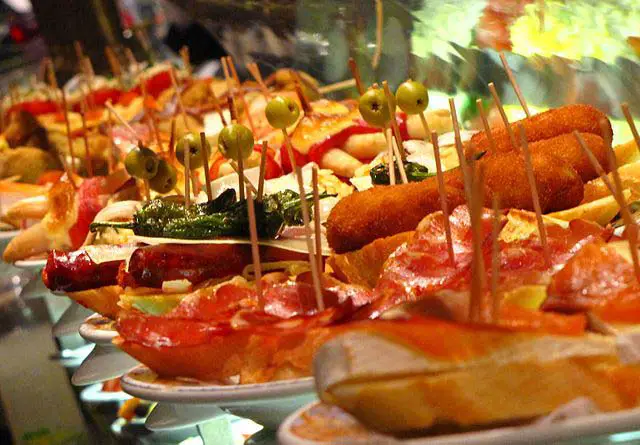 Best for a Formal Dining Experience
If you want to celebrate a special occasion or just want to treat yourself, then book a table at Uma Barcelona. Dinner reservations are necessary for this restaurant where you can enjoy international cuisine in a formal setting. The owners intend on taking their guests on a flavourful journey, so you are in for a treat if you eat here.
An intimate dining room with an open kitchen where you can watch the chefs in action. The tasting menu will set you back 75 Euros and if you want wine pairing then expect an additional 35 Euros. Find Uma restaurant at Carrer de Provenca, 310, 08014 Barcelona, Spain. 
Best Mid-Range restaurant
For a mid-range priced dinner make your way to Bodega Biarritz. The welcoming atmosphere and wide range of dishes make it an excellent choice. Traditional Spanish cuisine with Tapas starting from just 1.5 Euros per dish. Vegetarian? There's a great range of vegetarian tapas too, so everyone is catered for.
If you like wine then you are in for a treat, the staff have the expertise to pair their wines with your menu choices.  Easy to find in it's centrally located in Barri Gotic. Not only will you enjoy the food but marvel at the fantastic architecture Barcelona has to offer in this area.  The address is Nou de San Francesc 7, 08002 Barcelona, Spain.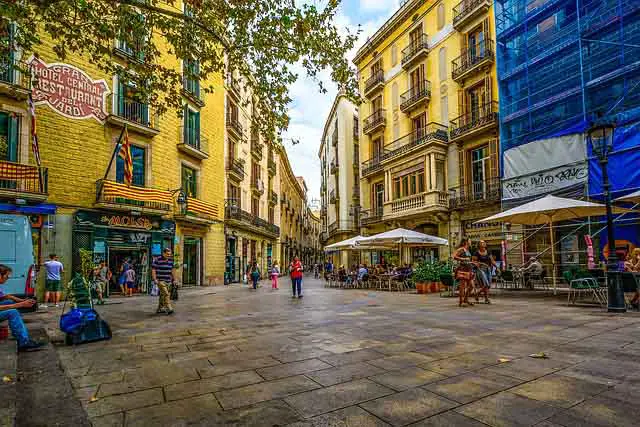 Best Budget Eating in Barcelona
Of course, there are many places to grab a quick bite in a city as big and popular as Barcelona. But for a cheap meal then why not give Menssana a try. A restaurant showing that budget eating doesn't have to mean unhealthy fast food. You can eat healthy nutritious foods with lots of vegetarian and vegan options too. Taste dishes inspired from all over the world or just drop in for a coffee and a cake. Hot food is cooked to order ingredients are locally sourced so are the freshest they can be.
Find Cafe Menssana at Carrer Sardenya 48 | 08005 Barcelona, 08005 Barcelona, Spain in the Ciutadella / Vila Olimpica neighbourhood. So great for a stop for lunch when visiting the Olympic village and university area. 
So what do you think about Eating in Barcelona?
Im sure you want to jump on a flight and eat your next meal in Barcelona. These are just some of the best bites in the city but these are plenty of others to explore. There are so many delicious dishes and restaurants to choose from so you are sure to have a fantastic tasty meal. Be that lunch, dinner or just a snack. No wonder it's a favourite destination for travellers. Make sure you spend plenty of time here! Have you eaten your way around Barcelona? What was your favourite dish or restaurant?
Please follow and like us: