San Diego has it all.  Great restaurants, endless sunshine, beaches and three of the greatest theme parks in California.  Each of these is worthy of an entire day out, so visiting all three could easily become part of a week long holiday or even a very busy long weekend.
San Diego Zoo
Without question, the most famous of the three parks is the San Diego Zoo.  Universally acknowledged as one of the great zoos in the world, it is worth a day long visit to ensure that you can experience all that the zoo has to offer.
Sitting on 99 acres (40 ha), it is very possible to feel a bit overwhelmed by all the possibilities when you enter the park.  A great way to get a feel for what is available and how the zoo is laid out is to take the 35-minute Guided Bus Tour.  Covering a large percentage of the zoo, you will be able to get a sense of what parts of the zoo you would like to explore in more detail and what parts you might want to skip.
What some people choose to do after the Bus Tour is to take the Skyfari Tram.  As you soar over the zoo, you will not only get wonderful views of the animals, it will drop you on the other side of the zoo.  Start at the back and work your way forward, ending up at the front gate at the end of the day.
Another option is the Kangaroo Express Bus.  With five stops located throughout the zoo, you can hop on and off as you wish.  This is a good option for families with young kids who may need a bit of a rest every now and again.
Speaking of young kids, or even if you are just young at heart, don't miss the Children's Zoo and the Petting Zoo.  Your life is incomplete if you have never had the chance to pet a wooly lamb.  Additionally, the zoo boasts several shows that play at various times during the day.  Be sure to check the times when you arrive so that you don't miss ones you want to see.
San Diego Sea World
If you don't get your fill of animals at the zoo, head over to Sea World.  Unlike the zoo, this park is a much more traditional amusement park than the zoo.  It boasts rides, ten shows daily and several interactive experiences that are truly once in a lifetime experiences.  With a bit of advanced planning and a bit of extra cash, you can swim with dolphins or swim with beluga whales.
Of course, the most famous resident of the park is Shamu, the killer whale.  Make sure you see at least one show so that you can admire these beautiful creatures.  Be warned, however.  When you walk into the arena, some of the seats are painted blue.  Sit in these seats at your own risk; you are guaranteed to get wet!
Like the zoo, Sea World also have several choices and rides for the youngest members of your family so everyone is sure to have a wonderful day out.
San Diego Legoland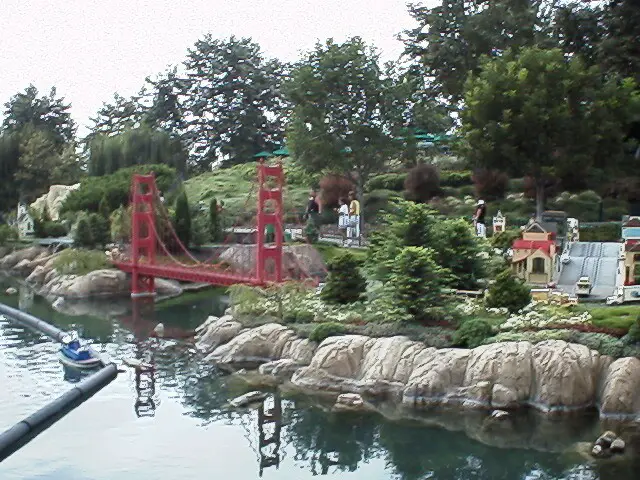 If you've had enough wildlife and are ready for something different, make the short drive to Legoland.  You know you're in for a treat as soon as you walk into the park.  There, you are greeted by Bronte.  Bronte is a bright red dinosaur that stands nine feet tall and 34 feet long — made entirely with LEGO bricks.  Seeing the amazing things done with these bricks is why many people come to this attraction.  Exhibit after exhibit, all of them done exclusively with LEGO, is genuinely astonishing.
If, however, a little LEGO goes a long way with some members of your family, the park boasts over a dozen rides and shows to keep everyone amused throughout the day.  Be sure to wear your bathing suit; admission to the park includes a water park as well.
If you and your crew are still standing at the end of the day, be sure to stick around for the fireworks display.  Although they are not set off every night, it is a fantastic show when they are and well worth the extra long visit.
Amazing Day at a San Diego Theme Parks!
No matter which of these three parks you choose to visit, or even if you visit all three of them, click here for information on area hotels.  Please comment on any or all of the three parks, especially with the aspects that shouldn't be missed.
Images Credit: commons.wikimedia.org
Please follow and like us: