If you want to experience one of the most beautiful and historic islands in the world, take a trip to Greece's Santorini Island. You'll witness mesmerizing landscapes, rolling hills, black sand beaches, and a view of a breathtaking Caldera where it all originated. Before you go, however, you'll want to know how to visit Santorini.
So, whether you're a world traveling writer or on your first international experience, this guide will get you around a location that is as equally historic as it is beautiful!
Where to Stay in Santorini
Theoxenia Hotel
Even though Santorini is a relatively small island off the coast of Greece, there are myriad beautiful places to stay and enjoy your vacation. In Fira (or Thera), you can stay along the coast, facing the calm view of the Caldera. The Theoxenia Hotel was one of our favorites. It's an affordable hotel with a great, walkable location to eateries, outstanding views, as well as a staff that is helpful and accommodating in every way possible. Only a couple streets from one of the main little strips of shops and small restaurants in Fira, the Theoxenia Hotel sits. It boasts clean, open rooms and balconies, perfect for the evenings when you want to relax. Theoxenia is the perfect place to stay when considering how to visit Santorini.
In the morning, the daily in-room breakfast tray is truly amazing. Delivered at your chosen time with a variety of breads, butters, jams, hard-boiled eggs, coffee and fresh fruit, you'll want to savor the mornings at this hotel.
Hotel Thireas
Another wonderful hotel in Fira is the beautiful Hotel Thireas. Here, we spent one night in a honeymoon suite looking over the Caldera, drinking local wine and enjoying the view. With an in-ground pool on site that also overlooks the cliffs and homes facing the sea, and personal hot tubs and patio tables on the balconies. This luxury hotel is a retreat for travel lovers. The refrigerated mini-bar is reasonably priced as well, in case you run out of bottled water or snacks!
Quick Tip: It is recommended to NOT drink the water in Greece, including Santorini. Make sure to bring bottled water with you as well as keep it in your hotel room for hydration and to make any tea or coffee for yourself.
Oia Mare Villas
If you find yourself looking for a hotel closer to Oia, the Oia Mare Villas offers a stunning view of the Caldera as well as the infamous sunset at dusk. Their friendly and attentive staff is accommodating for any size party – whether you're there as a couple or as a family. With a pool and many other amenities on site, this mid-priced Oia hotel location is great for those who want luxury views in the warmth of Santorini. With an amazing breakfast selection and coffee ready for you when you wake up, spend some time in their pool and walking around the scenic white-washed walls of the Mare Villas.
Santorini has a lot more to offer if you are searching for the right accommodation for your Santorini holiday. You just have to spend a little time online and check out the best hotels.
Where and What to Eat in Santorini
The island of Santorini is a winding set of roads and alleyways, with beautiful and authentic eateries abounding throughout the city. Whether the restaurant is small or big, you will find the cuisine exquisite and true to Greece's culture.
Argo Restaurant in Fira
This particular restaurant is a great place to go if you're staying in Fira (or, Thera). Every menu item is authentic and delicious, as well as a proprietor that is one of the friendliest we've met while traveling! Make sure to check out their Meze plate, a palate-pleasing mix of all their locally made dips and mixes. Also, don't skip on a tasty traditional Gyro and grab a nice carafe of wine to go along with it as well. If you really want to know how to visit Santorini, this is where you should find your first meal!
Go during the day for the best views – you can sit, sipping wine with a view of the white-washed homes and an astounding view of the Caldera – all for very reasonable prices, and in a very relaxing atmosphere.
Melina's Restaurant on the Black Volcanic Sand Beach
Melina's Restaurant on the beautiful beach in Akrotiri is one to behold! While we went in the fall of late November, the weather was still sunny and beautiful. Above all, the view was incredible! Not to mention the food, which of course we indulged. At Melina's we ordered the lamb, as well as their fresh dolmades (stuffed grape leaves), and a few glasses of white wine. As we dined, we listened to the waves lap over the black-sand shore directly in front of us.
While there, you'll start to notice the many local kitties that meander through the area. They are all sweet, friendly little furry creatures who might be looking for a handout, which we gave readily! One of my favorite memories of that restaurant was feeding the little cats that would calmly gather nearby.
Quick Tip: Don't forget that Santorini loves their cat friends – treat them well and enjoy their company no matter where you go!
What to See In Santorini
Santorini is a small island that is dense with history and beauty. The best way to visit Santorini in all its glory is by taking a day trip on a group tour with a local guide. In just one day, you'll be taken around to mesmerizing places like the black sand beaches and the excavation of one of the oldest civilizations in Akrotiri. Lastly, enjoy a local winery, and then cap off the day with a sunset in Oia (pronounced "ee-yah").
Since the island itself was formed by a series of volcanoes throughout the millennia, the beaches and vistas are full of multi-colored volcanic rock and sand, ranging from sandy brown to brick red to Santorini's most astounding beaches – soft, black sand. In Akrotiri, where you'll find the aforementioned beach-front restaurant Melina's. Here you can dip your toes in the Mediterranean Sea and meander slowly along the coast at will. There are also sun-facing beach chairs where you can relax with a glass of local spirits while the waves lap slowly over a quiet sea.
The Minoan History of Santorini
If you've never heard of the Minoan bronze-age settlement of Akrotiri, you're not alone! Despite being one of the oldest excavated civilizations in the ancient world, it is a quiet and subtle spot on Santorini. Akrotiri is located discreetly along a winding road. Here is where you can now walk under a covered pavilion and view the amazing relics and structures that have been carefully unearthed. An ongoing archaeological location, Akrotiri is a beautiful and breathtaking site, though it's not even yet fully discovered. While you're there, peruse the small local gift shop, where you can find replications of the ruins and handmade jewelry.
When you visit Santorini and Akrotiri, make sure to bring along a few bottles of water and maybe a snack to eat along the way, as this location only has one soda machine on site in the off season.
Sunset in Oia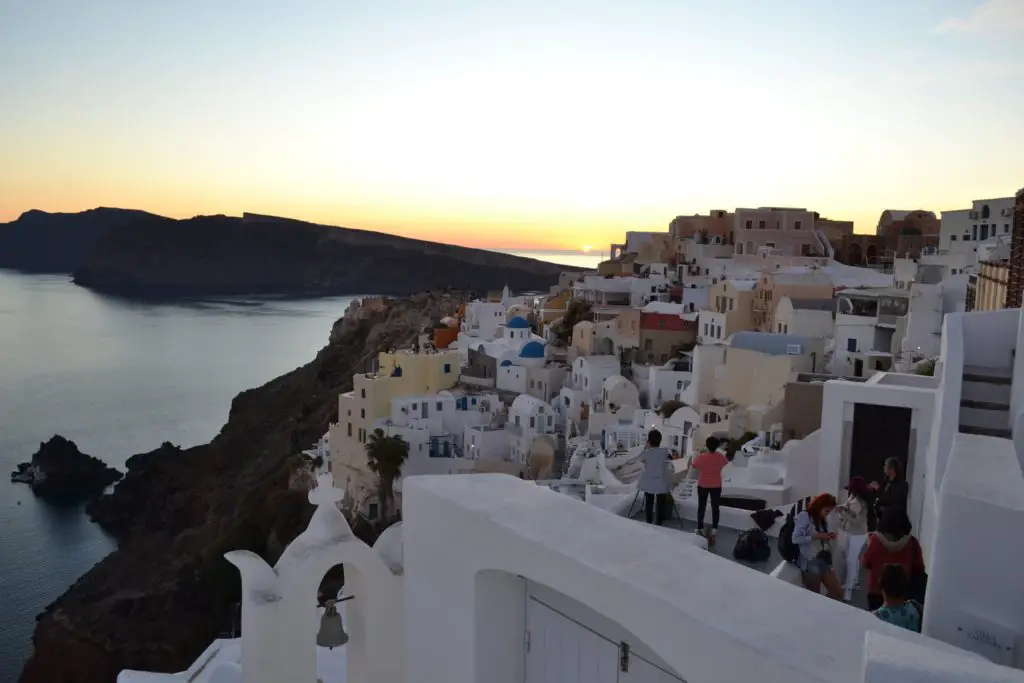 At the end of your island-wide day trip, you'll find yourself walking along the streets of Oia (ee-yah). Here, the internationally famous blue-domed chapels are found. These pedestrian-only back streets are full of friendly locals, quaint restaurants, and lots of sweet natured cats! As you meander along the main street, you'll walk by small perpendicular pathways that lead towards the caldera. This is where you'll find the best views of the setting sun. Get your camera ready and take pictures all around! Enjoy the blue domed churches are right there on the coast, with the caldera in the foreground. After the sunset, walk back along the streets and grab a few Santorini souvenirs!
Quick Tip: Make sure to be respectful of local homes while you make your way around. The majority of the hot spots for Oia sunsets are technically right next to someone's back door or porch!
Take It All In and Visit Santorini Today!
All in all, Santorini is astounding from beginning to end. Whether you're looking for local cuisine, great views, romantic memories, or simply a breezy vacation on one if the greatest Greek islands, it has it all. Take your time when you visit Santorini and it will take it's time well with you!
Please follow and like us: