As an Amazon Influencer, we earn from qualifying purchases you might make if you click any of the links on this page.
You might know Prague as a popular city break destination, where budget airlines and cheap prices have drawn more and more visitors. There's so much to see and do whatever type of break you are looking for. If you want beautiful sights and history mixed with plenty of beer then this is the place to be. To give you a flavour of the best of the city, check out these Prague top ten things to do:
1) See the Astronomical clock at the Old Town Hall.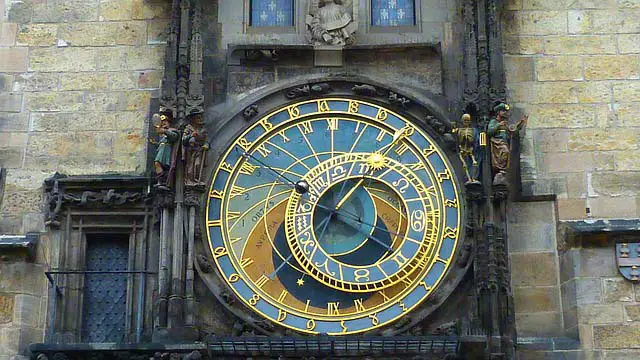 One of the Prague top ten things to do, you should definitely see the Astronomical Clock. Follow the crowds to the square and see the clock strike every hour. Watch the beautiful figures move in a wonderful display and chimes. The clock not only tells time but the position of the sun and moon and the days and months. If it's too busy then you know you can come back in an hour when it happens all over again.
2) Wander across the amazing Charles Bridge
The bridge is lined with 75 stunning statues and if you are anything like me then you won't be able to help taking photos during your stroll across. During the day you will find sellers of arts, crafts and performers and bands playing music. If you want to see the bridge at a quieter time visit during the evening where there is more of a romantic atmosphere.
3) Visit the impressive Prague Castle
Surprisingly Prague castle is the largest castle in Europe, looming over the city from its lofty height. Overlooking the whole of Prague there are plenty of photo opportunities from the grounds. As you explore the castle complex you will notice many different types of architectural styles and differing eras. Catch the changing of the guards at around midday and do not miss the beautiful Gothic cathedral of St Vitus in the centre.
4) Discover the jagged tooth gravestones at the Jewish Cemetery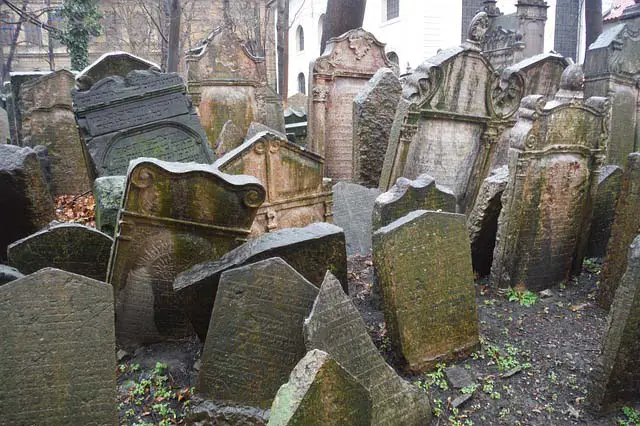 You can find this cemetery in the Jewish quarter and you may wonder why this makes the Prague top ten. Well,  there are around 12,000 crooked teeth gravestones in this small crowded place. The layers of tombs could hold 100,000 graves and it looks like the stones are moving as you wander through. Remember to be respectful as it is a religious site and do not move any stones. Go inside the synagogue to learn more about Jewish history in Prague.
5) Try the Microbreweries and flavoured beers
If you like beer then, of course, you will love Prague. This city is the best place to try all kinds of beers, locally brewed. Many of the pubs have their own in-house microbreweries and you might even be able to see them at work. Whatever kind of beer you want, dark or light beers or special flavours, you will be spoiled for choice here. Try the taster selections and choose your favourite including coffee, vanilla, banana and even blueberry.
6) Feast on the hearty cuisine to soak up the beer
After all that beer you'll probably need something stodgy to fill you up and soak up the booze. Food in Prague will do just that. Most menus will include pork, dumplings and cabbage as staples so hopefully, you like this kind of cuisine. You won't go hungry with these large portions of goulash, schnitzel and meats with potato, dumplings and sweet cabbage.
7) Watch the world go by in the old town square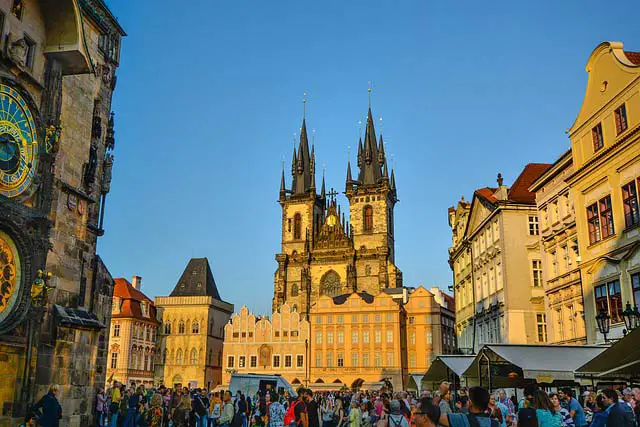 Do you love to people watch?  The historical old town square is the perfect place to do just that. You can understand why it features in the Prague top ten things to do, with its beautiful architecture and bustling atmosphere. As you can guess this is a busy tourist spot and can get pretty crowded but you'll love it all the same. If you can visit at Christmas time then I suggest you do because it's especially magical. And you can explore the Christmas market too!
8) Explore the Church of St Nicholas
Entering the church the beautiful marble and gold interior is overwhelming. Paying special attention to the works you'll find yourself marvelling at the art for quite some time. You won't have seen another church like St Nicholas Church and even if you don't like churches you should check this one out. Get ready to be wowed by the outstanding artwork, amazing statues and carvings.
 9) Take in the sites by Tram
If you want a great way to get around the city then take the tram. Not only do they get you to where you want to go but you get some wonderful views along the way too. It's also a cheap way to travel between destinations too. Get your cameras at the ready and take some iconic Prague pictures.
10) Take a day trip to Sedlec Ossuary in Kutna Hora
Have you ever seen a chandelier made from human bone?  You can see this and much more in Sedlec Ossuary. Taking the bus out from Prague to Kutna Hora and make your way to Sedlec you'll find what is often called the 'Bone Church'. Unbelievably this church is decorated with more than 40,000 human skeletons. You might find it a bit morbid but it is still impressive. It is definitely worth the trip.
When it comes to travelling to the more eastern parts of Europe, you might be a bit wary. But even places like Lithuania are becoming more popular with visitors today. However, tourists have been coming to Prague from all over for a very long time and you'll definitely enjoy your trip. Even if you have limited time in the city and are not sure where to start, you will still see the best of the city if you follow these Prague top ten things to do. From amazing sights to plenty of food and drink you will enjoy your stay in this wonderful city.
What do you think of these Prague Top Ten things to do?
Have you been to Prague? What was your favourite part? Has your best thing to do been missed from this list? Please comment below and share your own experience.
Please follow and like us: