Every once in a while, we must get out of our 9-5 job routine and head to some adventurous places. India has many different terrains from snow-clad mountains of the Himalayas to the desert in Rann of Kutch and from the thick forest of the North-east region to the sunny beaches extending across the southern part of the country. Below I've listed some of the most adventurous places in India which will surely give you an unforgettable experience.
1] Manali to Leh Bike Trip
Everyone has heard about how gorgeous Manali is, and every Indian has a dream to visit Leh-Ladakh at least once in their lifetime. So why not combine both? Kickstart the classic Royal Enfield motorcycle and go on a journey with your squad through one of the most beautiful landscapes you'll ever come across. This is the place where your dream will come true!
You can make stops at sapphire lakes, deserted landscapes, and quiet surroundings. This is one of the best roads to travel on the Himalayan range and it will surely be one hell of an experience. You start by roaming the streets of Manali following a slope town near the banks of the river Beas. You will soon find yourselves on Khardungla pass which is the world's highest motorable street at 5,606 meters above the sea level. You will also reach a place called "Bara Lacha La" which is popularly known as the Switzerland of India.
2] Kinner Kailash Circuit Trek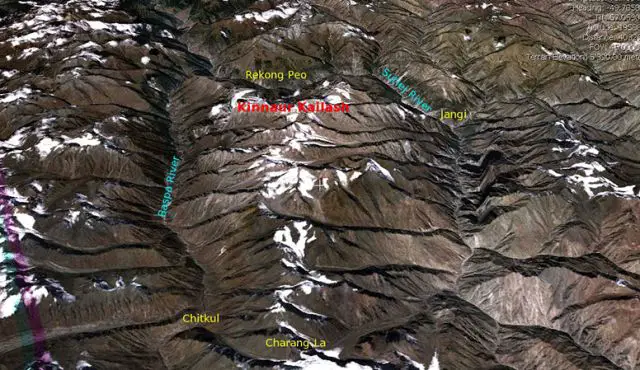 Kinner Kailash Circuit is a mountain trek that should only be trekked by experts. If you manage to complete this circuit, then you will be mesmerized by the views of Greater Himalayas, Dhauladhar, and Zanskar mountain ranges. This trek originates from Kinnaur and is 17,257 ft high. It takes around 15 days for an expert to complete this challenging circuit.
3] White Water Rafting in Kullu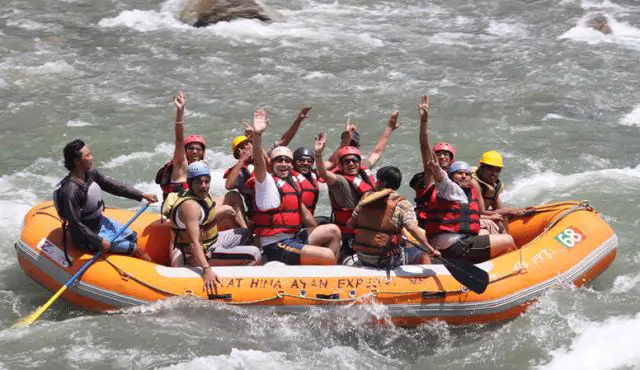 As I mentioned above, during your Manali to Leh road trip, you will come across the River Beas. This river is extremely famous for its white water rafting in India. It has all the features like high-grade rapids, striking surrounding views, and the thrill you will experience while passing through the gushing waves. If you love white water rafting, then you should definitely visit this place.
4] The Kaziranga National Park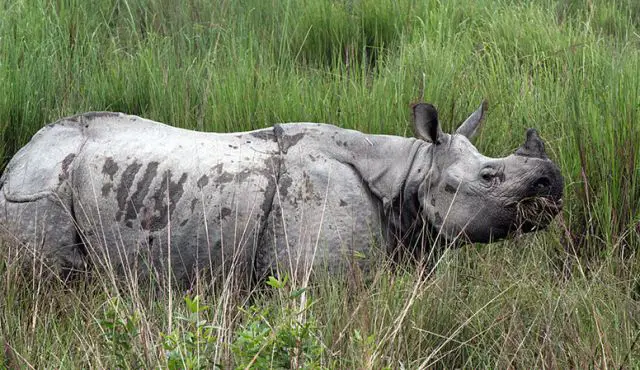 The Kaziranga National Park is the only place on Earth where you can see the Indian Rhino. This is an endangered species and only 2,000 of them are now left which freely roam in this park. The park is located in Assam and you can take a jeep safari or an elephant-back ride in this park to see the Rhinos.
Apart from the Rhinos, you will also get to see other animals such as wild elephants, swamp deer, wild water buffalo etc.
5] Meghalaya – Caves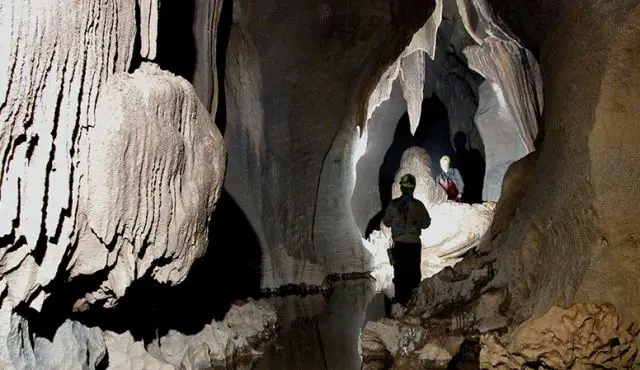 In another North-east state, Meghalaya, you will get a unique experience by exploring caves. These caves are located among the thick green forest and waterfalls, therefore, getting to them won't be such an easy task. But that's the actual fun part. You get to travel through forests and rivers to get to such caves and this journey would be fascinating.
So pack your bags with important stuff and food items that you can enjoy in one of these caves. Also, do carry safety gear and first aid because you may never know which wild animal you may come across. Therefore, it is always better to be safe than sorry.
6] Bandhavgarh Wildlife Safari
Bandhavgarh is situated in Madhya Pradesh which is right at the center of India. There are many National Parks here whose silence is often broken by the roar of the Royal Bengal Tiger. These tigers roam freely in these parks and their population is also healthy. Therefore, you have a pretty good chance to spot one of them when you take a jeep safari ride or an elephant-back ride.
7] Skydiving – Mysore
There are fewer adventures that can cause such an adrenaline rush through your body similar to when you jump out of a helicopter or a plane with just a parachute on your back. It is a thrilling experience, such that every one of us must have at least once in our lifetime. Mysore, in Karnataka, is one of the best places in India for Skydiving. Here, there are training institutions which will train you for Skydiving and experts will accompany you when you finally jump out of that helicopter and fly like a bird.
8] Lahaul-Spiti
If you are looking to get far away from the human civilization, then Lahaul-Spiti valley in Himachal Pradesh is the place for you. It is a large untouched picturesque terrain with beautiful mountains, valleys, and riverside views all around. You will find true peace and solace here. There are ancient monasteries here that you can visit and excellent treks and riverside camps for a little adventure.
9] Auli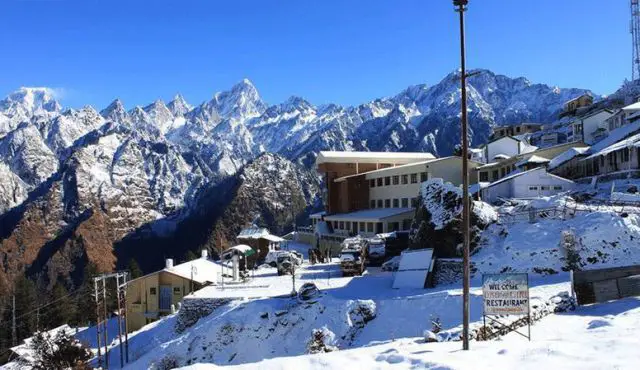 For all the people who want to go skiing, Auli is the destination for you! It is located in Uttarakhand. It has a 3 km long slope and a 500 m long ski lift (you might have started planning a visit here already, eh?). Along with many budget hotels, Auli also has guest houses and homestay for you to choose. Ski equipment is provided by the tourist board and they also offer skiing courses of 7-14 days.
10] Rishikesh
Around 250 Kms from Auli is the holy city of Rishikesh. It has ancient temples which have their own importance. Apart from that, Rishikesh also has white water rafting, bungee jumping, trekking, 1 km long zip-lining, cliff-jumping etc which is a magnet for all the adventure seekers. It is also called the Yoga Capital Of India. Therefore, if you want to do some serious meditation along with crazy adventures, you must visit this place.
11] Zanskar
Trekking usually means climbing mountains and going through rough terrains, but have you ever thought of trekking on a frozen river? I guess not. During January and February of each year, the Zanskar River on the Chadar trek completely freezes. You will have an unparalleled experience of waking over ice and snow while your eyes feast on the magnificent Himalayan views, frozen waterfalls, and ancient monasteries. It is a bit risky but totally worth it.
12] Scuba Diving (Near An Active Volcano)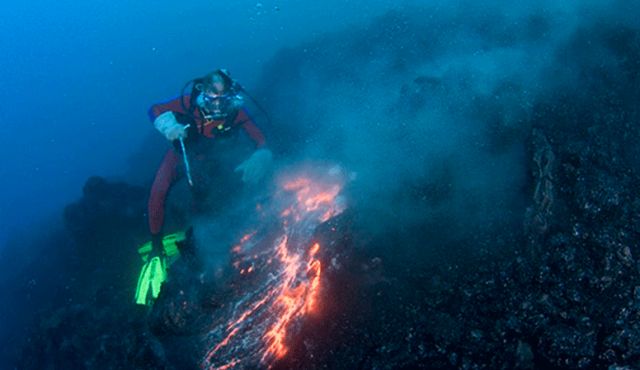 The Andaman and Nicobar Islands in India offer many adventures. Visiting different closely stacked islands, knowing the local (Adivasi) populations etc, is a unique experience. It also offers scuba diving. You dive into crystal clear water with a view of coral gardens and amazing basalt formations. This will be an unforgettable experience and you will cherish these moments for the rest of your life. Many other water-related sports are also available here. Do try them.
Now Your Next Holiday in India is All Planned Out!
Check out a few, if not all of these fantastic destinations on your next holiday! These are just a few of the many adventurous places in India. If you know about a place that should be added to this list, feel free to comment below!
About Author: Prasad Dusane is a content writer who primarily writes article's related to solving the problems of an average consumer. You can check his other article by clicking on the following link: How to get an Indian Visa.
Please follow and like us: