Barcelona's 'green lung' the Montjuïc is the perfect getaway for anyone tired of city noises and heat and craving for some fresh air. On this hill, also referred to as 'Jewish mountain', there's plenty to see and do while being surrounded by nature.
Check More Posts About Barcelona 🙂
Magic fountains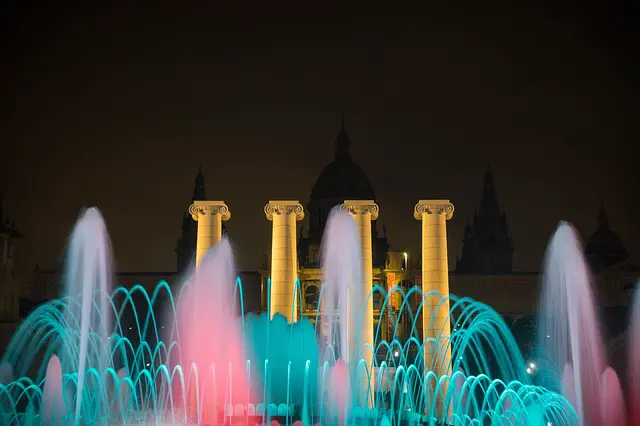 Visiting the Font Màgic de Montjuïc is definitely a magical and unforgettable experience. Not only for children, but also for adults looking for a great way to celebrate the weekend in Barcelona. Enjoy the movements and bright colors of the water that seems to dance in celebration to the music playing through the speakers all around. With over 2,5 million spectators every year, this attraction is by far the most popular one on the Montjuïc hill. So don't think you will be the only one here, but that doesn't make the magic fountain less worth visiting. The show takes place when night falls: in summer on Thursdays, Fridays, Saturdays and Sundays and in winter on Fridays, Saturdays and Sundays. Entrance is free.
Montjuïc gardens
Living in the centre of Barcelona, it's very rare to have a garden. The lucky ones have a terrace big enough to grow their own plants and herbs. But most people have to go to the city parks and gardens to enjoy some fine flora. Luckily, Montjuïc is full of wonderful gardens. For example the Jardí Botanic, the botanical garden (Carretera del Dr. Font I Quer 2), a 14-hectare terrain full of Mediterranean plants and trees, and vegetation from countries like Australia, Chile, California and South-Africa. Also definitely worth a visit is the cactus garden Jardins de Mossèn Costa i Llobera (Carretera de Miramar s/n). Here you can see about 800 cactuses imported from Africa, Central-America and Australia. The oldest one is over 200 years old! Don't forget your (phone) camera, because this is probably the most Instagram-worthy place of the entire Montjuïc hill.
MNAC (National Art Museum of Catalonia)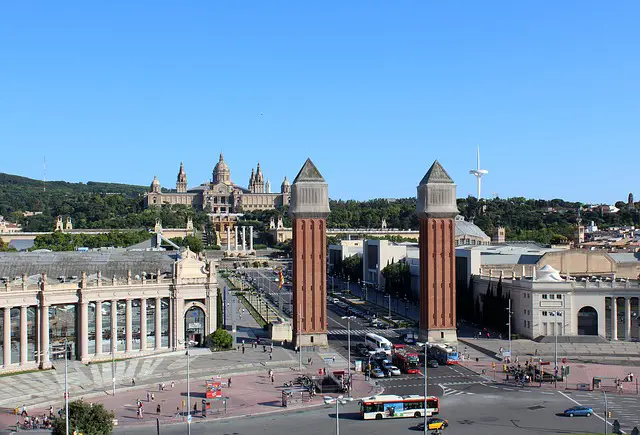 Museu Nacional d'Art de Catalunya is a huge art museum located inside the Palau Nacional, an impressive palace on the Montjuïc hill. MNAC is dedicated to Catalan art and is worldwide known as one of the most prestigious museums when it comes to Roman art. But also plenty of other art movements are represented here. The extended collection makes MNAC an absolute must-see for art lovers. Think again if you're planning to give the museum a quick visit, since you'll need at least a few hours to get a good impression. Afterwards, make sure to have a drink on the terrace in front of the museum, with an amazing view over the city.
Montjuïc Cemetery
Okay, visiting a cemetery during your stay in Barcelona may not sound as a fun plan to do, but wait until you see the impressive Cementeri de Montjuïc. This graveyard is the Père-Lachaise of Barcelona: the biggest one of the city and an absolute impressive sight. It's so big that even a city bus crosses it. Some of the graves are colorful or simply extravagant, like particular pieces of art. The location of the cemetery is particular as well: against the flanks of the Montjuïc hill and with views over the industrial port and Mediterranean Sea. 'At the end, all people from Barcelona end in an apartment with a seaview', is a common joke amongst inhabitants.
Fundació Joan Miró
Joan Miró is, together with Pablo Picasso and Salvador Dalí, often seen as one of the biggest Spanish artists of the twentieth century. His museum is located on the Montjuïc and offers a perfect overview of his curious art. In the Fundació Joan Miró you'll find his typical art works: often unrealistic shapes in blue, red, green and yellow combined with black and white. Because of his playful way of painting, lots of children love his work as well. Apart from the permanent collection, more than 10.000 pieces, there's also an exposition room to give young and talented artists a chance to expose their work. Joan Miró is without doubt one of the coolest art museums in Barcelona!
CaixaForum
Close to Plaça d'Espanya, at the foot of the Montjuïc hill, museum CaixaForum offers temporary expositions with pieces of ancient, modern and contemporary art. From Dalí and Delacroix to old Arabic treasures. The museum, as big as 12.000 square meters, has five exposition areas. Also, visitors can dream away in the bookstore or relax a moment on the rooftop. The museum organizes several activities, obviously focused on art and culture. During summertime activities for children take place during the day. Originally, the CaixaForum building was a textile factory, designed by the well-known modernistic architect Josep Puig I Cadafalch. Architecture lovers can also get a tour through the building itself.
Poble Espanyol
Visiting the open-air museum Poble Espanyol (Catalan for 'Spanish village') you will get a basic overview of buildings and architecture in Spain. The village was built on the occasion of the World Expo of 1929. The exposition was mainly held on the Montjuïc hill. Poble Espanyol consists of 117 replicas of existing buildings in Spain and therefore is a must-visit for architecture lovers. However, also when not particularly interested in architecture, Poble Espanyol is worth a visit. The village attracts 1 million visitors a year, who come to enjoy some shopping in the many handicraft stores, a nice dinner or a good party (Poble Espanyol hosts several popular music festivals and the famous club La Terrrazza is located inside).
Montjuïc Castell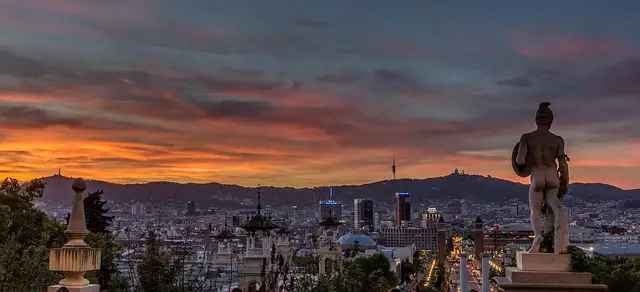 On top of the hill you'll find the Castell de Montjuïc, an old defensive fort that has been used as a lookout for centuries, and as a jail during the Spanish civil war (1936-1939). After the collapse of the regime of dictator Franco in 1978, the castle was assigned to the municipality of Barcelona. They decided to use it as an exposition area and an international center for peace. Visiting the castle, you can enjoy a stunning panoramic view. During summer, you can enjoy the outdoor cinema in the former castle gardens, where both locals and tourists come together for a good movie and some fresh air.
Cable car to Montjuïc
By far the coolest way to get to the Montjuïc hill is by cable car (officially, in Catalan, Telefèric Aeri del Port). During the five-minute journey you can enjoy fantastic views over the city, port and sea. Just like Poble Espanyol, the cable car was built for the World Expo of 1929. It took until 1931 before it was used for the first time. The telefèric was designed by architect Carles Buïgas, who designed the magic fountains as well. You can start your ride at the Torre Sant Sebastià (Passeig de Joan de Borbó 88) in La Barceloneta.
Swimming and cycling
Do you feel like doing some exercise? No problem at all at Montjuïc! How about taking an (e-)bike to discover Barcelona's green hill? Rent one in the city and cycle up via Plaça Espanya and the MNAC museum. Once you are there, you can also opt for a nice swim in the municipal pool, built for the Olympic Games of 1992 and with amazing views over the city. Or visit the Anella Olímpica, the Olympic Ring. Afterwards, cycle on to the hidden gem (at least for most tourists) La Caseta de Migdia, and get yourself a well-deserved drink and bite!
Montjuïc Hill Has Nearly Everything You Need for a Great Vacation!
With so much to do, and so much to see, it's no wonder that Montjuïc Hill is a great option for your next holiday! Check out a few, if not all, of these top ten things to do in Montjuïc Hill, Barcelona!
Please follow and like us: