Updated Oct 9, 2021
Southern hospitality is all about feeling welcome in a new place. Atlanta is one of those cities, where you can not only enjoy a night of high-end luxury, but you can also feel right at home. If you're looking to find the best views of Atlanta, then you'll need to find some of the best Atlanta hotels with balcony and patio access. There are seven amazing hotels in the city where you can get Southern hospitality at its finest, and an amazing view!
Here is a list of the seven best Atlanta hotels with balcony, patio, and terrace views:
Four Seasons Hotel Atlanta
The Georgian Terrace Hotel
The American Hotel
Waldorf Astoria Atlanta
JW Marriot Atlanta
Twelve Downtown, Twelve Midtown
Canopy by Hilton, Midtown
Finding a room with a view in Atlanta is not going to be a problem. However, finding the best hotel service for your stay in the stunning Georgia capital may be a challenge. Find out more about what these incredible Atlanta hotels with balcony views have to offer!
Atlanta Hotels with Balcony, Terrace, and Patio Spaces
There may be a more than ample balcony space for any visitor to Georgia's biggest city. However, they may all not be labeled as just a balcony. When it comes to looking for just the right hotel for your stay, its time to get to know a little bit of the terminology for outdoor spaces.
There are terraces, which are generally larger outdoor areas. They can include dining, as well as cooking and lounge areas. Patios are often referenced for outdoor spaces connected to first floor, or penthouse suites. Balconies are smaller spaces, that can be anywhere from a few feet, to a large walk way. All in all, knowing what you're getting for your hotel cost is definitely worth your time. The best Atlanta hotels with balcony views may not be labeled balcony!
Four Seasons Hotel Atlanta
Located in classic Midtown Atlanta, the Four Seasons Hotel has so much to offer those lucky enough to stay in this iconic hotel. Whether you want to walk down the block to the High Museum of Art, or buy a few things on Peachtree Street, you are right where the action is when you stay at the Four Seasons.
If you're looking for outdoor balcony space, then you'll need to book one of their terrace rooms, or the stunning Terrace Suite. Not only will you have an entire private terrace to yourself, but also a beautiful room! The cozy outdoor terrace has wood paneling, comfy outdoor furniture, as well as spectacular views of Midtown ATL!
The Georgian Terrace Hotel
The Georgian Terrace Hotel is a sophisticated, modern take on classic Southern style. This beautiful hotel has been an Atlanta staple since 1911! The beautiful interior has been updated over the years, but has kept the same, fantastic charm. Whether you're soaking in the natural light in the giant atrium, or dancing in the Grand Ballroom, this hotel will take your breath away.
When it comes to finding outdoor space, the Georgian has balcony access for those willing to pay top penny for the Penthouse. Their rooms are all unique. However, it's Penthouse 4 that has the formal living room with balcony. You definitely get what you pay for with these views. Not to mention the incredible service and overall quality of the rooms.
The American Hotel
The American Hotel is right in the center of downtown Atlanta. With retro style in every room, this hotel takes you right back to the 1960's. There are not only several suites available with beautiful outdoor balcony areas, but there are also so many things just around the corner.
Here are just some of the things you could walk to from The American:
Mercedes-Benz Stadium
SkyView Ferris Wheel
The Georgia Aquarium
State Farm Arena
World of Coca-Cola
Apex Museum
Tons of amazing restaurants
Local bars and night clubs
The American has amazing outdoor spaces, beautiful balcony views, as well as having an incredible downtown location.
Waldorf Astoria Atlanta
Waldorf Astoria Atlanta offers its guests a wide variety of suites with terraces and personal balconies. Not only is it one of the best Atlanta hotels with balcony access, but it is also an elegant and luxurious experience. There is top-of-the-line gym equipment, as well as access to incredible spa experiences.
Stay in the lap of luxury with this hot Atlanta hotel. Not only will you have great views of Buckhead, but also be able to rest and relax in style!
JW Marriot Atlanta
This newly renovated, upscale Buckhead treasure will have you loving Georgia! Not only is it right off of Lenox Square, but it also has an impressive Terrace Suite. The views of the forest below will have you marveling at the beautiful "City in the Forest" that is Atlanta.
Not to mention this hotel is just up the road from the Atlanta Zoo, and loads of popular shopping spots. You can shop till you drop, then take in the beautiful surroundings on your private balcony! Not only that, but the indoor pool and the state of the art gym equipment will help you stay healthy while you travel. You'll be able to feel great, and enjoy great views!
Twelve Downtown and Twelve Midtown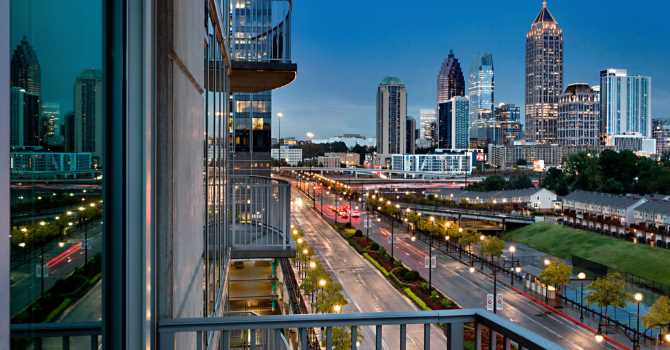 Twelve Downtown is an Autograph Collection hotel that offers designer, upscale guest experiences. Not only does the hotel boast a luxurious and modern design, but it also has spectacular balcony options for guests. Sliding door access to small balconies are located in a number of available rooms.
Ponce City Market, Atlanta Botanical Gardens, as well as other trendy hot spots are just around the corner. Not to mention on site dining, family area, and even a pool.
The Twelve Downtown also has a sister hotel called Twelve Midtown. It also offers a wide array of balcony rooms. However, it is located in the Midtown area of Atlanta, near most of the thriving Atlanta corporations.
Canopy by Hilton, Midtown
With a sleek, modern design, Canopy by Hilton provides guests with several options for private balconies. All in all, the hotel offers spectacular views of Peachtree Street and the local area. Not only that, but you can even get access to a bright orange Canopy bike to ride around town! Wake up to spectacular balcony views, then take a bike down to the High Museum of Art, or the Atlanta Symphony Orchestra.
The Best Atlanta Hotels with Balcony Views of the City!
Atlanta is a city that has all of the modern luxuries of a big city, as well as maintaining truly inspiring air of Southern charm. All things considered, staying in one of the best Atlanta hotels with balcony space will truly make the experience so much better. You can not only enjoy the city up close and personal, but also get to take in the sights from your private balcony.
Whether you're in town for work, or for pleasure, Atlanta has a lot to offer. All in all, if you can have a private balcony suite at the Waldorf, or stay in the classic style of the Georgian, you are in for a treat! Find the perfect booking for your next trip to the Peach State by using this list of the seven best Atlanta hotels with balcony views.
Please follow and like us: