If you are thinking about planning your next family holiday then why not consider travelling with kids in Bali? It might sound daunting, however, you will find so much to do with your little ones and things to keep parents happy too.
Where to Stay When Travelling with Kids in Bali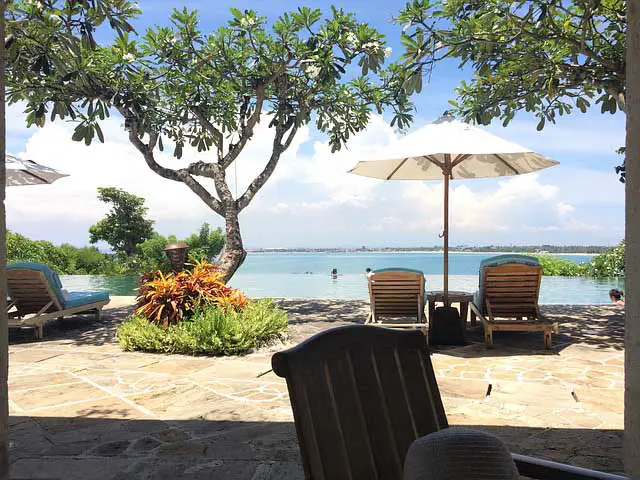 One of the first things you need to do is choose what type of accommodation. Whether you are travelling with babies or older children might also sway you towards one choice more than another.
Family stays in Bali are best in family friendly resorts, hotels or villas. With resorts you are likely to book an all inclusive stay. This is great for families who want to take the worry out of their holiday when it comes to providing meals and drinks. It is also a good idea for active kids as the children's clubs and entertainment will keep them out of mischief.
Hotels that offer a single room or rooms tend to be the cheapest, however offer little in the way of entertainment for the kids. A good option though if you are planning to move around a lot and don't want the fuss of being in a resort.
The best option for travelling with kids in Bali is to hire a villa. With children its great to have a relaxed and home from home environment. Family villas give you an entire house to use, a garden and usually a pool too. Privacy is another reason to choose a villa. You don't have to worry about other people in the pool, saving sunbeds or other kids around. There are some great family villa deals on Villa-Bali.com here.
Things to Do When Travelling with Kids in Bali
You are going to find some great activities for all of the family to enjoy in Bali. Whether it's water fun or soaking up some culture, you'll find plenty to everyone occupied here.
Water Parks – Fun for all the family
If you love adrenaline rushes and water fun then a family day out at a water park could be just what you need. Parks such as Waterbom Bali or Circus, offer slides, rides and activities for kids of all ages. If you want to relax and leave the kids to it then there are plenty of loungers for sunbathing or lying in the shade. Parents will like the idea of swim up bars too! You will probably take a whole day for a trip to a water park and you can expect some very tired kids at the end of the day.
Animal adventures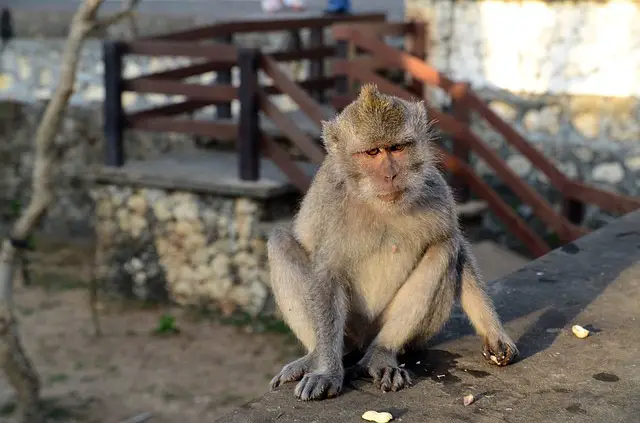 Bali is a great place to introduce your kids to new animals they may not have met before. There are some wonderful experiences that adults will also enjoy just as much as the children.
The Sacred Monkey Forest in Ubud is where you can get up close and personal with the 600 plus monkeys living there. Kids will love the monkeys and the temples too! This is a spiritual place as well as being home for these cheeky monkeys. Visitors are discouraged from feeding the animals, and there are some rules you must follow inside. They are wild animals after all.
Bali bird park is a great place to see some amazing birds and reptiles. This park is all about Eco-tourism and the birds are housed in areas mimicking their own natural habitats. There's over 1000 birds to see and daily shows and Pelican feeding time too. The reptile park has an interesting collection of Indonesian monitor lizards and a favourite the huge prehistoric Komodo Dragons.
As there are many reports of mistreatment of Elephants across the world it's good to know that the Elephant Safari Park in Bali meets the International standards for animal care. You can get to know the elephants and how to care for them here. The reviews say that the animals look well cared for and its lovely to watch them enjoy being washed and playing in the water.
Temple exploring
In Bali you cannot miss the extraordinary temples and they seem to be everywhere you go. If you love visiting different temples then you will enjoy Bali, but kids may get a bit bored if there are too many on the itinerary. The best ones to visit are the postcard perfect Tanah Lot and Uluwatu Temple and a favourite with the kids Goa Gajah also known as the Elephant cave. Kids love this temple as you have to descend some steps underground and find yourself in a mysterious cave. The pool, relics and statues add to mystery.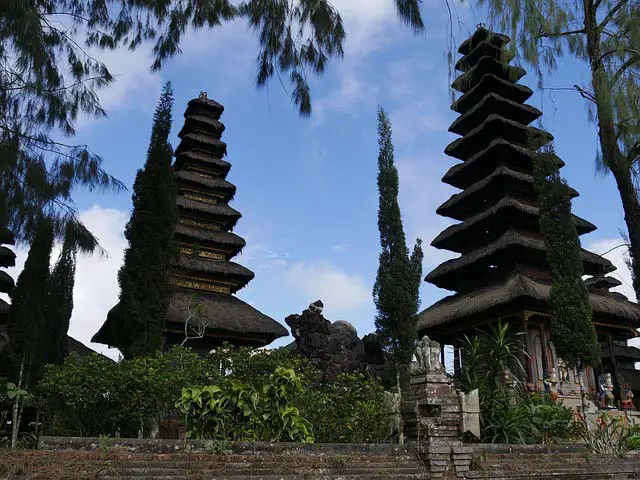 Relaxing and enjoying the surf at the beach
You can't have a holiday in Bali without lazing on a beautiful beach. Each of the top beaches has their own reasons for being popular and when travelling with kids in Bali you must spend some time on the beach.
Nusa Dua Beach isn't surrounded by top luxury hotels for no reason. Pretty surroundings and gentle waves means a great location for young families and couples alike. The sea is brilliant for snorkelling too. Other beaches include Sanur Beach which is great for shell collectors and Kuta beach which is perfect for surfers.
Food and Dining
Even if you have the fussiest of eaters you will find plenty of choices when it comes to eating out in Bali. Rice and noodles are available everywhere and can satisfy kids who aren't happy with any spice. Local cuisine may be spicy but local restaurants are usually more than happy to accommodate for families. In the more touristy areas, you can't go wrong, with almost all cuisines on offer, including American burgers and Italian pasta. Never fear there will always be something that satisfies even the hardest to please children.
Helpful Tips for Travelling with Kids in Bali
As you can see Bali is a perfect destination for family travel. Plenty to do and great places to stay and enjoy this amazing place. Have you travelled with your kids in Bali? What do you think?
Please follow and like us: