You may have been told (like I have) that once you have kids your travel must stop. Well, I am here to tell you that is definitely not the case. Don't listen to the haters, travelling with your baby can be fun and enjoyable for the whole family. The world won't wait so, why should you?
Ok, so some things will have to change. You knew that when you signed up to parenthood, however you didn't decide that it was the end of exploring the world, because that's what you love right?
Never fear, here are my top 10 tips for travelling with your baby
1.Plan your flight.
Most probably your baby is not going to like flying. The enclosed space and the unusual environment won't be the most exciting place for your child. However, planning your flight will help keep your little one settled. Make sure they are drinking during take-off and landing. Babies don't know what it means when their ears pop, to avoid this sensation altogether try to make sure they are fed during these times.
Have soothers to hand, whether that's a dummy, a book or a favourite toy. Your baby will appreciate a homely item to keep them entertained.
2.Choose you accommodation carefully.
My personal preference is to book an apartment or similar style accommodation. This gives you the freedom to cook your own meals if you need to, wash up baby items and most importantly make and sterilise bottles. I think even just having a fridge and a microwave are essential when travelling with your baby.
Location is also important, you want to be close to your main destination but you don't want to be in the centre of a party neighbourhood waking you and your peacefully sleeping baby in the middle of the night! Family friendly stays are increasingly easy to find but make sure you check the reviews before you book.
3.Bring the right equipment.
You know yourself what are essentials for you and your baby, but you need to make sure you don't bring too much and only take along exactly what you need. Check with your accommodation as they may already provide some things you need such as a cot or high chair.
In my opinion, a baby carrier is essential as you never know how difficult it is going to be pushing a stroller around especially on a city break with cobbled streets! Brands such as baby bjorn and baby ktan have great products.
4.Remember medicines and baby first aid
Whether these are prescription medicines that are essential for your child or things such as antihistamines, baby paracetamol or teething gel. Make sure you bring what your baby may need whilst you are away as you may not be able to buy what you want in your destination. Check the essentials before you go.
It's a good idea to bring antiseptic creams, plasters and a small general first aid kit just in case. You don't need to bring the earth but enough to get you by in case of cuts, grazes and bruises.
5.Be prepared for the climate
It may sound obvious but you need to be prepared for the weather and the environment in the location you are travelling to In warm sunny weather young babies will need to be covered at all times so it is best to opt for light long sleeved tops, legs covered and of course a hat. Kids sun cream is another essential in the hot sun. Remember their feet too! Layers are best for the cold and hats and mittens are great too. I advise to check ahead and make a list of what you need for the weather when you travel.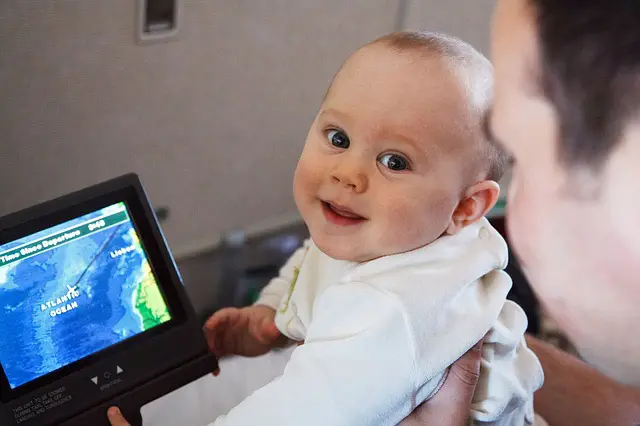 6.Take your time
You may be used to rushing around and getting everything done quickly and going from one attraction to the next without a break. When travelling with your baby it pays to take your time, plan your day around meal/feeding and nap breaks and the day will go much more smoothly.
Taking your time means you are more relaxed and can enjoy the experience without the stress, not putting too much pressure on yourself.
7.Eat earlier or dine in
There are a few benefits to having an early dinner, such as early bird specials- you may get a good deal, restaurants tend to be less crowded and you can enjoy meal times with your baby eating together as a family. Another reason is that you will probably be tired and hungry and in need of an early night, especially if your baby is an early riser!
You could also wait until after your baby has gone to bed and order in or send your other half out to get takeaway. This is another benefit of having an apartment. We enjoy a mix of the two both eating in and dining out. I personally find this a great option as you can make the most of your daytime.
8.Try to keep your routine
I know it may be hard to do this with babies, especially when travelling to different time zones. The key is to keep as much of a routine as you can. Things like meal times, bath and bed time routines will help your baby settle into travel much more quickly.
9.Prebook attractions
If you know there are certain attractions you want to visit whist on holiday, it's a good idea to book ahead. Check tourist websites for any special facilities or fast access for those travelling with children. It may also be worth paying extra for queue jump tickets to avoid long lines. Booking ahead will also help you plan your days and keep your routine.
10.Have fun!
Remember it's your holiday and you saved and paid out to enjoy yourselves. If some things don't go right well so be it, problems arise with or without children when travelling. Be kind to yourself, relax and take time to enjoy your family break.
Now You're a Pro at Travelling with Your Baby!
I think if you follow these tips you are sure to have an amazing travel experience with your baby. From Majorca to Vegas, wherever you are going you are sure to have a spectacular time. Have you got any other great tips for travelling with your baby?
Please follow and like us: