As an Amazon Influencer, we earn from qualifying purchases you might make if you click any of the links on this page.
The British Virgin Islands contain some of the most spectacular beaches in the world. While the four main islands of Tortola, Virgin Gorda, Anegada, and Jost Van Dyke are joined by 50 other smaller islands and cays, all of these wondrous islands offer a wide variety of activities. So whether you're planning on laying in the sun and sand, or enjoying water sports, there is a lot to do!
But some people don't come to the British Virgin Islands to simply sit around all day. If you're looking for some amazing adventures, we've got you covered. Here is our list of some of the most amazing things you should experience when you are in the British Virgin Islands!
Relax on the Beach
One of the best ways to pass the day in the Virgin Islands is to relax on the beach! Though you may think this obvious, you wouldn't believe the absurd amount of gorgeous beaches here. When it comes to spending the day enjoying the sun and the pristine waters, there's really no better place that these incredible shores. 
Here are some of the absolute best beaches for your day of sun and relaxation:
St. John has: Honeymoon Bay Beach, Salt Bond Beach, and Trunk Bay Beach
St. Thomas has: Hull Bay Beach, Magen's Bay Beach, Sapphire Beach
St. Croix has: Turtle Beach, Jack's Bay Beach, Buck Island, and Sandy Point Beach
All of these stunning beaches have activities as well. So you can go to websites like borrowaboat.com to find a great rental, or you can check out rentals for kayaks, paddle boards, snorkeling gear, and more! No matter how you spend your day, any of these incredible beaches will give you unforgettable ocean views.
Sailing Tours
The British Virgin Islands are a remarkable expanse of coastal views. One of the best ways to get an amazing adventure here is to take a sailing or a yacht tour. Many of the islands offer affordable and luxurious tour options.
These tours range in cost as well as destination. If you want to go first class all the way, then a glamorous yacht with a full crew is right up your alley. If you're looking for a more simple and intimate way to explore the islands, then a smaller sail boat is going to be perfect. 
The tours can be booked ahead of time, or you can try to get a reservation when you arrive. Be certain to have any sailing certifications on hand if you're looking to rent a boat without a crew. 
Rhone National Marine Park
This national park is centered on the wreckage of the HMS Rhone. This remarkable site is where the Rhone sank during a hurricane in 1867 and an abundance of sea life has taken over the remains of the ship. Here you have a lot of options for diving, exploring Dead Chest Island, and investigating a surprisingly well-preserved ship wreck.
Scuba Diving and Snorkeling with Guides
Scuba diving in the British Virgin Islands in a spectacular adventure. Not only can you easily complete training on a number of islands, but you also have knowledgable guides to go with you. Most guided dive spots will let you know all about the local marine life, coral activity, and allow you to explore every inch of these amazing ocean spots on your own.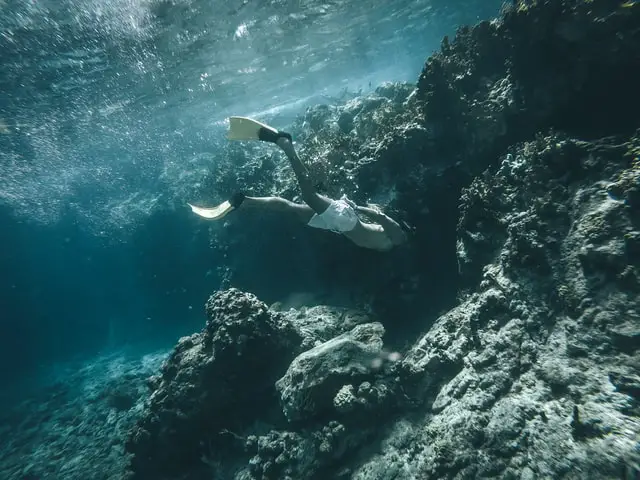 Diving can be an incredibly educational experience, but it can also be fun and even romantic! So if you're going to the Virgin Islands and enjoying this romantic destination, why not do something fun with your partner like a guided scuba dive.
Your Amazing List of Things to Do in the British Virgin Islands
There's so much to see and do in the British Virgin Islands it may feel overwhelming. By using this list of amazing things to do, your Caribbean holiday will be one of the most incredible trips of your life!
Please follow and like us: