Croatia is becoming an ever-popular country to travel to. And with some filming of epic TV shows like the Game of Thrones taking place here, there's a new type of tourism emerging.  Dubrovnik is usually top of the list when planning a trip to Croatia. But have you thought about visiting Split on the Dalmatian coast?
Although Split is the second largest city in Croatia, you'll still find a beautiful port, historic buildings, and a great atmosphere. Exploring the harbour or in the old town, you will feel like you're in a small village rather than a big city.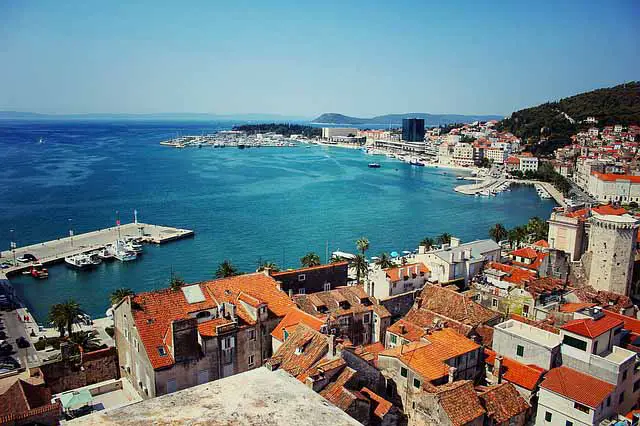 Where is Split?
You'll find Split near the centre of the coast of Croatia and within the area known as Dalmatia. With a busy port, it's popular with island hoppers and a starting point for sailing holidays. It has a unique setting with a backdrop of mountains and a living working old town. It's like no other place you'll find in Croatia.
Top sites to visit
Diocletian's Palace
Not a monument but a part of the working town, it's like no other place you will visit. An outstanding mix of ancient and modern, seamlessly engaged in everyday life. Divided into four parts, the palace has two main streets and four gates, silver, golden, brass and iron. Make sure you visit the substructures, strolling through the ancient complexes will feel transported back to Roman times. Diocletian's Palace is the world's most complete remains of a Roman Palace, definitely worth a visit.
Cathedral and Bell Tower of St. Domnius
Within Diocletian's Palace is The Cathedral of St Dominus. Divided into different sections, the Church is dedicated to the Virgin Mary whereas the bell tower to Saint Domnius,  the patron saint of Split. The church is within the palace and you'll find it was actually built in AD 305 as the Mausoleum of Diocletian. As one of the oldest structures in the world to be used as a church, it is a very different place to visit. When in Split you should definitely take a look.
Klis Fortress
Just a short distance from Split town you'll find the village of Klis and the fortress above. At the towering fortress explore the ruins, a small museum, and a church, it is best to look around on your own but you can book a guided tour. Wander around the large site before enjoying amazing views over Split and the nearby islands. To get to Klis take a bus or a taxi for the 30-minute ride.
Marjan Hill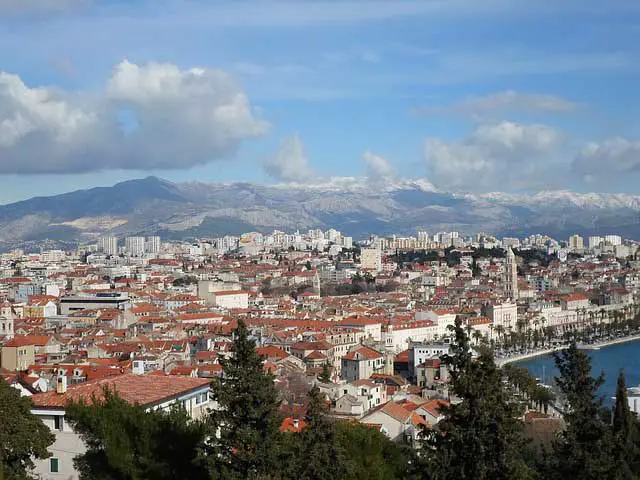 A pretty hilltop to get away from the bustle and the heat of the town. It's a great place for a hike or other active hobbies but you can just as easily walk the gentle footpaths. There are also churches and chapels to explore and discover, hidden amongst the hillside. Once you get to the top, stop at the café bar Vidilica, sit here and relax with a drink whilst you enjoy a view over the town and the sea. This spot is especially good at sunset.
Top activities to try
Sea Kayaking
An excellent and alternative way to see Split in the summer months. A few different tour operators offer a similar package where you can paddle around the Marjan Hill and you can swim, snorkel, and even try some cliff jumping! It's a fun experience and not too arduous either. Average tours last about four hours and you must book in advance.
Play a game of picigin 
Picigin is a game that is part of Split's identity, so they say people have been playing in Split since 1908. Every time of the year, you'll always find locals enjoying it on Bacvice beach. The aim of the game is to keep an old, stripped off tennis ball in the air for as long as possible whilst standing in shallow water. You can only use your palms and the aim isn't to win but to perform jumps impressing your fellow players. Head down to Bacvice beach and join the locals for a game.
Go sailing
It's not unusual for visitors to go sailing in Croatia and island hopping is very popular. However, there's nothing wrong with taking a yacht out and just going for a sail without any specific destination.  You can hire a private tour, but it will be pretty expensive. Alternatively, you could book on an organised tour where you can relax and enjoy a day or evening away from the town.
Top trips from Split
Hvar island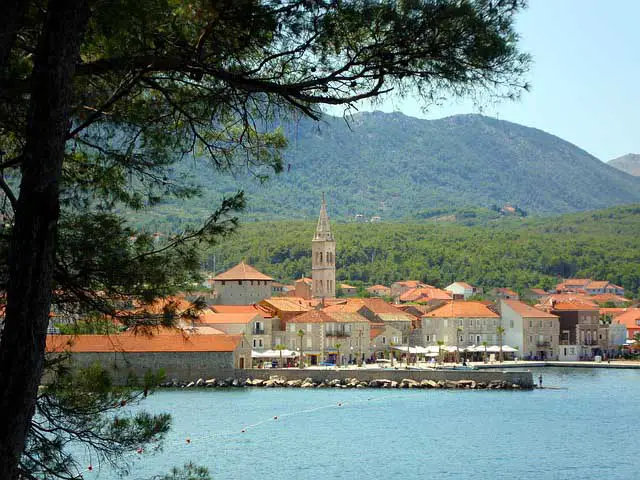 Now only just over an hour by catamaran, you can spend half a day in Hvar if you only have one day. However, most people tend to spend a night or two at this fun island. You could also get a ferry which might be a little cheaper but you'll need to stay a little longer.  When here you should check out the great beaches, the inner lavender fields and the 13th-century walls of Hvar town.
Trogir and the blue lagoon
When visiting Split on the Dalmatian coast you must visit Trogir. A small medieval town, and UNESCO World Heritage site not far from Split. Enjoy the narrow cobbled streets and beautiful architecture. Although it is a popular day trip from Split, it never seems to busy and you will enjoy some peace and quiet at some point during your visit. From Trogir you can take a ride to Drvenik Veli, an island with an incredible turquoise lagoon which is incredible to see.
Krka Waterfalls
Less than an hour from Split and much less popular than the famous Plitvice lakes, Krka Waterfalls are still a spectacular sight. There are many hiking trails along pretty lakes, gorgeous waterfalls, and interesting caves. There's also a tiny island featuring a Franciscan Monastery which you must visit whilst you are here.
Time to Visit Split on the Dalmatian Coast!
There are so many things to do in this great place and I didn't dent the surface in my two days here. If you can think of any other top things to do in Split leave a comment below.
Please follow and like us: