Looking For A Beach Wedding Destination?
Marrying the love of your life is one of the happiest, most beautiful memories you will have in your life.
For the beach lovers of the world, there's no better place to have their wedding than on the sands by the ocean. There is something very uniquely romantic in the way the sea breeze caresses your face, the way the waves tirelessly kisses the shore, and the way that the pink and orange sunset rays dip over the deep blue sea. That is why it comes as no surprise that beach weddings have become more and more popular.
Check More Beachy Posts 🙂
Choosing A Beach Wedding Destination
In this article, we have compiled some of the best wedding destinations you should consider for your upcoming beach wedding ceremony. Continue reading below to learn more. Get your sunblock and get ready to soak in the sun! And right after that you get some Greek romance for a honeymoon too! 
Wedding In Oahu, Hawaii
Undoubtedly, the island of Oahu is one of the most popular beach wedding destinations in the world. Its serene and peaceful environment is the perfect venue for that perfect solemn beach wedding you've always pictured in your mind.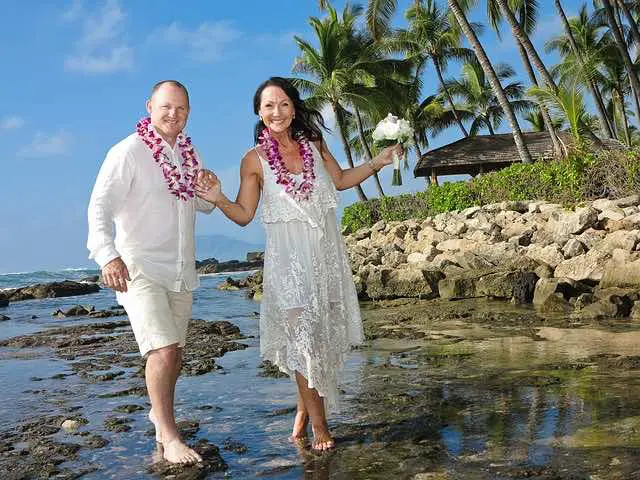 Where Should I Have My Wedding on Hawaii? 
Also fondly called as "The Gathering Place," Hawaii's third largest island Oʻahu is home to some of the most popular places like Waikīkī, Pearl Harbor, Diamond Head, Hanauma, Kāneʻohe Bay, Kailua Bay, and North Shore. You and your wedding guests will never run out of fun things to do while spending your time in Oahu.
Party & Event Rentals To Choose From In Oahu
There are a lot of party and event rentals to choose from if you decide to choose Oahu as your beach wedding destination. Just make sure to find a reliable and excellent one who can help you turn your dream beach wedding into reality. Ask around and make sure to do a thorough screening and research before choosing one.
Wedding In Turks and Caicos
Another very popular wedding destination is the paradise that is Turks and Caicos. When we say Caribbean, Turks and Caicos is one of the first things that come to mind for a great wedding destination. Even Hollywood actors Jennifer Garner and Ben Affleck couldn't resist this island's charming vibe and decided to hold their beach wedding ceremony in this luxurious island.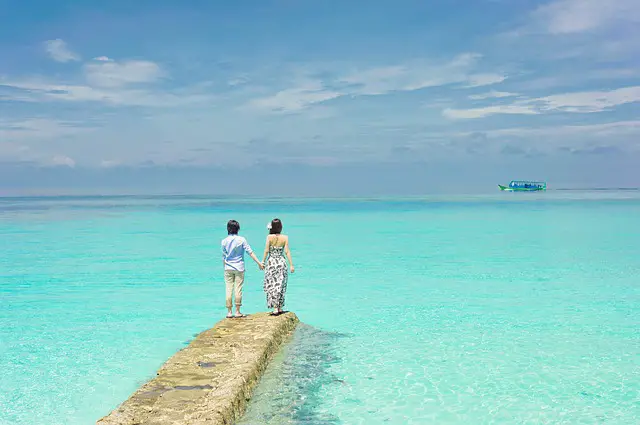 Choosing A Wedding Venue on Turks and Caicos
Surely, the white sand beaches and the majestic turquoise-deep blue hue of the sea will serve as the perfect backdrop for that beach wedding ceremony of your dreams.
Before choosing the venue however, make sure to check the laws, rules, and regulations that could impact your wedding. Some local laws prohibit or at most, strictly regulate events and celebrations being held near beaches either for preservation purposes. Alcohol restrictions are one of the most common so make sure to check on that if you plan on involving alcohol and spirits in your wedding reception at the beach!
Wedding In Maldives
Who hasn't heard about The Maldives? The famous beaches in the Maldives continue to take over the Instagram world and making a lot of people envious. From once being an economy dependent on fishing, tourism has now become Maldives' largest economic industry.
Looking at its pristine white beaches, there's no wonder how this tourism boom became possible. These Maldives beaches can make any couple fall in love all over again with their lively yet serene energy and vibrations. Destination weddings in Maldives will surely bring into life those energies and transform any wedding into a magical and almost surreal event.
Can I Have My Honeymoon on the Maldives too?
Another great thing about having a destination beach wedding is that you don't have to go anywhere else for the honeymoon—the perfect honeymoon place is right under your toes, literally! Maldives honeymoon packages can be more affordable than you expect. Just make sure to canvass first and surely you can find one that is worth it and just as amazing.
Please follow and like us: