If you are thinking about going to Venice by the end of this post you will already be booking! These photos of Venice will inspire you to visit, whether it's your first time or if you've been a hundred times before. I don't think you could ever get enough of this beautiful city and its amazing canals.
Photos of Venice – The Rialto Bridge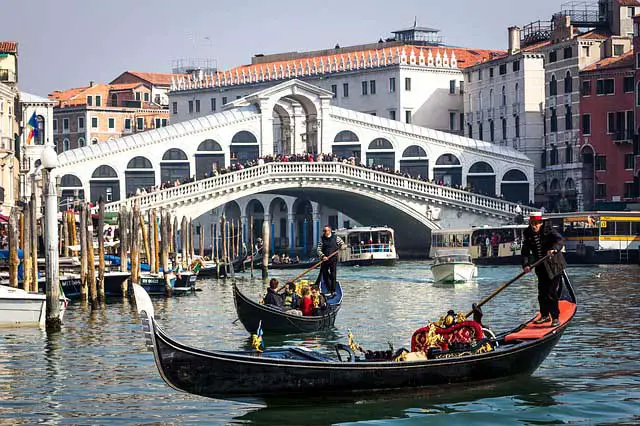 The Rialto Bridge may be one of the most popular photos of Venice and with good reason. This amazing image is the ultimate Venice scene. There's history here and it is the oldest bridge across the canal, it was also the dividing line between the districts of San Marco and San Polo.  Iconic and charming make sure you take your own pictures from the canal when passing over or under this bridge.
Photos of Venice – Carnivale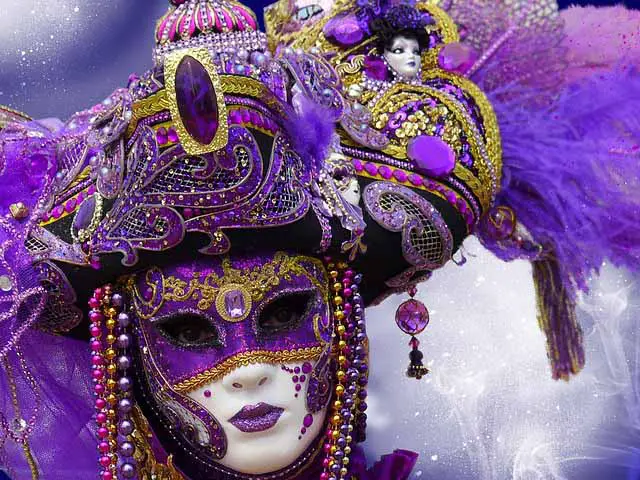 Venice carnival or Mardi Gras (Martedì Grasso) should be on your bucket list. Celebrated on Shrove Tuesday before the start of lent, join the masses clad in elaborate masks like this one in a festival like one you have never attended before. An age old tradition you are sure to enjoy and remember forever. If you want to take part in one of the special events or popular balls you will want to book in advance and plan now for your visit next year.
Gondolas on the Grand Canal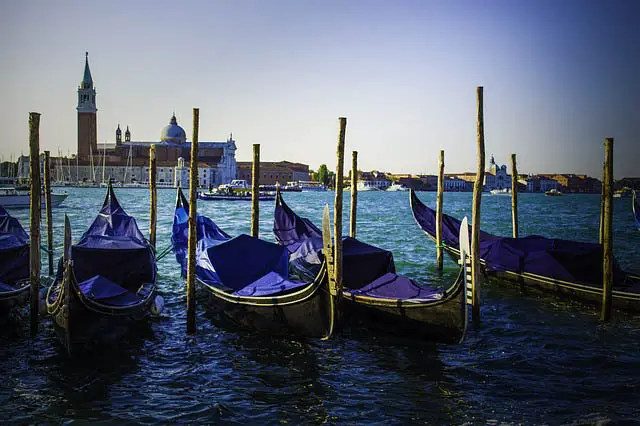 Venice is nothing if not filled with its famous Gondolas. On the Grand Canal near St Marks square you will find these moored boats just waiting to be rowed. Everywhere you go in Venice you'll find moored boats be that gondolas, speed boats or small fishing boats. Each offers its own photo opportunity and you can capture your own unique moment. You'll especially love the ornately decorated Gondolas with gold flourishes and plush seating.
Colourful Venice squares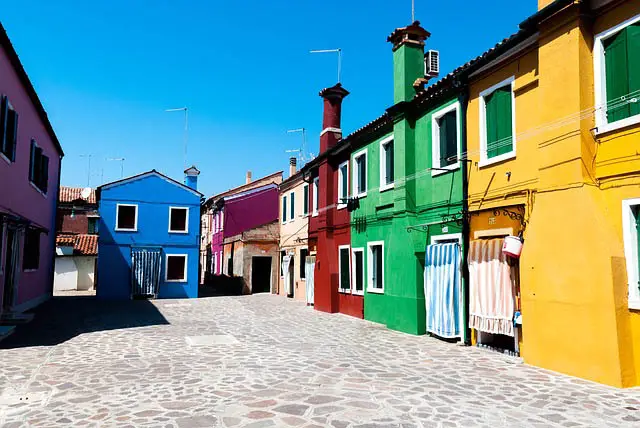 When it comes to great photos of Venice, the beautiful squares and colourful houses make some of the best. When you move away from the canals there are less crowds and even on the best day, you can find a quiet haven in one of these hidden spaces. Not the usual kind of place you would imagine to be in Venice. Be mindful that these are people's houses and appreciate the privacy of locals.
St Marks Square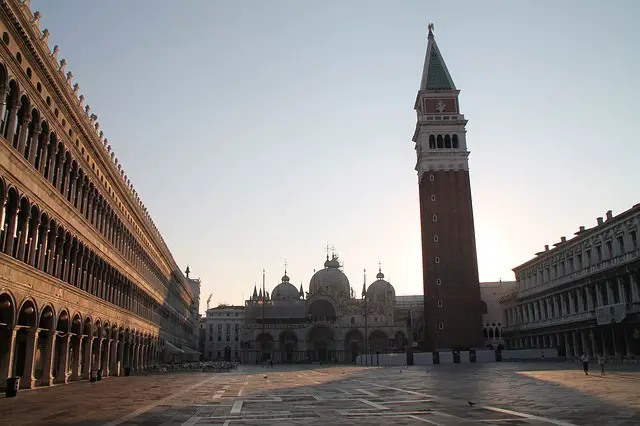 This expansive square is a must see in Venice but it might be difficult to get yourself a photograph like this. You'll usually see this place filled with tourists and groups with their guides carrying colourful umbrellas. But if you get up early and avoid the cruise ship times you might just get to see this scene. And what a beautiful view it is. At any time of the day however you can enjoy the fascinating architecture in this magnificent space.
Photos of Venice at Sunrise
At all times of the day you will find the city spectacular, however, nothing quite beats the early morning. Sunrise here is really beautiful. You will see the light reflecting against the water and onto the buildings giving the whole place a unique glow. Keep your cameras at the ready and head out to meet the sun. It is absolutely sensational and I guess you will just have to go and witness it for yourself!
Luscious markets in Venice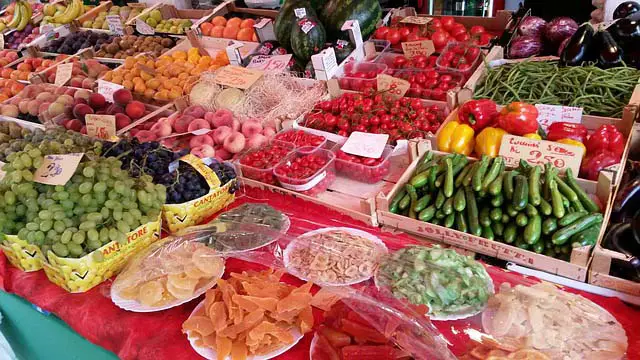 Fresh and succulent fruits, vegetables and fish can be found in the massive morning market in Venice. You will find it hard to resist the colourful array of foods on offer here. The fresh fish may be the most exciting part of the market and you can find so many local catches from that very morning. Ok, so you might just be visiting and not really be able to buy and cook Octopus for example. Well, don't worry you can always walk away with a fresh fruit pot complete with cutlery to eat as you continue your wandering.
Boutique souvenir shopping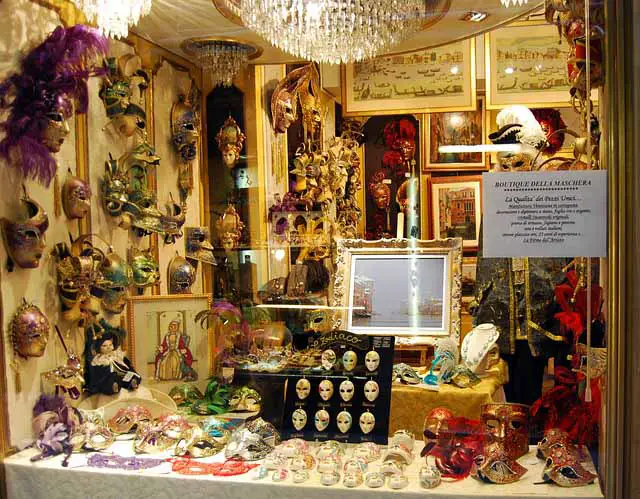 If you love shopping then you will love Venice. So many unique stores to explore and find that special item to take home and remind you of your trip. Popular souvenirs you might be interested in are of course masks as pictured and some gorgeous glass items made locally. Pictures, paintings, and tapestries by talented artists are sold around the city too. Not only will you find souvenirs but also designer and independent brands of clothing and shoes too.
Churches in Venice
There may be up to 137 churches within all of the Islands of Venice to find. As you might assume, most of these churches are Catholic and most are pretty historic. The amazing thing is a lot of the churches have active members, hold regular services and are very much part of the community. You probably won't find a service in English, rather Latin or Italian. That doesn't mean you can't attend, though, or even just sit in the back and enjoy the experience. What is for sure is that you will find each church has it's own character and appeal. Visit as many as you can!
Al Fresco Dining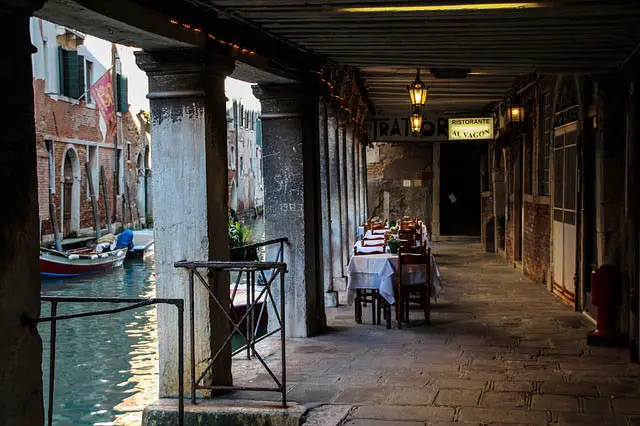 What could be better than eating outside in a fantastic restaurant in one of the world most romantic destinations? It's a lovely experience to sit beside the canals and eat some fresh, locally produced food. There are too many great restaurants here to mention but many of them have tables that spill out onto squares and streets. You can really soak up the atmosphere and enjoy the weather in the warm summer months.
Take Your Own Inspiring Photos of Venice
So from these photos of Venice surely you are convinced to make that trip soon! Venice is such a photogenic destination and everywhere you turn you are sure to find that perfect photo opportunity. It may be the water that does it or it may be the charming buildings and historic character. Whatever it is that makes Venice such an alluring place one thing that is clear is that after seeing these pictures you will want to go right now!
You can get some great deals to fly to Venice at the moment so put this destination on your list. Have you been to Venice? What did you think?
Please follow and like us: