What a perfect place for a European weekend trip, Rome is easy to explore and there is plenty to do! The historic sites will take your breath away and the amazing food and drinks will please any palette. This is your ultimate guide for what to do on your next Rome city break.
Top Attractions in Rome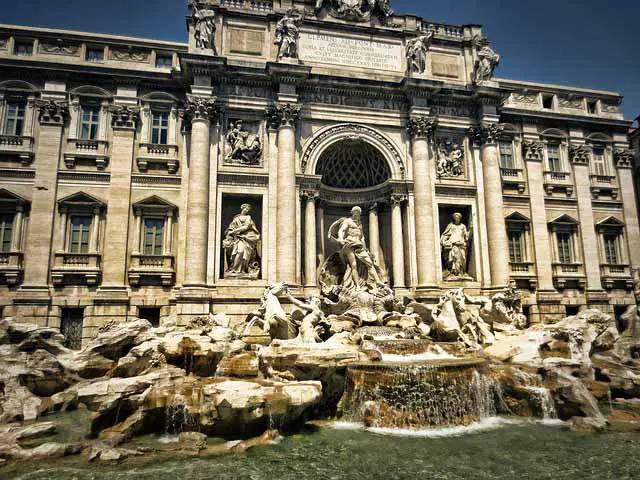 Of course there is so much history in this ancient city and you will probably already know the iconic landmarks you want to visit. The great news is most of the top attractions are quite near to each other in the compact centre which is perfect when you are on a short weekend Rome city break.
The Colosseum
The ancient gladiator amphitheatre is at the heart of the city along with the Roman Forum a visit here is a must. Learn about the history of the Colosseum and the surrounding ancient roman ruins with an audio tour and guide.
The Vatican and St Paul's square
Further out of the city centre you will find the massive Vatican city. One thing you should not miss here is the world famous Vatican museum and the Sistine chapel. Michelangelo's master piece. As it is such a major tourist attraction you can expect a long queue for tickets but to see inside is definitely worth the wait.
Trevi fountain
An amazing example of Rome architecture, the Trevi fountain is a favourite attraction for visitors. Make sure you throw a coin in the fountain, make a wish and you will be sure to return to Rome some day. A busy but beautiful location and it's free to see too!
Basilica di Santa Maria Maggiore
The famous architect Bernini is buried within this beautiful Basilica. Another outstanding building to admire from the inside and out. It might be worth taking a tour of the place as there is so much history and interesting facts you might miss just by visiting by yourself.
Eating and Drinking in Rome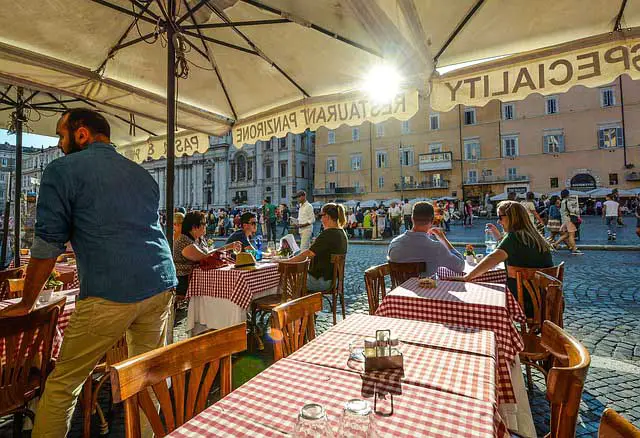 Rome is known for it's simple but delicious cuisine and it might be hard to choose what to eat during your break. Each region of Italy has it's own speciality Venice may have it's seafood but Rome's most popular street food choice is pizza by the slice. You must try Pizza Romano whether as a snack or on the go, this traditional roman pizza will definitely fill the gap.
Of course pasta is on the menu almost everywhere you look and Romes top restaurants will give you an amazing taste experience. Try one of the four pasta dishes of Rome, Gricia, Cacio e Pepe, Carbonara, and Amaratriciana. Or try all four!
For a great street-food style Italian menu try Pane e Salame on Via di Santa Maria. Or for fine dining blow your budget at the Michelin starred La Pergola at Via Alberto Cadlolo 101. Whatever your choice of cuisine there's more than enough options in the city. 
Entertainment and Nightlife in Rome
You will always be nearby to an establishment where you can sit and enjoy a beer or a glass of wine. You may pay more for a beautiful view or when sitting out on a square but you can understand why. If you are looking for nighttime drinking and clubs then head to 'Testaccio' for a choice of clubs to dance the night away. If you want a more relaxed experience then try the student area of San Lorenzo. Here you will find a wealth of wine bars, pubs and pizzerias to enjoy.
Rome has many theatres and operas to see for those who wish to indulge in a bit of culture. The main larger venues are Teatro Argentina and Sistina, where you can enjoy amazing events and concerts. However, there are numerous churches and small historic venues where spaces are used for more intimate plays and concerts. Do your research and find the best one to suit you.
As you can see, whether its relaxing with a glass of vino, experiencing roman theatre or dancing all night, you have so much choice on your Rome city break.
Shopping in Rome
If there' s one thing the Italians can do well its fashion. Shopping in Rome is a must during your break here. High end designer brands and flagship stores can be found in the area near to the Spanish steps at the Via Condotti. Here you can browse the likes of Prada, Armani and Gucci. Even if this merchandise is just a little out of your price range it doesn't hurt to take a look.
If you are looking for more high street than high end then take a stroll down Via del Corso. Brands such as H&M, Zara and Diesel have stores here which wont break the bank. Not only are there chain stores but there are boutiques and unique individual stores to explore too.
Everyone loves a bargain and yes you can find some in Rome! The most famous market in Rome is the Porta Portese Flea Market found on Via Portese every Sunday morning. An assortment of items are on offer both new and second hand, there's definitely some treasures to find here. It's a very popular choice for locals and visitors alike so it's best to get there early and expect a crowd.
What else on a Rome City Break?
There are lots more sights to see including the Pantheon, the Spanish steps and more churches than you can count. If you are travelling with kids try the gladiator training school. For a romantic evening, maybe stroll the beautiful streets, grab a drink and watch the glamorous locals go by.
It's a shame there's such little time on your weekend Rome City Break to do and see everything you might like. However if you have thrown your coin into Trevi fountain you will be returning to Rome to explore some more. (Or so the story goes). Have you been to Rome? What was your favourite part of your trip? Share your thoughts in the comments below.
Please follow and like us: