Kia ora! Let's go watching wild whales in Aotearoa New Zealand (NZ). Imagine how you would feel if you managed to catch a glimpse of the world's largest creature, the Blue whale. Admittedly, spotting a Blue whale is exceedingly rare, but in NZ you might just get lucky.
Aotearoa New Zealand is one of the few places where you have a high chance of watching wild whales and other cetaceans living completely free in their natural environment. You can be pretty sure of seeing some species of dolphins every day while at certain times of the year, it is highly likely you will see larger whales.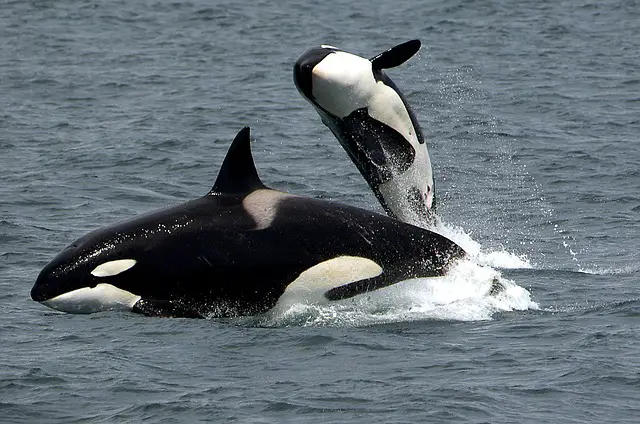 The Dolphins Look for you
When travelling on any fast moving boat dolphins often come to ride the bow wave. When they recognise familiar boats they make a beeline for the bow to splash and play together. If the boat is not going fast enough, they just snub it and head off in other directions. If you lean over the side you can catch their eye as they spin sideways to watch you. It's impressive just how fast they move through the water and they love to put on a show.
In many coastal places around New Zealand, you can take a short boat trip to swim with different species of dolphins. Drop into one of the well informed national Information Network offices to find local operators. They know the best areas to find dolphins. They also guide you about best behaviour to keep the dolphins' interest so they hang around because all the dolphins are totally wild and free to come and go as they please. If they're bored they're gone. Some of the species include large Bottlenose and Dusky dolphins or tiny native Hector's dolphins, cute at just over a metre.
Watching Wild Whales
There are not so many opportunities for watching wild whales with only two main centres; one is from Auckland city in the North Island, the other from the small town of Kaikoura in the South Island.
The Auckland Whale and Dolphin Safari  takes you directly from NZs largest city into the Hauraki Gulf Marine Park which covers 4000 km² area. The park has more than 25 different marine mammals so you will be sure to spot more than one or two species. There are resident pods of Brydes' whales, common dolphins, bottlenose dolphins as well as orca. It's common to see the resident orca pod from various vantage points around Auckland.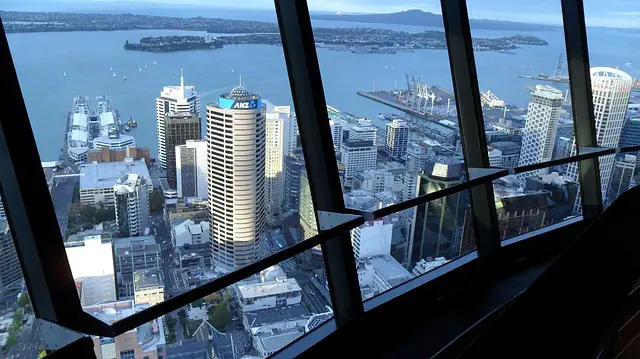 Orcas are very social animals and they generally live together in pods which remain grouped for life. With cooperative hunting techniques, orcas herd prey together. One peculiarity of the Auckland pod is that they appear to feed exclusively on stingrays. Some years ago stunned onlookers watched the pod follow stingrays to within metres of a city beach. They were throwing the stingrays high into the air before devouring them. Orca have even been known to follow other prey like seals, onto beaches to catch them.
Kaikoura for Whale Kai
Kaikoura has been a base for watching wild whales since 1987. Starting out with a single six-metre boat the Whalewatch charity now takes over 100,000 guests per annum offshore in search of whales.
Kaikoura is one of the few places in the world where you are likely to see a sperm whale, the largest toothed whale. Sperm whales can grow up to 15metres long and Kaikoura has a resident population in the area the whole year. Orca, (also known by the misnomer, killer whales) visit Kaikoura mainly from December to March, while the humpback whales make a show in the winter months of June and July.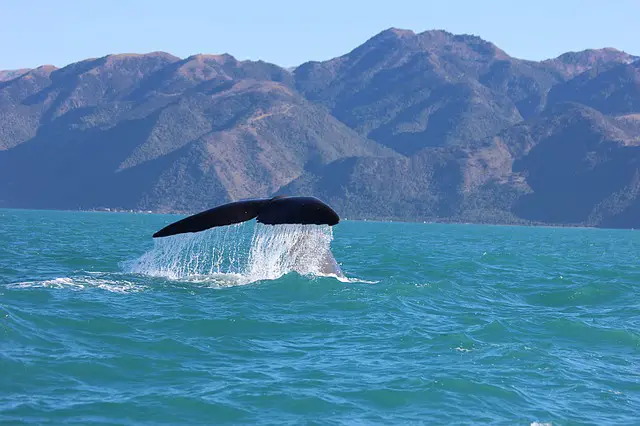 The reason that Kaikoura is so popular with whales is because of the Kaikoura under water trench. This deep trench begins less than a kilometre offshore and extends 60 kilometres into the Pacific to a depth of 1200 metres. The mixing of warm water from the north and cold water from the south constantly uplifts nutrients from the deep trench. This makes for abundant food for many marine animals from plankton all the way up to apex creatures like the whales and sharks. You can also see abundant fur seal colonies along the coastlines – favourite food of orca and some sharks.
The name Kaikoura means a certain type of food in the Maori language. Kai translates to "food", while koura translates to crayfish – 'food crayfish'. Crayfish are abundant in the coastal waters and there is a commercial industry as well recreational gathering. Be sure to eat some fresh koura from the sea if you are staying in Kaikoura.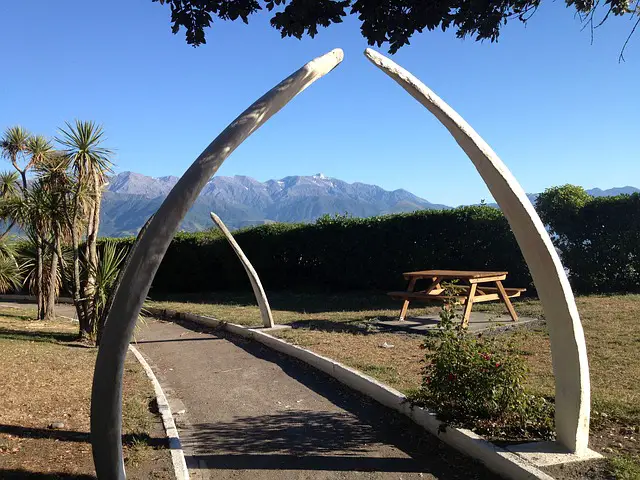 From Killing to Conservation by Watching Wild Whales
New Zealand historically had many whaling stations all around its coastline from north to south. Some historic sites still display the huge cast iron pots that were used to boil up whale blubber marking the old stations. The last whaling station closed in 1964 as the numbers of whales were so low the industry became uneconomical. Now, however, New Zealanders hold a more enlightened attitude towards conservation. New Zealand was the first country in the world in 1978 to totally protect whales and other marine mammals.
Another country that is making efforts to protect their wildlife and that also offers whale watching is South Africa. Check out a blog post here for more information about the South African Garden Route.
Unfortunately, other countries do not offer the same protection. The Soviet Union and Japan carried out illegal whaling in the area in the 1970s, especially of the baleen whale and numbers still remain low. Japan still attempts to make whaling raids in the southern ocean much to the disgust of many.
Getting there
Travelling around New Zealand is relatively easy but some places there is not a lot of convenient public transport. Hiring or even buying a car is probably the simplest way to travel.
Auckland is the major city in New Zealand with over a million inhabitants. You can arrive by Mangere International airport or by road or rail from other areas of the country. The other two international airports are in Christchurch and Wellington.
To get to Kaikoura, you can travel from Christchurch or from the ferry port of Picton in the Marlborough Sounds. There is also an airfield that is used by light aircraft and helicopters. You might also choose to take a flight to view whales from the air as companies are based out Kaikoura airfield.
The Best Ways of Watching Wild Whales!
New Zealand is a small country but it has a lot to offer so make the most it. If you venture offshore you can be assured of adventure and a fun time watching wild whales and dolphins!
Please follow and like us: